A few weeks ago I traded in the towering ponderosa pines of Montana for the metallic skyscrapers of New York City. What a whirlwind experience it was!
 
Earlier this fall my dad shared that him and my mom wanted to take another family vacation with my husband and I and told me to pick the destination. I didn't troll the internet for very long before suggesting NYC. Since none of us had ever been to the east coast before let alone a metropolitan city of such caliber, I thought it would be the perfect place. From Times Square and endless museums to Central Park and every kind of food under the sun, there was bound to be something we all would love.
 
After a 4 a.m. wake up call, the four of us dragged our heavy eyelids and suitcases to the Helena Regional Airport. A few short hours later we were drifting down over the towering buildings of the city. From the time our plane touched down until our final minute in the city, we were zooming 100 mph around cramming in as many sights and activities as possible.
 
While it's nearly impossible to write in detail about such an extensive trip in a single blog post, I'll instead highlight my Top 10 MT girl in NYC moments for you to revel in.
 
#1: Visiting the Museum of Natural History. Getting to take in many of the sights featured in the movie Night at the Museum was certainly a fun experience. I also had a memorable flashback to my Fijian honeymoon when I stumbled upon some kava bowl artifacts on display in their Pacific Ocean culture section. Kava is a mildly narcotic drink consumed throughout the Pacific Ocean cultures of Polynesia. It is made from grinding up the roots of a plant called piper methysticum and has been used socially and ceremonially for hundreds of years within those cultures. My favorite part of the museum by far though was the 94 foot long fiberglass model of a female blue whale. Suspended from the ceiling, it was utterly mesmerizing to see and try to imagine swimming next to something that large in the ocean.
 
#2: Riding a bicycle through Central Park. We arrived in NYC at the tail end of Fall so there were still some lingering colors on the leaves. With the immense size of the park my husband and I felt like bicycles were the way to go to take in as much of the park as possible. It was a delightfully mild and sunny day when we took the bikes for a spin. While I've spent my share of seat time on bicycles in Montana, it felt like a beautifully new experience to ride through the park. With my hair billowing behind me, I was ear to ear smiling the whole time.
 
#3: Visiting the statue of Balto in Central Park. As a lifelong lover of dogs, Balto was one of my favorite animated movies growing up. For those who don't know, Balto was a Siberian Husky and sled dog who led his team on the final leg of the 1925 serum run to Nome to combat a deadly diphtheria epidemic that threatened the lives of many children. At the end of the movie, one of the children Balto saved visits the iconic statue in Central Park with her granddaughter. Since the movie's release in 1995, I have longed to pay homage to the statue for the immense love and steadfastness of Balto and all dogs. Visiting the statue was the very last thing I did before returning to Montana but I refused to come home without seeing it.
 
#4: Seeing Phantom of the Opera on Broadway. While not a huge theatre fan per say, attending a Broadway play was an absolute must for all of us. We chose Phantom of the Opera and it was spectacular. From the elaborate costumes and dramatic music to some pretty fantastical special effects, it was unlike any theatre show I've ever seen.
#5 Sampling edible cookie dough from the DŌ popup shop at Bryant Park's Winter Village. Long before we'd ever planned our trip to NYC, I had read about a company there that made gourmet, edible cookie dough—DŌ, Cookie Dough Confections. And they serve it up just like ice cream. So when I knew I was heading to the Big Apple finally, this was one of the eating destinations on my must-see list. It did not disappoint! I sampled both their sugar cookie and chocolate chip varieties and it was a childhood dream come true to eat gobs of cookie dough without shame or fear. If you can't make it to NYC anytime soon, just know that you can order the delicious concoctions online and have them delivered right to your front door. So check it out at https://www.cookiedonyc.com/
 
#6 Riding the NYC subway. To fully embrace your inner tourist and get to all of your NYC bucket-list destinations in a timely fashion, the subway is a must. While the subway system is certainly overwhelming and a bit tricky to master during your first trip, it's a true engineering marvel in the world of transportation. Thanks to a downloaded city app on my phone and my tech and travel savvy, husband, the four of us were navigating about the city like pros by the end. Traveling upwards of 55mph underground is certainly a far cry from bumping down the dusty dirt backroads of Montana.
 
#7 Attending Sunday Mass at St. Patrick's Cathedral. As a relatively newbie Catholic as of three years ago, visiting St. Patrick's Cathedral was an absolute must for me. Before leaving Montana, a friend described the church to us as the Helena Cathedral on crack. And it truly was. We had the opportunity to both walk about the church one evening and attend Sunday mass. Inspiring is one of the only words I can use to describe the experience of going inside.
 
#8 Visiting the 9/11 Ground Zero site and museum. To me this is almost a required pilgrimage for all Americans. We spent upwards of four hours touring the museum and Ground Zero site but I could have spent days. On more than one occasion I found tears streaming down my face. Some tears were for the tremendous sadness I felt for the victims and families that day as well as for our world currently. But some were those of appreciation for the inconceivable amounts courage and compassion exhibited by so many on that day. Of the thousands of artifacts on display in the museum, the one I most appreciated was that of a open bible fused into metal found by a New York firefighter during the recovery phase at Ground Zero. The scripture in the middle of the page is from Matthew 5:32-42 that contains the famous passage about "an eye for an eye and a tooth for a tooth." In the passage, God commands us to extend forgiveness and at all costs resist retaliation. If only all of us read that passage before leaving the house each day, perhaps our world would be a different place.

#9 Staying at the Plaza Hotel. For anyone who has ever seen the second Home Alone movie, you know you've secretly dreamed of eating that mountainous ice cream sundae while peacefully poised in a suite at the Plaza Hotel. Well my friends, I finally made it there. While I did not indulge in a sundae, I did have the privilege of staying in one of the most esteemed hotels in the country. From the plush pillows, oversized bathtub and walk in shower, I felt like royalty staying there.

#10 Walking across the Brooklyn Bridge. With my husband being a civil engineer, taking in this engineering masterpiece was one of the top items on his list. We signed up for a three-hour walking tour across the bridge and enjoyed one of the best history lessons of our trip. The bridge itself took 14 years to build, involved upwards of 600 workers, and cost $15 million (more than $320 million today) for construction. At least two people died in the process, including the original designer. From bridges like this to the towering skyscrapers that comprise NYC, it is an inspiration to witness the masterpieces that man created when he puts his blood, sweat, and tears into his work.

For anyone born and raised in Montana, a trip to NYC is certainly a bit of a culture shock. But it was an experience I will always cherish and never forget. As Lin Yutang said, "No one realizes how beautiful it is to travel until he comes home and rests his head on his old, familiar pillow." I eternally grateful to the lifelong efforts of my both my parents that made such a trip possible and highly recommend everyone visit NYC at least once in their lifetime.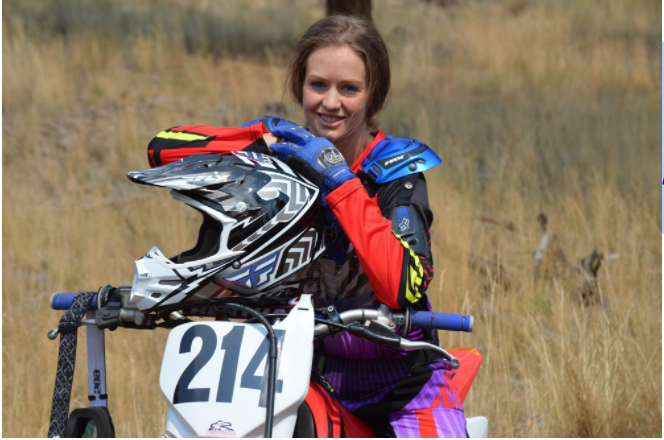 Lacey Middlestead is a Montana native and freelance writer currently living in Helena, Mont. She loves meeting new people and helping share their stories. When she's not busy writing articles for newspapers like the Independent Record and Helena Vigilante, she can usually be found indulging in her second greatest passion–playing in the Montana wilderness. She loves skiing and snowmobiling in the winter and four wheeling, hiking, boating, and riding dirt bikes in the summer.