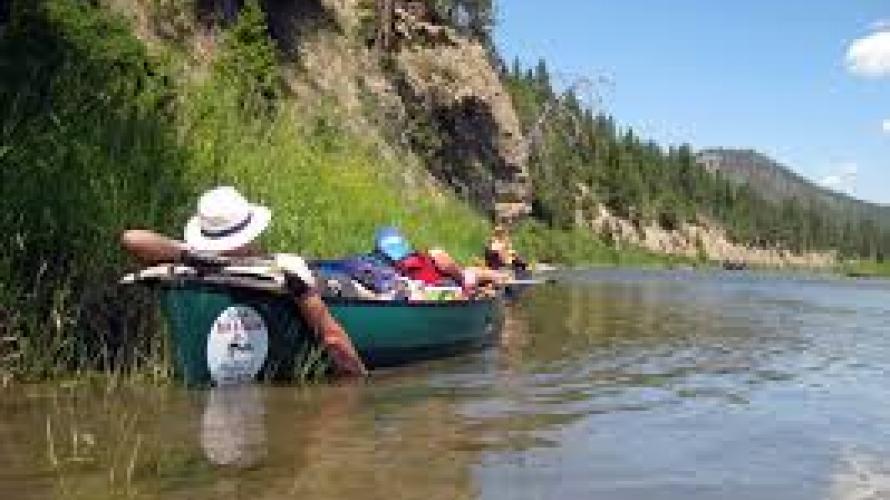 Take me to the River
When I was a boy my father built a redwood-strip canoe. He was a master hobbyist and woodworker and this was one of his finer creations. We would float in his canoe on the Farmington River in Connecticut, enjoying the sensation of being away from it all as we paddled through a corridor of greenery and wildlife.
Rivers draw me as they draw so many other people. Many of my life's finest experiences have centered on rivers – the St. John in Maine, the Green in Utah, The Middle Fork Salmon in Idaho, the Tatshenshini-Alsek in Canada and Alaska, the Yarra in Australia, the Missouri and Yellowstone in Montana. It's hard to beat a riverside campsite for comfort and tranquility, and even harder to beat a river trip for camaraderie and adventure among friends.
Rivers connect us to far-away places with their flow. Their heads are in the high mountains, their tails in the sea or another river. Rivers have always been travel ways, and much of our nation's history revolves around rivers like the Mississippi, Missouri, Columbia, Snake, Potomac and Connecticut.
A river is a kind of magic, really. The most useful substance on Earth – water – is delivered 24/7, 365, for free. Yet we tend to take rivers for granted, damming them and polluting them and overfishing them, lining the banks with rip rap and building vacation homes right on the bank.
Most species of terrestrial wildlife depends on riverside habitat. Take a float on the Madison and you can hardly turn a bend in the river without spotting eagles on a nest, deer leaping through the brush, pelicans fishing the shallows, otters fishing the deeper pools, beavers swimming with branches, raccoons seeking crayfish, osprey hovering for fish, and kingbirds snatching flying insects. Busy swallow nests line the cliffs, warblers flit among the willows, and cows come down to drink.
And of course there is a whole other world below the surface, where a wide variety of alluvial denizens lurk among the tree roots and rocks. Fishing brings people from all over the world to Montana, partly because we still have thriving native (and non-native) fisheries. Wild trout hold an allure like no other fish, causing grown men and women to salivate at the thought of hooking and netting a sparkling fish, only to turn it loose again.
This year marks the 50th anniversary of the Wild and Scenic Rivers Act, which protects the wild, free-flowing qualities of over 12,000 miles of US rivers and streams, including parts of the Missouri and Flathead in Montana. The East Rosebud River may soon enjoy Wild and Scenic designation as well, with all three of Montana's congressmen offering legislation to protect the river. Other Montana candidate rivers include the Smith, the Gallatin and the upper Yellowstone.
For our wedding gift my wife and received a new canoe and all the necessary gear, assuring our fate as river rats. We still hit the Madison or Jefferson in the canoe as often as we can. Lately we've been upping the ante by floating rivers on Stand Up Paddleboards, bringing new challenges to what are easy rapids in a canoe. Next week my wife and I will be rafting down the Yampa and Green rivers in Colorado and Utah.
We are blessed in Montana with a variety of beautiful and accessible rivers. Go to the river, catch a fish, have a picnic, take a swim, float a ways. The river will bring you peace, plenty, friendship and adventure. Take me to the river.
~Phil Knight