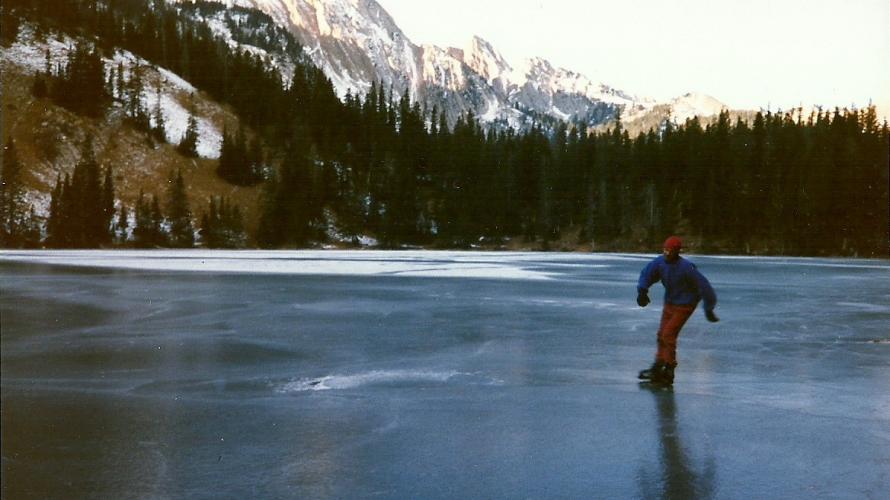 Skating Montana's Wild Ice
By Phil Knight
If you grew up in the north, as I did, you probably tried ice skating. In Connecticut where I spent much of my childhood, ponds would freeze by early winter and we'd skate as soon as the ice was thick enough, gliding across the frozen surface like we'd grown wheels on our feet. We'd play pick-up hockey and build bonfires on the ice or on islands.
After several years off of skates, last winter I rediscovered skating. It's a whole world of wild ice out there. Montana has right the dry, cold climate to promote early ice formation on its many lakes.
Wild Ice is a different beast than your city ice rink. For one thing, there is water under it, often deep water. That makes wild ice a dynamic surface. It cracks, groans, shifts, rises and sinks, floods, melts, and freezes. It may be rough, or have too much snow on it to skate.
The best ice is known as "black ice." Black ice is actually clear ice which looks dark. Black ice usually does not last since it is from the first major freeze of the season. As the ice ages, gets snow on it, and freezes and thaws, it becomes opaque is and is rarely as smooth as black ice. Black ice can be spooky to skate on, since you can see through it and it is usually only a few inches thick. But it's the closest you can come to walking (or gliding) on water. If the water is shallow (this is best since it's safer) you can see weeds, rocks, and logs on the bottom.  You may even see fish or other life if you look closely. I've even found frogs frozen into the ice.
Wild ice has a lot of texture and patterns to it. It's beautiful and dynamic and just amazing to travel on. Plus, it talks. Listen for a little bit and you will hear chirps, grumbles, booms, pops and some sounds impossible to describe. Wild ice constantly expands and contracts, creating this crazy concert.
Gear
Your best bet is comfortable long-bladed skates such as hockey skates. I use Nordic Blades, long ice skating blades that clip onto my NNN-style Nordic ski boots. These blades are available at nordicskater.com. You can clip these blades off any time you want to walk. Mine are NNN BC bindings so make sure you get the right kind of binding.
I also use what I call "cheater sticks" (ski poles). As an intermediate level skater at best, I find ski poles to be a huge help for fatigue and safety. I can push along with them to rest, catch myself if I might fall, and test the ice with them.
Bring folding chairs to set on the edge of the ice. Here you can change out your footwear or just take a break, rest the aching feet and have a cup of hot chocolate.
Safety demands that you skate with at least one other person. Outside Online recommends staying off of ice less than four inches thick. Shallow water tends to freeze earlier and is also safer, especially if it is shallower than you are tall.
Each person should wear "ice claws" around their neck . Should you fall through the ice, use these to pull yourself out. You should also carry a throw-rope to toss to someone who has fallen through. Helmets are a really good idea, in case of a slip and fall. Ice is as hard as concrete and hitting your head would do some real damage. If you are really pushing it on thin ice, wear a personal flotation device.
Where and When To Go
Montana is a little bit short on ponds, but you don't have to look too far to find skateable ice this time of year. Early winter is best, before too much snow has accumulated on the ice. Sometimes you can skate high country lakes if it's a cold, dry fall season.
Look on the map and find a lake or pond. Get out there and check the ice close to shore, where it's shallow. If there are ice fishermen out, ask them how thick the ice is. Or bring an auger and drill your own hole. With black ice, you can see through and estimate thickness by looking at cracks and bubbles.
My craziest skating was on back-country alpine lakes in the Bridger and Madison Ranges on a cold, dry fall. My recent favorite is Canyon Ferry Lake between Helena and Townsend. At the south end are large shallow "duck ponds" that freeze up early and have lots of islands. I was lucky enough to skate black ice there last week, and last year it was even better.  When the main lake freezes thick enough you can skate for miles and miles, and may get to see ice boaters flying across the ice.
In Bozeman a motivated group of locals maintains an ice-skating oval on Cattail Pond off Davis Lane, near Valley Center Road. It's open to the public for free use.  Consider leaving a donation in the box – maintaining the ice is a lot of work.
Flathead Lake, Whitefish Lake, Seeley Lake, Cutler Lake, Cliff Lake, Georgetown Lake, Ennis Lake…the possibilities are as wide as your motivation to explore wild ice. Go forth and glide.