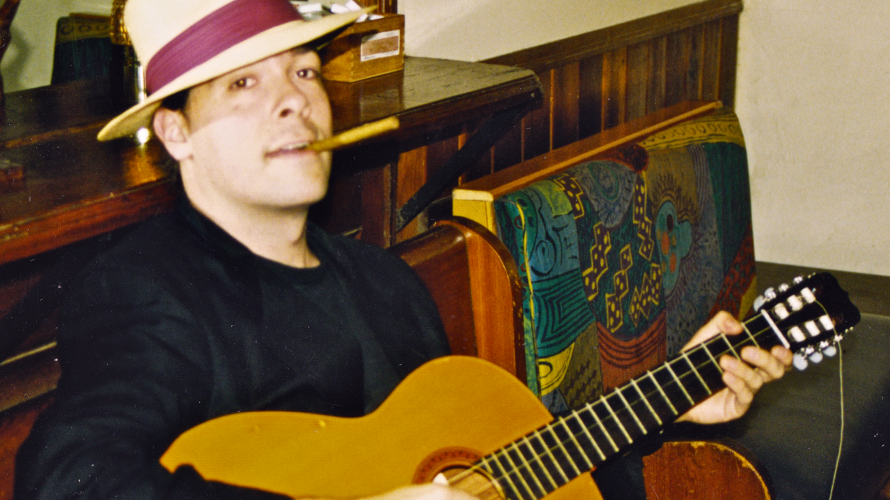 From Glendive to New Orleans: Blues Guitarist John Fohl
   ~By Brian D'Ambrosio
To describe blues guitarist John Fohl as hard at it or in demand are cosmic understatements.
The Glendive native and University of Montana graduate is one of the busiest guitarists in the country. To stay active as a musician is arduous anywhere; but to keep working in the music-rich climate of New Orleans is exceptional.
Despite releasing a pair of solo records, Fohl's contributions as an acoustic guitarist are what keep him in demand locally and nationally.
From Glendive to New Orleans: "A Sideman's City"
It is the range of Fohl's competence and his willingness to steer clear of the spotlight that have allowed him to contribute to the success of many of New Orleans' top acts.
"I've learned a lot about being a sideman, and this (New Orleans) is a sideman's city," said John Fohl, who is perhaps most noted for his blues-rock work with (the recently deceased) Dr. John and the Lower 911. "As a sideman, I'm playing gigs on Bourbon Street, or a cigar bar on Mondays, or with Top 40 cover bands, or a country artist. With (Rock n' roll Hall of Fame inductee and New Orleans legend) Dr. John, I had no rehearsal. It was a four-night run — and that was my audition. I had some music to learn and listened to a couple of shows, and I was told to be ready. It's about showing up to play every single day."
Whether with the instrumental funk and groove Joe Krown Organ Combo or backing up blues giants such as Pinetop Perkins, Clarence "Gatemouth" Brown, Bo Diddley, Joe Huston, Charlie Musselwhite, or Shemekia Copeland, Fohl has supported more than 25 records. And Fohl was initially exposed to a number of the musicians he has accompanied in Missoula in the late 1980s, including the Cajun and R&B centrifuge Brown (1924-2005).
"I had the chance to see 'Gatemouth' first at the Top Hat as a kid going to college. After I moved to New Orleans, I got to know his keyboard player well. Gate was friendly to me and I was even doing some acoustic tours with him. He was kind of a cranky guy. But when he'd stop being cranky, he would be the sweetest guy if you were willing to help him out.
"I first heard Pinetop Perkins (1913-2011) at the Carousel Bar in Missoula, out by the mall. I played with him a few times. When he was having fun and the band was cooking, it was hard to get him off of the stage. When he was not having fun, one time, while in his late 80s, he played for 10 minutes, and then he said, I'm outta' here."
Glendive roots: "Cadillac and a horse trailer as our rig"
Before he was a successful sideman, he was a kid from rural eastern Montana absorbing all that he could about music.
"Erik Ray (from Conrad, Montana) played in Glendive and I got a guitar lesson from him at age 15, and he pointed me toward the music to go look at. Erik taught me that country and other music was cool. We played in Glendive, Sidney, Wibaux and Miles City. I played with a couple of guys who still live in Missoula now. Ron Meissner hired me at 13 to play in his summer band. All of these guys were in their 20 and they took a chance on a little kid. I had to get the okay with mom to play in bars.
"In high school I started my own band, whatever we could learn off the radio, whatever we could get people to listen to. I joined Erik Ray and the Skates, and we did Battle of the Bands at the Carousel Bar. Erik had a '65 Cadillac he got from his grandfather, and a Cadillac and a horse trailer was our rig."
While attending college at UM, Fohl formed a band called The Skanksters. From talent night at the defunct Luke's Tavern to a long list of other clubs which no longer exist, including one called Hubcaps, Fohl thoroughly canvassed Missoula's music scene. Realizing that he had "done what I could there," he soon departed for Oregon.
Cherry Poppin' Daddies to Subbing, Support Role
His nine years in Eugene, Oregon, was highlighted by his work with the Cherry Poppin' Daddies; the band's swing-styled "Zoot Suit Riot" compilation CD sold more than 2 million copies, earning a double platinum mark in 2000.
"It's funny because we were never really a swing band," said Fohl. "We were more like a punk-funk band. The record that became double platinum, the majority of songs were culled from swing-style ones off the first three records. I joined the band at the beginning and left before they got really famous."
Fohl arrived in New Orleans in 1996, and has since nurtured the tasteful style which has made him such a sought-after sideman. Indeed, the typical week finds Fohl playing guitar on another artist's record; subbing for friends at venues such as B.B. King's Club; backing up bands at clubs as electric and jazz guitar support; even venturing into the solo realm at local singer-songwriter nights.
"In the average week I could be playing six or seven different guitars on as many different projects, with all kinds of different music. Anybody can call me and I'll go play with anybody."
Always prepared to participate, Fohl said that the feedback apparatus of a sideman is uncomplicated.
"I'm subbing for a blues band tomorrow. It's the first time I've ever played with these guys. Immediately after the gig, they will say, 'We will have you again,' or they won't say anything."
To keep things in motion is the only thing that Fohl can do.
"Being a sideman allows me to contribute to other people's music, and that fulfills a big thing in me. But solo is where I get the chance to showcase my songs."