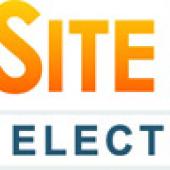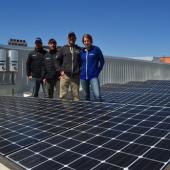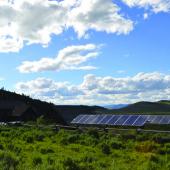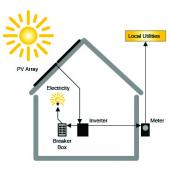 Orion Thornton walks the walk.  He grew up 35 miles outside Kalispell in a home which was (and still is) completely "off the grid."  Hauling water, harvesting wood and wild game, and producing solar electricity were all part of his childhood experience, creating values he still holds today.  His home in Bozeman is one of net-zero energy consumption, powered by solar electricity, solar hot water, and wood heat.  "This is something I believe in and have a passion for," says Orion, "I don't know how I could sell and build solar electric systems without living with the technology myself.  I think I'm my own best testimonial to the promise of solar energy."
Orion and his business partner Conor Darby have been helping people across the state of Montana "go solar" for over a decade.  They are two of the new Montana pioneers, creating pathways to the promise of renewable energy.  Their Bozeman-based company Onsite Energy designs, sells, and builds solar-electric systems, often the first step for homeowners and businesses seeking to reduce their utility bills and their dependence on coal-based power generation. Solar energy production is negligible in Montana, well behind even wind power.  Orion and Conor are on a mission to change that, one solar panel at a time.
There are three components to a solar energy system, and the process itself is fairly simple: 
1)  Amount of sunlight hitting the panel
2) Size of the panel 
3) Efficiency of the panel
"Montanans take pride in self-sufficiency," says Conor. "That's why it's easy for us to get excited about the prospect of producing our own electricity.  For many, when they realize that a solar system will actually make them money while reducing their carbon footprint it becomes a no-brainer."
Efficiencies of solar system components have improved significantly in the last decade, and solar module prices are 75% less than they were in 2007.  And with the help of state and federal tax credits, these systems can take as little as 7-10 years to pay for themselves at current electrical prices, and they aren't going down any time soon.  Historical data from Montana Power and NorthWestern Energy shows a levelized increase in electricity rates of 4% annually, and the EPA's new Climate Action Plan could accelerate the pricing trend upward.
As a result, Orion and Conor have found a great deal of interest in their solar energy push.  They are not the only pioneers.  Users are pioneers too. Local solar energy advocate Tim Crawford has used Onsite to install a solar array to power his irrigation pivot pumps on his Pheasant Farms property in Roundup, and looks forward to an 80% reduction in his electrical bill. With Crawford's assistance, in 2014 Onsite also built a new 30 kW solar array at the Emerson Center for the Arts & Culture in Bozeman, bringing a nearly 100-year old school building another era of "renewable" use.  The most recent project Onsite Energy has completed for Mr. Crawford is a 32.4 kW array on his downtown office building, located at 15 S. Tracy, currently the largest solar array in downtown Bozeman.  Mr. Crawford is by far the largest individual investor in solar energy in the state, with over 100 kWs of installed capacity among various properties, raising the bar for what one individual can do to contribute to our clean energy future.
Orion and Conor have worked together on the installation of over 400 solar energy systems across the state, and have a vast practical knowledge they enjoy sharing with anyone who asks.  They both hold Certificates as Solar PV Installation Professionals through the North American Board of Energy Practitioners (NABCEP). This summer Onsite will be working on a major demonstration project for a large utility company.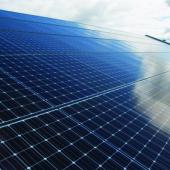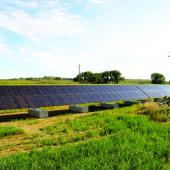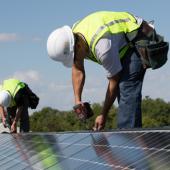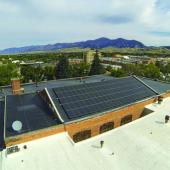 On the advocacy side of the industry, Conor and Orion are deeply involved in the Montana Renewable Energy Association, and both are active in solar education programs, giving them the impetus to stay current with trends in solar energy technology and design and installation practices.
So, what will solar energy use be like in the future?  
"It's kind of hard to say," says Orion.  The current technology has been around for over 60 years.  But there is room for improvement, specifically in solar panel efficiency, and any number of new technologies could make the leap into commercial production and create a new industry landscape. Perhaps the biggest challenge will be how solar electricity integrates into existing utility grid systems as installed capacity increases; and utility companies will need to look for innovative solutions for managing the interactions between distributed generation systems, traditional centralized generation, and power loads."
"We are both new parents," adds Conor, "and I think the potential of solar energy has greatly deepened our passion and resolve to use it as a means to help transition our energy economy from polluting, carbon-based fuel sources to clean, renewable sources, with hopes of a better future for our children."
"The sun is estimated to have enough hydrogen gas to burn for another six billion years, Orion adds. We should find ways to make use of it."