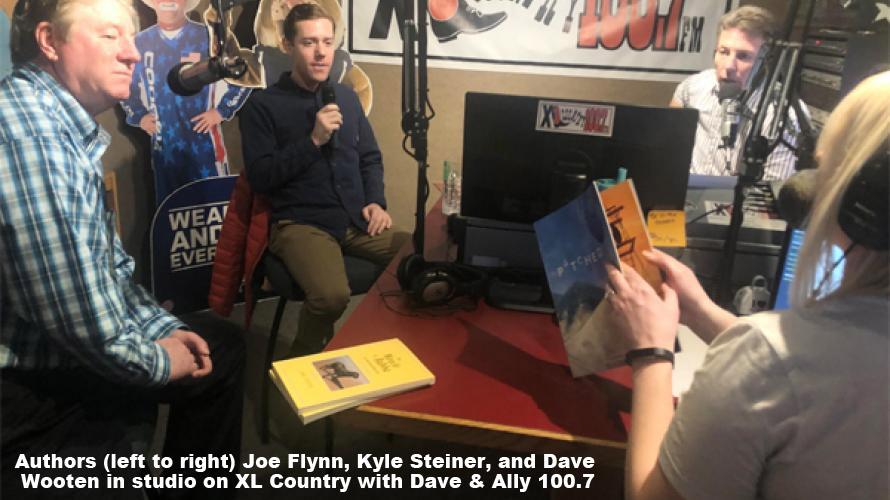 Readers Are Leaders: Montana Authors Join Together To Celebrate National Reading Month
March is National Reading Month, a time to motivate families and people of all ages to read every day. At Distinctly Montana Magazine, we like to celebrate reading all year-round by bringing you thought-provoking, fun and interesting stories and articles so you can learn more about what makes Montana unique.
Designated as a time to celebrate reading, three local authors joined together to kick-off National Reading Month and shared their stories on Montana's popular 100.7 XL Country radio station.
Local authors include recently voted 2020 Bozeman's Choice, 'Favorite Local Author', Dave Wooten for his book, 'Crazy Horse: Where My Dead Lie Buried', Kyle Steiner, award-winning author for his children's book series including, 'Patched', 'The Legend of the Squiger', and 'Snow Ghost', and Joe Flynn, author of, 'The Miracle of Bubba', a heart-warming story about his beloved Black Lab, Bubba that has been quickly grabbing hearts nationwide.
The three authors discussed the positive benefits of reading regularly and their individual paths of becoming authors. All agreed that reading regularly was the key to becoming writers and authors. Each with a unique background, Dave Wooten's passion is for history, Kyle is writing creative children's books and Joe's love of dogs and the outdoors led him write Bubba's story. All three wrote their books in Montana.
'The path for authors is so unique. I'd encourage anyone who loves to read and has an interest in becoming an author to start writing. Just start', says Joe Flynn.
The benefits of reading include expanded vocabulary, stronger analytical skills, memory improvement and stress reduction, even from as little as 15 minutes of reading a day.
'There's so much access to content now days,' says Dave Wooten, 'You can digest stories books in audio version, from your kindle, magazine, or my favorite, an old-fashioned book'.
For young children and students, reading is critical for comprehension, education and entertaining. There are even apps available for kids to track their reading, test their comprehension of the book they read and set goals!
Among parents of children 6-17, almost three-quarters (71%) agree, "I wish my children would do more things that did not involve screen time." The child who is a 'frequent reader' reads an average of 44 books per year versus a child who is considered an 'infrequent reader' who reads an average of 22 books per year (source: Forbes).
Adults average less than five (5) books per year. Yikes! A great way to get your kids reading is to model the behavior! Make reading enjoyable and find a genre you like or a specific author or series. Many movies also start as books and it's always fun to compare the book version to the movie version.
To encourage reading and learn more about these Montana authors, Dave Wooten and Joe Flynn will be sharing their stories at the Belgrade Library on Tuesday, 3/31 from 4 p.m. – 6 p.m.
For ideas on how you can celebrate reading or if you need tips on how start good reading habits, here are a few easy and fun ways to keep reading fun:

Use a Reading App: Listed as one of the 'Top 23 Life-Changing Apps', Bookling is a mobile app which helps you keep track of your reading habits and motivates you to read more.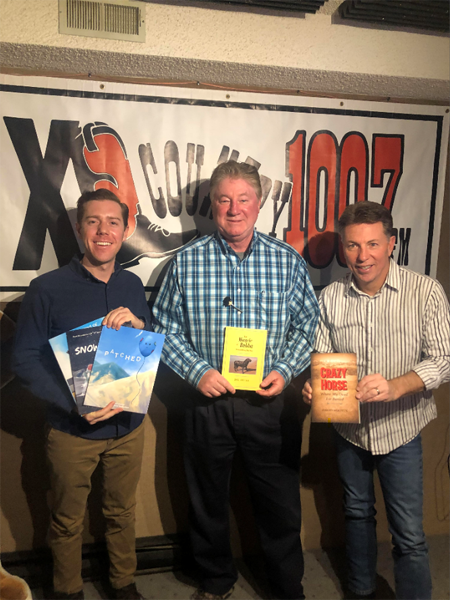 'If you're dedicated to print books, Bookling is a fun way to see your progress overtime and keep a personal log of the books you've read. It's like a personal Goodreads for introverts! You can set alarms to remind you to read several times a week or daily, which is a fantastic feature for people who claim they're "too busy" to read. I love the bright, animated interface and that it keeps me accountable to crack open a book instead of opening Facebook.' BuzzFeed staff member (source: https://misterbumbles.com/bookling).
 
Choose a theme: Whether you enjoy history, animals, biographies on interesting people, fairytales, outer space, or sci-fi, pick up a book on a theme and enjoy reading!

Read for 15 minutes a day: Set a little time aside, it doesn't have to be a lot, and read for 15 minutes a day to start a habit. Before you know it, you'll be finishing that new book!
Visit the library: Libraries are a beautiful place for the community to gather with a wide selection of books and resources. It's a fun place to spend time with family or hide away and read a good book. Library visits are on the rise and also give you that sense that you're contributing to your civic duty within the community. Enjoy the incredible resources our city has to offer, get a library card and check out some books for the family!
Enjoy an audiobook: Audiobooks are another creative way to get into reading, especially if you're in the car a lot (spring break road trips, etc.). Introduce your kids to the joy of audiobooks or radio theatre.

Montana is full of independent bookstores and resources, making it enjoyable to dive into a new genre or topic, read an autobiography or go back in time with a historical novel. Get the whole family reading together. Share with us your favorite book or author in our Facebook group.