I look out my window and watch my maple and oak tree-lined street turn yellow and gold; my hands clutch a warm mug of tea and my house smells of cinnamon and spice.  I sigh, I know the coatless days are soon to be replaced by lightweight jackets, and then followed by winter gear.
For now, I relish this time of year when you wake up to crisp, cool mornings, enjoy a moderately warm day, and hunker down in the chilly evenings. I confess that I really do adore this time year; it doesn't have as much to do with the weather as it does with the change in my cooking.  I visit the grill less often and spend more time making the "stick to yer ribs" — a.k.a. comfort — food.  I especially enjoy foods made from our own local produce.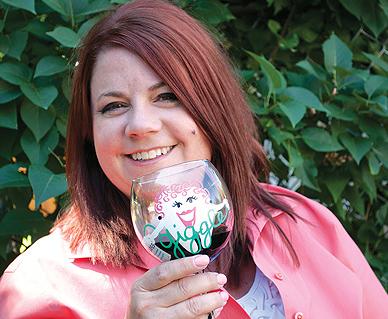 Unfortunately as the delightful warm days of summer come to end, so does much of Montana's short growing season. I'd love to be reaping the benefits of my own garden, but I have a black thumb and rarely do I have anything left alive in my poor garden by fall.  So, in my effort to buy local I seek the advice of Amy Grisak, President of River City Harvest.
Amy tells me: "Some of our best fall veggies are winter squash (like acorn, delicata, hubbard, spaghetti), onions (Copra store the best), carrots, beets, turnips, rutabaga, potatoes, and Brussels sprouts. Autumn is a great time to enjoy a second round of the spring vegetables. Broccoli, cabbage, and cauliflower are all tastier in the fall with fewer pest problems. Kale, chard, and spinach also make a comeback."
Taking Amy's advice, I made a hearty and comforting bison soup to celebrate the fall harvest.  Fall for me is also all about pumpkins and apples. What better way to celebrate these classic foods than with a pumpkin applesauce?  It's heavenly and makes great baby food too! 
River City Harvest is an organization that has brought gardening and gardening education to the Great Falls community by setting up multiple community garden beds, including greenhouse gardening, herb gardening, and special raised beds for the handicapped.  They also garden for charitable organizations, such as the Food Bank and the Salvation Army. 
If you'd like to know more about RCH you can visit their site at www.rivercityharvest.com or contact them by email: [email protected] or phone: 406-750-1700.
Bison Meatball and Roasted Vegetable Soup
Roasting the vegetables brings out their natural sweetness, giving this soup an unexpected flavor.  
Meatballs:
1 pound ground bison
1 pound ground pork
1 slice of bread (the crust is perfect), torn into small pieces or made into crumbs
1 to 2 tablespoons milk
1 egg
1 teaspoon Alpine seasoning
¼ teaspoon fresh ground black pepper
¼ teaspoon dried oregano leaves
Roasted Vegetables:
1 large potato
1 large onion
2 medium carrots
1 medium parsnip 
1 small rutabaga
1 small winter squash, peeled and seeded
(or any other combination of local fall vegetables)
Soup: 
32 ounces beef stock (homemade or purchased)
1 cup strained or pureed tomatoes
2 bay leaves
¼ teaspoon oregano
Kosher salt and pepper to taste
¼ teaspoon crushed red pepper (optional)
Parmesan cheese (optional)
In a large bowl pour 1 tablespoon of milk on top of bread crumbs. If the bread crumbs are still dry, add the second tablespoon of milk.  Add the egg, Alpine seasoning, pepper, and oregano; beat lightly with a fork.  With your hands, mix in ground bison and the ground pork with the egg mixture until homogeneous. Shape into 1" balls (a melon baller works great), place on a baking sheet(s), and refrigerate for 30 minutes.
Preheat oven to 400° F.  While meatballs are setting, prepare vegetables by scrubbing and/or peeling them.  Cut into ½" pieces.  Remove the meatballs from the refrigerator and bake for 30 minutes. Remove pan(s); using a slotted spoon or spatula, remove meatballs to a paper towel lined plate to drain.  Pour off all but 2 tablespoons of fat from the baking sheet if necessary, or add cooking oil to equal approximately 2 tablespoons of fat. Add vegetables to baking sheet(s), liberally salt and pepper vegetables, and then gently stir to coat with fat and spread evenly on pan. Roast 20 to 30 minutes or until golden brown. Stir halfway between cooking times.
While the vegetables are roasting, in a large Dutch oven add meatballs, beef stock, tomatoes, bay leaves, oregano and crushed red peppers (if desired).  Bring to a boil, then reduce heat, and simmer for up to 20 minutes, When the vegetables are done, add them to the soup, and stir well to mix. Top with chopped fresh parsley and parmesan cheese if desired.  Leftovers freeze well.
Pumpkin Applesauce
Here's a whole new way to use pumpkin and put a twist on delicious applesauce.
12 to 14 apples
½ cup raw can sugar
¼ brown sugar (any type)
4" to 5" stick of cinnamon
6 to 8 cardamom pods, slightly crushed
5 allspice berries
¼ teaspoon fresh nutmeg, ground
1 cup water
1 can pumpkin puree (not pumpkin pie mix) or 1 ½ cups fresh pumpkin puree
Peel, core, and chop apples. Place the cardamom and allspice berries in a spice bag or tie up in a piece of cheese cloth. To a large pot add the apples, spices, 1 cup of water, and the sugars. Bring the pot to a boil, turn down and simmer. Simmer 30 minutes, stirring occasionally, or until the apples completely soften. Remove cinnamon stick and spice bag. Using a masher, food mill or food processor, blend or mash the apple mixture until a sauce forms. Stir in one can pumpkin until homogeneous.
Note: If using a food mill it is not necessary to peel and core apples or place spices in a spice bag.
After retiring from a 22-year Air Force Career, Rhonda Atkins became a food blogger, recipe developer, freelance writer, and photographer. Rhonda has lived in Great Falls for four years and enjoys going to her cabin in the Garnet Mountains and cooking over fire and in Dutch ovens. If you'd like to see more recipes and ramblings from Rhonda you can visit her site at www.thekitchenwitchblog.com.