Keith, it seems a bit unusual that you are both an accomplished artist and an architect by trade.  How do these skill sets influence one another?
For the better part of 1,000 years, up until the 1960s, it was considered a prerequisite for any architect to also be an artist or craftsman:  one who can create and portray a vision.  In fact, many of the great architecture movements throughout history, such as the Renaissance, the Arts and Crafts movement, and the Modernist movement, have been fueled by visionaries who joined many artistic disciplines to create a whole environment.  Today we prefer the specialist to the generalist. I believe this is a mistake.
Which do you enjoy more? (art or architecture?)
That is like asking which note you prefer on the musical scale.  The two are so intertwined that it would be difficult to say one is preferable to the other. Instead, I would say that architecture should attempt, whenever possible, to merge the many aspects of our aesthetic and functional life.   Both art and architecture are creative, multi-faceted disciplines, montages of thought, spirit, and emotion. 
 So, who or what is "The Reluctant Architect"?
"The Reluctant Architect" is really an idea that grew as I began compiling a book of drawings and observations. "The Reluctant Architect's" thesis is a refusal to embrace the current approach to market-driven architecture, which merely adds square footage to an already overcrowded planet.  My book embraces the arts as living entities that improve one's life.  In The Architecture of Happiness, Alain de Botten states:  "The architect's task is to stand as an eloquent reminder of our full potential".  Architects have become so enamored with the phrase "form follows function" that discussions of beauty have all but been thrown out. 
It seems that you are suggesting the lack of a certain timeless design in modern architecture?
In architecture school we were taught about the power and poetry of architecture in society, as well as its immense responsibility to solve some of the concerns of city planning, transportation, water resources, urban blight, and suburban sprawl.  It is rare that these same concerns are addressed within architectural practices.  In Bozeman we are facing many big-city issues, the same issues that if left unattended will grow into larger problems. 
Architecture students would be well served to study the classics and consider what comprises timeless design, buildings that will stand for generations, perhaps centuries.  Academia would also benefit by exploring this history and the basic premises built over thousands of years of architecture.  Beauty, proportion, utility, and scale have taken a back seat to the digital image and the stylized form of material.  As a culture we seem to have traded quality for expediency.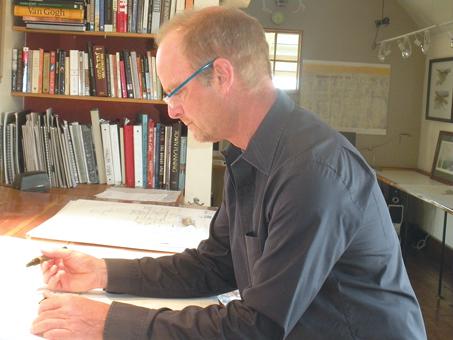 You mention "the green movement."  Do you see a strong relationship between landscape and design?
The word "sustainable" implies usefulness over a long period of time. When the green movement grabbed hold there was little talk of longevity, when in fact that is the greatest pay-off. The current market-driven economy builds a depreciating asset with a life span of 20-25 years, at which point it becomes too costly to maintain and cheaper to build anew. The dark side of this is the wasteful use of materials, while cheap buildings continue to clutter our landscape.  What will the Gallatin Valley look like in 200 years?
The green movement has been with us for many years:  one need only look to the pueblo dwellings of the southwest and the efficient center chimney cape to see that we have long struggled with energy concerns.  However, green energy applications are being codified and measured with too little benefit, because they are laden with paper work and costs that the average citizen cannot afford. To incentivize energy conservation, it needs to be made accessible. 
So, is this simply a result of a fiercely market-driven economy, or due more to the advent of technology and reliance on CAD (computer-aided design) and excessive specialization?  Is architecture dying as an art form?
Like medicine and law, architecture has become overburdened with licensing requirements, insurance regulations, and international building codes, as well as local ordinances.  Changing the color of your front door can be a crime in some developments.  Creativity suffers in the face of unnecessary regulation, and the artist/architect has been moved to the back of the bus.  I hope that the digital age will spawn another movement and we might see the arts merge again to rebuild our deteriorating environment. 
You cite The Architecture of Happiness as an influence on your work and your perception of architecture.  Could you elaborate?
There are a few timeless architectural books such as Design with Nature by Ian McHarg, Poetics of Space by Gaston Bachelard and Learning from Las Vegas by Robert Venturi.  I also like Alain d'Botton's, The Architecture of Happiness, because it takes a humorous look at architecture, which is generally far too self possessed and serious.  It is also an insightful critique of why architecture is important to us.  I agree with d'Botton's theory that the architect's task is to inspire a joyful environment.  Certain resonant forms, textures, planning ideas resonate with us as time tested and pleasing forms of shelter; they are born out of the mind of the generalist, who understands art, the natural world, structure, color, ergonomics, etc.  The generalist begins with what is possible, absorbing and translating the vision into a sustainable form of art.
Who are the great generalists and what makes them so?
Tadao Ando, Frank Gehry, Luis Barragan, Renzo Piano, Adolf Loos, Renne' Mackintosh, the Greene Brothers and Bernard Maybeck. 
Architecture should be the blending of art and the science of construction.  A true generalist admits the critical tension between the art of architecture and the driving commercial forces making architecture, but prefers to celebrate the art of architecture.  The simplicity of Tadao Ando's Chapel in Japan and its stark, unadorned form is the where the poetry lies.  Another example, Gehry's Art Center in Bilbao, Spain, is a series of curious waves of polished metal, contrasted with the ancient city's original architecture.  Both buildings can inspire profound introspection.
Let's turn to the business of architecture.  Describe for us your favorite type of client.  What makes for a good relationship with Keith Anderson, architect?
A client with a creative outlook, who asks much of the design and so the architect.  I like to be challenged by a unique site and a requisite budget.  A large budget is the least important factor in creating an interesting design.  We have all seen large, expensive homes poorly built.
I would imagine your approach to architecture limits you to a few special clients at any one time?
Rightly so.  It is profoundly unimportant to me to have a great number of projects.  That has been precisely the problem over the last few decades:  too much construction and far too little thoughtful design.
Where do you find joy in your own life beyond your work?
My son Tristan, who is 4 ½, has lately been drawing hotels — very intricate collections of geometries in a variety of colors that just flow from pen to paper.  Paul Klee spent most of his life attempting to draw as a child, and Tristan has succeeded.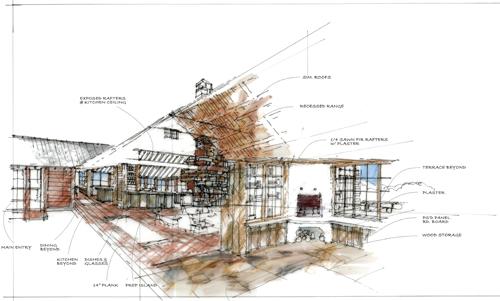 We won't ask you who your favorite, living Montana architects are but can you tell us which structures are great, historic examples of architecture in the Treasure State?
Because Montana is a young state, we do not have great stone and glass towers as seen in places like Chicago and New York.  What we do have are historic ranches, such as Grant-Kohr's Ranch and Hat Creek; the ubiquitous western storefront, the sun dried brick of our University buildings, the Sears Bungalows that line the streets of Bozeman and Butte, and the ruins of whole communities of historic structures, now become ghost towns.  I admire the boiler plant building and Hamilton Hall at MSU. One can see Purcell and Elmslie's work in the residential Heitman House in Helena.  The most stunning example of innovative design with local materials is Old Faithful Lodge in Yellowstone Park.  The architecture of the national parks, often called Parkitecture, contributes to our inventory of great buildings, from the Banff Springs Hotel to Glacier's McDonald Lodge. The railroad contributed to the rise of great depots such as the one in Livingston and Whitefish, as well as significant hotels such as the Baxter and the Bozeman. 
Our great buildings are of an intimate scale in a vast landscape; beauty can take form on any scale and any building type.  What we see in Montana is still the grand spaces and the big skies.  Architecture is merely a footnote, but one that is profound.
Call us the "reluctant editors," as we are hesitant to bring this discussion to a close.  What final words of advice would you have for aspiring architects now matriculating through our university systems?
Rudolf Arnheim writes: "Beauty, perfection, harmony, and order do serve to give a sense of well-being by presenting a world congenial to human needs."
My suggestion and hope for students of architecture is continue to study human nature and the classics, travel, read and then build something with your own two hands.  Do beautiful work!
-- 
Keith Anderson has practiced architecture for nearly 30 years.  He graduated from the University of Minnesota with a Bachelor of Arts and a minor in Philosophy, then from Montana State University in 1983 with a Masters in Architecture. He started his career in Jackson, WY, where he designed numerous homes, including one for Harrison Ford.  He then moved to the east coast, where he was a partner at Harriman Associates in Maine for six years, designing award-winning public buildings. He also spent five years as a Senior Design Architect and Partner at a 250-person firm in Minneapolis, followed by more award-winning public projects while with Gensler Architects in Houston, TX.
Following his dream to move west, Keith joined Pearson Design Group in Bozeman, Montana, in 2003.  As Senior Design Architect, he designed over 30 custom homes at the Yellowstone Club in Big Sky. With 28 years of experience working for other firms, Keith decided in 2011 to open his own architectural firm in Bozeman. He is currently focused on residential and resort here and around the country. Keith views architecture as a form of fine art that is lived in.  His e-book,
The Reluctant Architect, is available through iTunes and Amazon.
Keith, owner of KA Architecture, can be reached at 406-223-2946; www.keithandersonarchitecture.com.