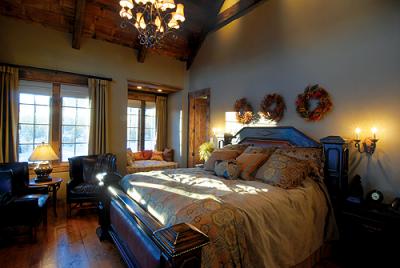 Walk into an unfurnished home, and there's a lifelessness to it, a sense of waiting to be animated. Yet an interior space furnished in a way that conflicts with your character, your preferred notions of comfort and beauty, creates an experience like listening to someone singing out of key, or reading the first page of a book and knowing you're not interested in reading further.
Furnishings bring a space alive, create a story, and make an environment in which it is easy to function.
In purchasing recreational properties, such as those in Big Sky, properties that will become second and third, maybe fourth or fifth homes, potential buyers run up against exactly these challenges. A busy person who comes to Montana for a two-week recreational visit wants to spend their time doing whatever brought them here, not in addressing the design challenges of a property they might purchase.
Enter the interior designer, the artist of interior spaces, the world of Carina Russell of Rocky Mountain Design Interiors. In Carina's experience, "Most people don't have the imagination to visualize what a property would look like when it's furnished." Clients of hers, who recently purchased a property in Big Sky, said they looked at several properties where they were "completely turned off by the furnishings." Then they found a home that had been partially furnished by Carina and purchased it. After meeting with her, they decided to leave most of the rest of the accessorizing to her because they liked what she did initially. "Decorating a house in Montana from our home in Alabama is difficult," they said, "but this task was made much easier by Carina. We met with her once at her Bozeman office, looked through catalogs, and she got an idea of our tastes, interests, and budget. Subsequently, she emailed pictures of sofas, bed, chairs, and we made our selections."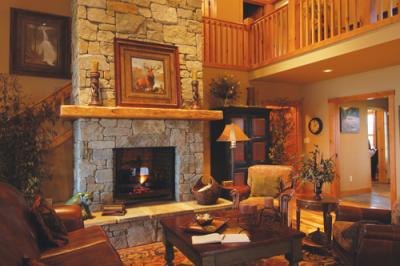 Choosing colors and textures
In deciding on decor, Carina says, "The space talks to you. I work with the architecture inside and out. I attend especially to what I see outdoors, and bring it indoors in color and theme."
So for a home with the aim of expressing the mountain beauty of Montana, she often works in varied brown tones, in textures of wood, leather, and autumn-hued upholsteries. In a room where the windows are framed in wood, with an outside view, including evergreens ascending mountain slopes, echoing that theme in furnishings and accessories makes sense.
For a recent design project in Big Sky's Spanish Peaks, a floor to ceiling stone fireplace anchors the great room of the home. Spacious and light-filled, the room is balanced and symmetrical, with four wooden columns dividing it. So Carina grouped furnishings to work with those divisions and that symmetry, placing sofas between the columns. Richly patterned tapestry pillows contrast with the couches' more neutral, smooth leather upholstery. A low coffee table between the two weaves the arrangement together.
In front of the fireplace, an area rug defines a separate grouping, one created for warm intimacy, with two roomy leather-covered chairs. A plump ottoman centered on the rug serves both as a lavish footstool, or as casual seating for anyone chatting with someone nestled into one of the chairs, creating a place to lounge and watch the play of flames in the fireplace.
Off to one side of the room is a bench, to another is a gaming area. "It would be a great place to have a party," Carina says, "There are a lot of places to interact."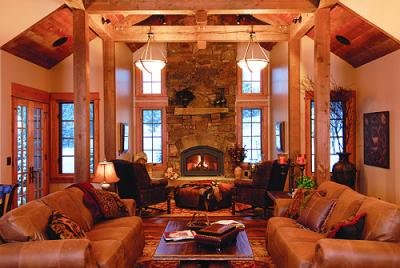 The great room flows into a dining area, with a massive wooden console placed to visually divide the two spaces. A patterned rug frames the placement of the rustic French-import table, creating a space where twelve can sit to share a meal. A bar separates the dining room from the kitchen. Each room opens to the next, creating a visually compelling, fluid and welcoming space.
Assessing function before design
When Carina furnishes a property, she first walks it with the client, room by room. Most of her clients have very specific things they want their new residence to accomplish. She advises buyers, "When you are looking at a furnished space with a thought of purchasing, evaluate its function and the specific use each room will have."
Recent clients said, "In buying a second home, we were looking for a house large enough to accommodate our entire family—children, grandchildren and friends. We also looked at the potential rental value of the property and wanted a house that could hold an entire family or even several families traveling together. Furnishing a property for rental is different as well. You might choose less expensive, sturdier furniture, and minimal personal effects around."
Once the property's intended functions have been addressed, Carina works with clients at one of Rocky Mountain Design Interiors' two showrooms, either in Bozeman or Livingston. There, they discuss both what they like and don't like in what they see to help clarify design direction. What people don't like is just as important as what they do like in terms of ultimate satisfaction.
Carina says, "We might pick out the major pieces with the client, and the fabrics for those, and then they might say, 'Now you go in and finish it. You know my taste, we've worked together long enough.'"
Shopping for interior and design work
Carina's first career was in film and TV, a field that she describes as extremely creative yet technical. She says she "evolved into interior design through a series of coincidences." A professional member of the American Society of Interior Design, Carina finds her new profession stimulating. "Colors, textures, everything is changing all the time." She and her husband/business partner John, relish the search for unusual items, thoroughly exploring both national and local resources. "Our collection is very eclectic. Human beings are unique, so their environments should be."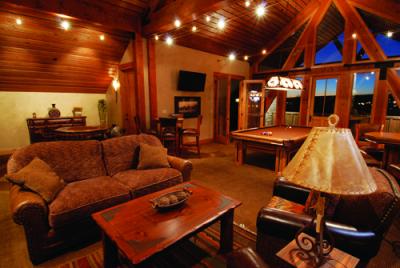 In business since 1978, and with stores in both Livingston and Bozeman, Rocky Mountain Design Interiors specializes in western and rustic themes. They supply quality western, rustic, lodgepole or leather furniture, along with tables, lamps, rugs and accessories. Here, they work fully with a client, all the way through the design process, as well as assisting homeowners looking for one very special item, such as a new chair or side table. Sometimes they furnish just-built "spec" homes and condominiums before they are shown to potential buyers. It is here that Carina's ability to let a space tell her what it wants to be becomes particularly useful.
A business this complicated and multi-layered, requires myriad skills. Founded in 1978, Rocky Mountain Interiors Design has thrived because of the creative synergy the Russells bring to it. John's skills complement Carina's. Among other things, he manages all aspects of the running the two stores, finding solutions to inevitable and varied daily challenges. He coordinates jobs with sub-contractors, solving the problems inevitable in a business this complicated, and delving into the technical aspects of complexinstallments. He too needs to be visionary--looking for possibilities, opportunities. He and Carina make joint decisions about new business directions, evolving and changing with the market.
Other large Montana mountain resort communities have similar interior and design businesses, such as Montana Homefitters in Missoula and Kalispell and Montana Expressions West in Bozeman and Kalispell. In choosing who to work with on projects from large to small, Carina advises that beyond the physical inventory of a design showroom, potential buyers should look for a designer who is passionate about his/her work. They should then ask themselves, how comfortable am I with their tastes? Does the business have a strong service orientation? Are the designers listening to me, paying attention to who I am and what I want?
"Everybody has the right to live comfortably," Carina says. "If we can help with that, that's what we're for."
Rocky Mountain Design Interiors
Carina and John Russell, owners
Locations in Bozeman and Livingston
Founded: 1978
Visit their online showroom: www.rockymountaindesign.com.
~ Jenna Caplette writes from Bozeman, where she worked in retail merchandising and design for eighteen years. She's a creative writing and life coach, a long distance healer, and a "wannabe" photographer, with a passion for Montana's mountain open spaces. Learn more at www.jennacaplette.com.