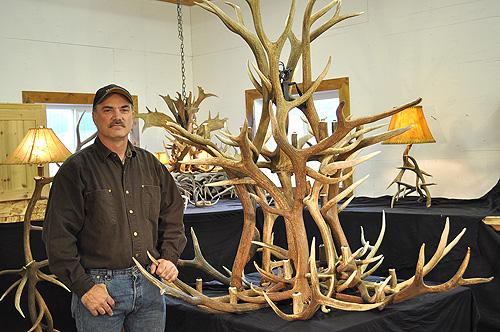 For artisans trying to eke out a living during the economic downturn, times are tough but artistic craftsmanship in Montana still forges ahead.  Those who marry the ornamental with the functional, such as these rural artisan furniture makers, possess rare talents. 
 Mike Roths, owner of Bear Paw Designs in Stevensville, incorporates the historic West into every one of his pieces—to the umpteenth degree. Furniture legs made of hand-forged metal, complete with miniature barbed-wire fencing, emulate a rancher's fence, while Winchester ammunition boxes, and other times cowhide, double as cabinet door panels. In another piece, Roths designed a nine-foot-tall, nearly six-foot-wide freestanding cabinet that resembles the exterior of a ghost town saloon, swinging doors and all. It looks like a playhouse but the cabinet is entirely functional, with room for booze bottles aplenty. 
Roths is both practical and imaginative, with a quiet curiosity. "My furniture can't be something that sits there and looks good," he says. "It has to be used." Another essential ingredient: It has to maintain the wonder of the West. 
A transplant himself, Roths seems almost destined for the West. Growing up in rural Iowa, Roths once played a stunt on local fisherman when he strapped homemade bear tracks to his boots and stomped around the riverbanks. For weeks local newspapers and TV stations buzzed with news of the sightings, hence the name for his business, Bear Paw Designs.
 Jim Swanson, owner of Antler Chandeliers and Lighting Company in Sheridan, has collected upwards of 6,000 pounds of antlers. We're talking thousands of sheds from moose, elk and various deer. He used to collect them as a hobby. Then they started to add up. "I needed to put them to some kind of use," he says. So he made a light fixture out of them. Then he made another, and another. 
As a heavy equipment mechanic at the time, his skills came in handy. Swanson says, "In order to customize a piece for people I used my set of skills with welding and repairing components."
Seemingly, Swanson made a wise career choice. In the past 15 years, his clients have included Ralph Lauren, Sheryl Crow and New England Patriots tight-ends coach Jeff Davidson. "One time Ralph Lauren wanted a spider-shaped chandelier," Swanson says. "Picture an outline of a spider on the floor, like a Spiderman logo. He envisioned it going over a ceiling in an alcove, so I made the chandelier for that spot."
The key to an impeccable chandelier: grade-A antlers. "The outer lines need to be appealing first. Then the color of the antler needs to be vibrant. Ivory tips with brown and chocolate colors. That's what you get with an A-grade antler. The more depth and contrast in color, the more stunning a first impression. 
 "Sometimes you walk into a person's home and you're afraid to set your glass down on the furniture," Karen Kreek, owner of Karen Kreek Camp Design Furniture, previously of Ennis, now in Bozeman says. "My work isn't that."
Brightly colored and fashioned after the rustic camp look of the '40s, Kreek's furniture—from daybeds, to armoires, to blanket chests—may be worn around the edges, but it is no worse for the wear. One of her claims to fame: She adorns the artwork of her late father-in-law, famous wildlife artist Fred Sweeney, to certain pieces. 
"He painted for Field and Stream, Outdoor Life, National Geographic—so we had a huge collection of his art," Kreek says. "And we had people asking us, 'Could you put a bear on this or a fish?' When I started applying Fred's art to it, it had that old lodge look. That's how we got into the camp design."
Kreek's hoarding habit came in handy with the assortment of conchos she accrued, too. "I've been collecting old pawn Indian jewelry for years, and I love the crude look of the stuff—it has such incredible character," Kreek says. "One day I thought, 'That would make a great hand pull.' So I gave it to a guy and he cast it for me."
When pressed about the rusting compound used to make the hardware look antique, Kreek says it is her secret formula. And having made the rounds at trade shows nationwide (Kreek's furniture is featured in Crow's Nest Trading Company, Black Forest Decór, and Pendleton Home catalogs), she's not apt to reveal her secret any time soon. 
 Chris Pemberton, owner of Echo Basin Woodworks in Bigfork, generally doesn't call a supplier when he needs materials for a piece. Instead, he drives a few miles down the road where a local farmer takes boards off his barn for him. Then he turns the reclaimed wood into a bed. Or, he might poke around a farmstead junk pile that the landowner gives him access to. He'll find railroad spikes to make into dresser drawer pulls, or barn door hinges to use as ornamental iron. 
"(The farmer) has his own sawmill, so he'll actually take boards off his barn for me and then just cut new ones to replace the old ones. It's an old family farm," Pemberton says. "It looks like they've been there for generations."
The appeal of Pemberton's furniture, he says, is in the age. "(The materials) just look old and people seem to like that," he says. "I think people sense that these things are from a time when life was simpler, and they crave that."
Flathead Lake and area rivers also serve as Pemberton's suppliers. He collects driftwood and crafts it into fixtures—mainly baskets.  "Nature does most of the work. I just find it and shine it up for everyone to see."
In 2009, a fire devastated the historic district of downtown Miles City. Engulfed in flames, an entire block of businesses burned to the ground. So Becky Zawada, owner of Becky's Creative Metal Works in Miles City, put her skills to work in helping one business restore its old-school charm. 
Commissioned by the owners of Cellar Casino, Zawada tackled the task of making the building's signage look like its original. After cutting out a design from sheet metal, Zawada used a rainbow torching technique to give the metal an aged, antique copper-like appearance, with a variation in colors.
Zawada's entrance into the metalsmithing business came at a time when she most wanted a career change. With a special needs child whom she and her husband adopted after Zawada's own children were grown, she desired a schedule more flexible than her position with the school district allowed. Flipping through a catalog of her husband's, a welder by trade, Zawada spotted an image of a plasma cutter, the technology used to cut designs into metal, and the idea hatched. 
"It works out great because if I need something welded, he's right next door. Or if he needs a design in a fence, I can help him with that."
Another of Zawada's specialties is the headstone. One deceased man loved riding horses and always had his dog with him, so Zawada designed his headstone accordingly, with an image of a man on his mare, his dog by his side.
Whether a personalized headstone, bed made of lodge pole pine, an armoire with conchos, and antler hand pulls, what makes these artisans' work so treasured is that they bring into domestic life the expression of the wild west.  We can never get enough of it. 
~ Kate Hove is a freelance writer out of Lewiston, Idaho, and holds an MFA in Creative Writing from the University of Alaska, Fairbanks.  See her blog at www.kmhove.wordpress.com.
To learn more about these artisans, visit their Web sites...
Mike Roth, www.bearpawdesigns.com
Jim Swanson, www.antlerchandeliers.com
Karen Kreek, www.karenkreek.com
Chris Pemberton, www.montanaartisancenter.com,
  or [email protected]
Becky Zawada, www.beckyscreativemetalworks.com