Rule number one: never ask where scotch is made. There's only one original "scotch" and as the name indicates, it comes from Scotland. In other words, no true scotch can be made in the USA or anywhere other than Scotland.
Rule number two: because scotch is so original and complex, learning how to sip it and selecting the right one is fundamental in order to fully appreciate its preciosity. 
Scotch complexity brings with it rules for its making, precise geographical settings that influence its aromas, and of course, the passion and methodology of ancient traditions.
For starters, there are two types of scotch whisky distilled in Scotland: grain and malt. Grain whisky is made from malted barley, unmalted barley and other grains, while malt whisky is made from malted barley alone. Malt whisky must contain no grain other than malted barley and is traditionally distilled in pot stills. Grain whisky instead may contain unmalted barley or other grains such as wheat and maize, and it's typically distilled in a continuous column still. Because blended scotch is less strongly flavored and challenging to the palate than single malt scotch — and it's less expensive — it also is the most popular.  Blends have much less snob value than single malts and don't have as much character or flavor. Blended scotch constitutes 95% of the scotch exported from Scotland; however, that doesn't mean the rest of the world has poor taste. Most of the scotch consumed in Scotland is also blended. In Montana's most refined bars, single malts seem to be the choice.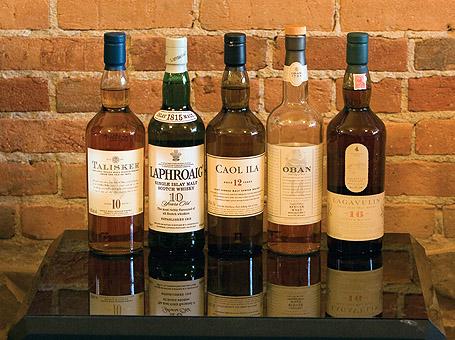 "I don't like a scotch that is bland and flat," says Kevin Head, owner of the Rhino Bar in Missoula. As a scotch connoisseur, Head looks for distinctiveness. "What's most important for me in a scotch are those notes that set the drink aside, something special in its bouquet and flavor. Single malts have that distinctiveness I look for."  Rhino Bar lists 50 different types of scotch, personally handpicked by Head on a Scotland tour of several distilleries. Among those single malt bottles, Head carries a delightful 40 year-old Balvinie; its creamy flavor, roasted nut, toffee and caramel notes make its $20 a glass definitely worth the sipping.  
Steve Stordhal of the Plonk Bar in Bozeman prefers single malts and flavors as well. The scotch list at Plonk, which first served hard liquor in the fall of 2005, offers 23 types of single malts.
"My scotch selection is based on availability — whatever is hot on the market," Stordhal explains.  "The trend here leans toward the purest."
The distinctiveness Head and Stordhal emphasize is related to several factors.
While some spirits, such as gin and vodka, can be made anywhere without influence on flavor and require no ageing, single-malt scotch is formed by its environment, from local water, stones and wood, the shape of the stills, and the climate during maturation in different casks. Each malt represents a place, which also provides a name.
Like wines -- and many other drinks -- the single malts of Scotland are grouped by region, and as with wines, these regions offer a guideline rather than a rule. The principal divisions of the distillery regions are those between the Lowlands, the Highlands and the Islands of Scotland. Most single malt scotches come from the Highland region, Speyside, and the island of Islay.
The Lowlands, where there are fewer scotch distilleries, have been known for making malts much lighter and mellower than other scotches. Lowlands usually produce blended scotches, which, according to Kevin Head, owner of Rhino Bar, are most popular among the nouveau scotch drinkers, who still need to build a palate for it.
"I guess it depends on your mood and the occasion," says Plonk's owner Stordhal about preferring blended, mellower scotches. "Each occasion may fit a different scotch. Personally, I never had that one where I wanted to drink a blended malt. I enjoy the Islay ones cause they "slap you around" a little more than others," Stordhal declares, smiling.
His absolute favorite remains an 18 year-old Macallan where the additional years of sherry oak aging deliver a lingering oak-smoke aroma along with elegant dried fruits. Contrary to the expectation that "the more the aging the more the potency of the scotch," Stordhal declares, "A 30 year-old Macallan is so smooth it almost goes down without a trace."  The acquired smoothness is due to the long aging in oak casks, according to Stordhal.
Single malts come mainly from the Highland region. Most of the scotch distilleries are concentrated in this area of Scotland.  This region can be subdivided further into the Northern, Eastern, Western, and Central Highlands.
The Northern Highlands distilleries produce lighter scotches known for their delicacy, complex aromas, and slight saltiness (due to their being distilled by the sea). The Eastern Highlands distilleries produce scotches that are medium-bodied, smooth, and slightly smoky. The Western Highlands single malts are somewhat sweet, have a peppery finish and a hint of smoke. The Central Highlands produce scotches that are said to be light-bodied, somewhat sweet, very fragrant, and with a dry finish.
To scotch connoisseurs the most coveted and boldest single malts come from the islands. Usually very assertive, pungent with peat, smoke and saltiness, the scotches produced on the Islay are strongly influenced by the sea air that permeates the soil and the warehouses. Just a dash of Islay malt gives the unmistakable tang of Scotland to many blended whiskies. 
Although some scotches, for instance a Talisker, are recommended with food, such as smoked salmon, oysters and kipper fillets, or an Oban may be good as an aperitif with salted nuts, most Montana scotch-drinkers like their "elixir" straight, with perhaps a few "rocks" or a little water on the side.
"By adding water to some bold scotches, such as an Islay, the aromas and the flavor tend to open up more," explains Head of the Rhino bar. "Some ice cubes instead seem to anesthetize the tongue and create a lighter experience for you, a different drink," adds Head. 
"I enjoy scotch before or after a meal.  It's something you usually want to drink in a tumbler," says Josef Verbanac, a Plonk habitué.
While Head and Stordhal "have a thing" for scotches, Brian Mengus, co-owner of the Murray Bar and 2nd Street Bistro in Livingston, isn't a brown liquor fan and believes that"scotch isn't that big anymore, compared to the 90s." The honky-tonk Murray bar maintains a selection of a dozen types of scotch for its "old-school, aficionados." 
"I personally don't go for the very expensive popular stuff," declares Mengus. "Most people don't have any interest in spending $30 for a glass of liquor."
Scotch prices per glass, vary from $4 to $30 in average but there are many more expensive choices.  Some limited editions of 50-year-old Macallan, for instance, may cost from $4,000 to $6,000 a bottle.
Mengus' favorite scotch is a 14-year Scapa from the remote Orkney Island. "With scotch, as with wine, if you go off the beaten path, you'll find that there are small unknown areas which make outstanding products few know about."
No spirit or drink is more representative of the place it comes from than scotch. And as is the case with many of the best things in life, be they food or drink, simple but quality ingredients and a craftsman-like approach create a sublime product. 
List of most popular scotches according to region...
Lowland Blended Whiskies (much lighter and mellower than single malts):
Ballantine's 
Hankey-Bannister
Bell's                                                                                      
Cutty Sark                                                                                         
Dewar's                                                                                               
Green Plaid                                                                                    
Justerini&Brooks (J&B)
Teacher's
Royal Salut
The Famous Grouse
Highland Single Malts         
Northern Highland (light-bodied with complex aromas):                                            
Balblair                                                                 
Clynelish
Glenmorangie (most popular single malt in Scotland)
Highland Park
Pulteney
Eastern Highland (medium bodied, smooth, slightly smoky):
Glendronach
Royal Lochnagar
Western Highland (peppery finish and hints of smoke):
Oban
Talisker 
Ben Nevis
Central Highland (light-bodied, somewhat sweet, very fragrant, with a dry finish):
Dalwhinnie
Ebradour
The "top class" Speyside (located within the Highland) scotches are known for their complex elegant aromas and flavors: 
Aultmore                             Glen Grant                                Linkwood
Benrinnes                             Glenlivet                                   Longmorn
Crogganmore                        Glenlossie                                Macallan
Glen Elgin                             Glenrothes                                Mortlach
~ Lara Vaienti is a freelance writer and a student at MSU. She divides her time between Bozeman, MT, and Milan, Italy, where she is from. Her work has appeared in Montana Living, Big Sky Journal, Montana Quarterly, and Outside Bozeman. She's a fan of Wes Anderson and Bob Dylan.