Wondering what to do in Montana, ladies, if you are feeling isolated with your emotions and energies bottled up? Take notice, for there is a definite rhythm beating in the hearts of women all around Montana who are getting together to celebrate the drummer in all of us. From Asian-American to African style drumming and dancing, there are no beats missing in Big Sky Country. To create awareness for women's issues, these colorful and vibrant groups are using their energies and passions for the drum beat to be a voice at community events hoping to inspire other women to step out, have fun, and find their own rhythm.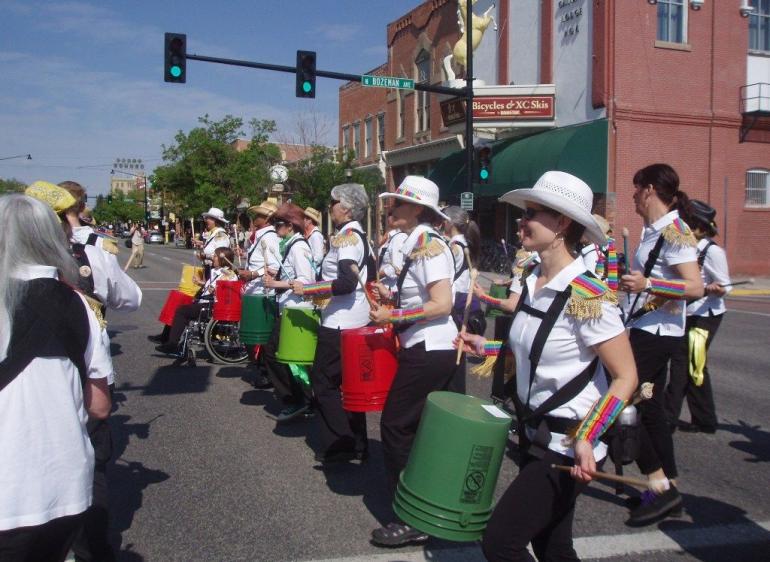 If you have ever had an affinity for martial arts but have been too timid to try, then check outMontana Taiko in Livingston, MT. Their intentions are "Community, Respect, and Spirit". Montana Taiko is Japanese style drumming not exclusive to gals; men are free to participate. With a similar feel to Aikido Dojo, Montana Taiko emphasizes folk tradition, folk music, with the discipline and respect of a Martial art. "Anyone who sees it wants to do it," says Melissa Dulin, of Montana Taiko, who first experienced Taiko while living in Japan. With a 5x3 ft drum as the opponent, Melissa feels that Taiko is an empowering and safe place for women to be loud and to get comfortable making mistakes, pushing through and being great anyway.  She would encourage anyone interested in trying out Montana Taiko to, "challenge it, face your fears and find out that you are more capable than you realize, plus it's a great workout!" For more information on Montana Taiko call Melissa Dulin at 406-580-6698 or visit www.montanataiko.org.
Around Bozeman find "Yamama," based on Yamama, a traditional African goddess celebrating fertility, creativity, and women's power. This group practice West African hand drumming. According to Shaun Phoenix, a member of Yamama, these six women bring in other rhythms, use their voices and choreography, to bring these West African rhythms to life right here in our Big Sky country. Their intention is to become a World Rhythm Ensemble.  Shaun dove into drumming therapeutically for 20-25 years where she just expressed ecstatic drumming, with no form other than celebration and self-expression. She began taking African dance classes by Chet Leach who owns the "Rhythms, Drum, and Dance" studio in Bozeman to learn the technicalities of drumming.  Being a part of Yamama for Shaun is "insanely joyful and fun".  As a mental health counselor, Shaun believes drumming is "good for your brain. It's like a wonder drug, especially for the brain of middle-aged women."   Yamama will be performing at the winter Farmer's Markets in Bozeman. To learn more please visit www.sistersofdestiny.net or contact Shaun at [email protected].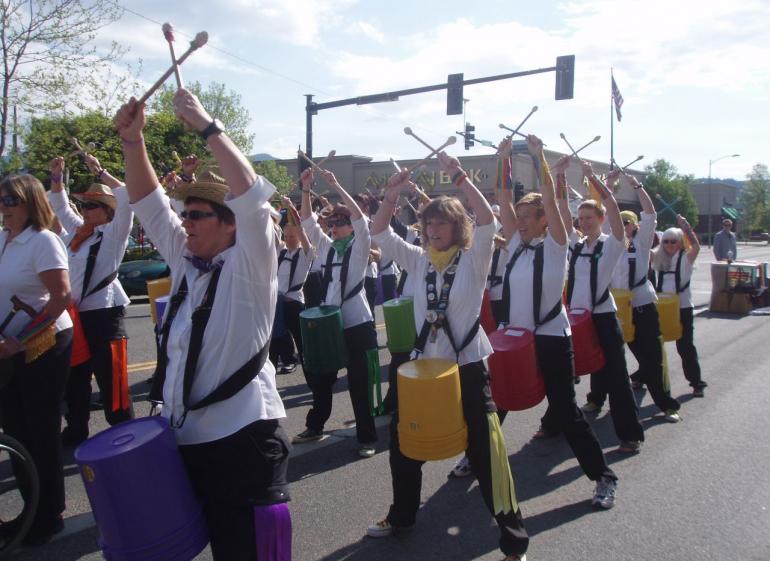 Shaun's partner, Stormi Oshun, also a part of Yamama, is the head of a little less formal, but just as loud bucket drumming group, "Chicks with Sticks" in Bozeman. That's right folks, they drum on good old fashioned plastic buckets, making "joyful noises" to inspire and empower at community events, such as parades. On Facebook, "Chicks With Sticks" declare that they are active in supporting gay and lesbian issues, women's empowerment, and other social justice work. They will be performing their marches in April at the World Rhythm Festival, the Take Back the Night march in Bozeman, and at the gay pride parade in Butte. Find them on Facebook at www.facebook.com/chickswithsticksbuketdrum, visit www.sistersofdestiny.com and for more information call Stormi Oshun @ 406-548-4698. 
Both the Bozeman and Missoula communities have a passionate group of gals who practice West African Dance called "Bara". A relatively new group in Bozeman, Bara Bozeman, was formed this past summer by Kelly Ann Brown and Heidi Lea to help bring those interested in African dance together, everyone is welcome. According to Kelly Ann, "The word Bara comes from the Malinke language of the Mendengue people and it means 'the center of community.'"  With their passion uniting them, the ladies of Bara Bozeman join together with varying levels of experience and expertise in West African drumming and dancing. 
"The rhythms that govern life can get out of balance; finding a way to practice bringing that into a form that is in celebration with a community is very healing," states Heidi Lea.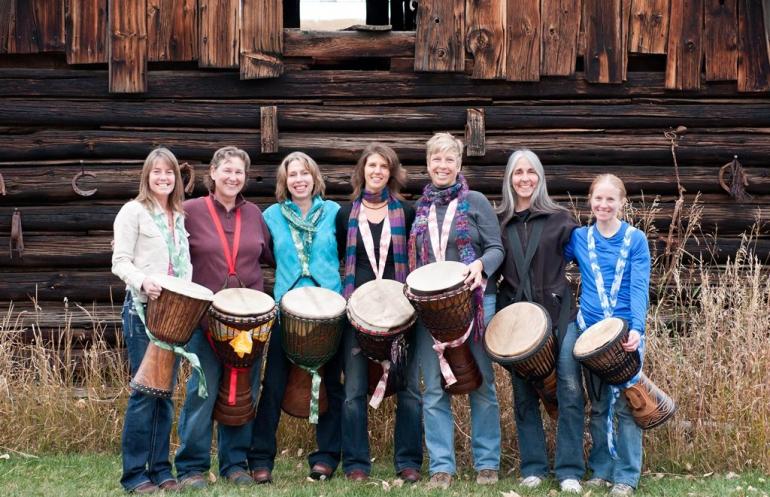 Kelly Ann and Heidi found the inspiration to start Bara Bozeman from Missoula's Djebe Bara, "which shares a similar cooperative structure, and of course from Matthew Marsolek of the Drum Brothers whose focus on the healing aspect of drum circles is to be celebrated," says Kelly Ann.  Tamara McGinley, one of the co-founders of Djebe Bara in Missoula, started the group to give the community an opportunity to partake in West African drumming. Their classes are donation-based to make it affordable for those interested and are based on empowering the individual through the freedom of movement and complex live drumming that Tamara states, "is not like anything else in the world. The movement is foreign to our western bodies." However, without thinking too much and a little patience while listening to the music, West African dance challenges, inspires, and empowers its participants. Tamara encourages others to forget their fears because they are all in it for their own personal growth and the growth of others in the group. Interested in letting the Djembe drum and the traditional Dundun instrument bring out the rhythm in your heart? Contact Kelly Ann Brown of Bara Bozeman at 406-580-2789 or by email [email protected] or find them on Facebook. 
To learn more about Djebe Bara, contact: [email protected]
~ Alyson Grinestaff