Tough Trip Through Paradise, 1878-79
Excerpted from the article by Diane Smith, entitled "Tough Trip to Publication: Tough Trip Through Paradise and the Beautiful Wives of Andrew Garcia," published in Montana The Magazine of Western History, (Winter 2008)
Tough Trip Through Paradise 1878-1879, edited by Ben Stein from the memoirs of mountain man Andrew Garcia, has remained in print since its first publication in 1967. In that time, however, little information about the original manuscript has been available, and certain questions about the veracity of Garcia's story have remained unanswered. In this presentation on February 14, 2013, Kathryn Kramer, processing archivist to the Ben Stein research collection (MC 376, Montana Historical Society Research Center), reveals information gleaned from the process of preparing Garcia and Stein's manuscripts and personal papers for public access, and explores alternative theories about Garcia's life and Stein's interpretation of the manuscript.
On January 3, 1943, Montana rancher and outfitter Andrew Garcia died in his log home near Fish Creek, leaving behind hundreds if not thousands of handwritten and typed manuscript pages stashed in dynamite boxes. Throughout his later life, Garcia had intended to publish his memoir, but it took the efforts of Bennett H. Stein to finally edit a book from these manuscripts. Tough Trip through Paradise, 1878–1879 (published in 1967).
Garcia's memoir became an instant classic and is still in print. Garcia saw nothing romantic about the Indian, who one day was robbing and stealing whatever he could find and the next was "fighting for his life and liberty and a square deal, which he knew from past experience he would not get from a white man." This ironic tone weaves throughout Garcia's narrative, which probably helped enhance its reputation for so many years.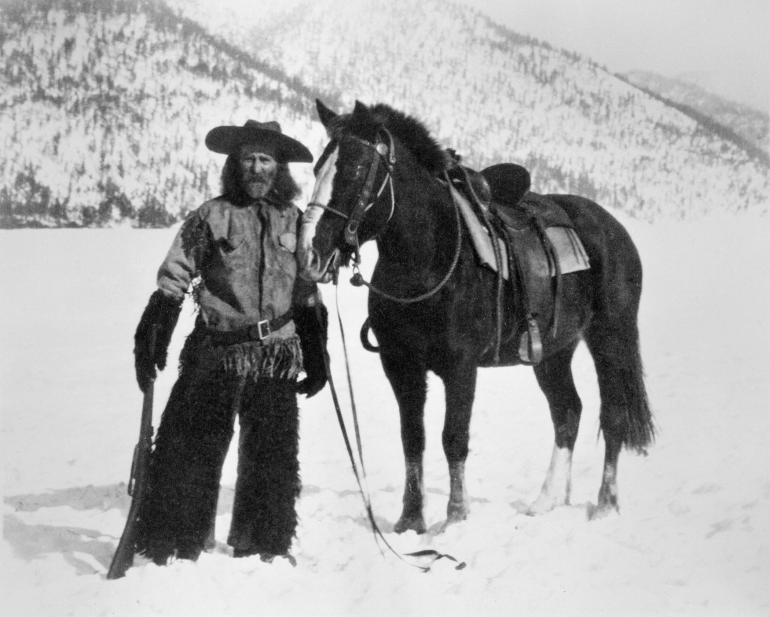 In the first edition of the book, Stein included portraits of Garcia and his Nez Perce and Pend d'Oreille wives—In-who-lise, who was killed in June 1880; Squis-squis, who died after being thrown from a horse near Big Timber in September 1882; and Mal-lit-tay-lay, "whom he brought to Fish Creek when he settled there" and who died two years later. Another of the book's photographs shows Garcia with his fourth wife, Barbara Voll Garcia, whom Garcia married in 1899 as he settled in as a Montana rancher and guide and "tried again to be a white man."
L.V. McWhorter's papers at the Washington State University archives include a sizable collection of letters to and from Garcia as well as a number of Garcia's handwritten and typed manuscripts. For 15 years, through the depth of the Great Depression, McWhorter and Garcia maintained a lively if not always cordial correspondence about the Nez Perce, the writing of history, and the challenges associated with publication and being a writer. 
Interestingly, it appears to have been a chance meeting that brought Andrew Garcia and L.V. McWhorter together. In 1928, McWhorter passed through Missoula, Montana, on his return from the Big Hole battlefield. To better understand the Big Hole battlefield and what had transpired there, McWhorter traveled with Chief Black Eagle and Peo Peo Tholek, both of whom had participated in the battle as young men, and interpreter Sam Lott (Chief Many Wounds). Lott had been a teenager sent to an Indian boarding school in 1877 but had interviewed many of the battle's survivors.
Walking the streets of Missoula, these three elderly Indians and their Anglo advocates must have made an arresting group, for Andrew Garcia, then a 72-year-old rancher and outfitter, appears to have engaged them in conversation. Garcia maintained that, like McWhorter's Indian informants, he could contribute inside information concerning the Nez Perce campaign. For example, he maintained that, contrary to what others had written about the looting and pillaging by the Nez Perce as they traveled through the Bitterroot Valley, in at least one instance the Indians left horses and branded them with the rancher's own iron to document their intended payment.
This chance meeting on the streets of Missoula led to a lengthy correspondence between the two men. It also resulted in Garcia sitting down to write his life story.
Born in El Paso, Texas, on September 13, 1855, Andrew Garcia first came to Montana in 1868 with his uncle, Alvino Ortez, who was married to Garcia's father's sister. Ortez operated a pack train between Walla Walla, Washington, and Virginia City and traveled to El Paso to purchase Spanish mules to sell in Montana Territory, convincing Garcia's parents to let the 13-year-old Andrew travel with him as far as Socorro, New Mexico, where Ortez planned to recruit a new group of herders and send his nephew home. Once they arrived in New Mexico, however, Ortez kept Andrew with him, traveling on to Three Forks and Bozeman, where Garcia briefly attended school. He then worked as a night herder making runs between Bozeman and Corinne, Utah, before being sent back to his parents in Texas.
Garcia returned to Montana in the fall of 1876, this time working as a civilian packer and herder for the Seventh Cavalry at Fort Ellis outside of Bozeman, where he watched at least one key event in Montana history unfold—the pursuit and subsequent surrender of the Nez Perce. In 1878, Garcia left his job with the army to establish the "Beaver Tom Trading ­Company Limited," living for nine years, mostly with the Pend d'Oreille, "in a tepee, following Indian customs and observing their rules of living."
Tough Trip through Paradise picks up Andrew Garcia's story in the summer of 1878, when he is about to turn twenty-three, the age "when a fellow thinks he knows it all, and in reality he doesn't. This is the time in life when a fellow ought to have a guardian—one of the good old-fashioned, short-arm kind that will kick or pound the conceit out of him." Garcia relates how, in spite of good advice to the contrary, he threw his lot (and savings) in with the trapper Beaver Tom, who promised to repay him in furs. Beaver Tom also offered Garcia the added benefit of buying "blankets and other stuff dear to the Indian's heart, and trad[ing] this stuff to them for furs and buffalo robes. Because I had to buy the stuff, the profit from trading would be mine."
While on the trail, Garcia met an 18-year-old Nez Perce woman living with a group of Pend d'Oreille. The Pend d'Oreille called her In-who-lise, or Broken Tooth, though her Nez Perce name was White Feather and she had been christened Susan. In-who-lise "was not so beautiful, but her eyes and face had truth and honesty in them," Garcia recalled. In-who-lise had been with Chief Joseph and his followers when the Seventh Infantry opened fire on the sleeping Nez Perce encampment. The soldiers shot In-who-lise through the shoulder and killed her sister as the two young women tried to escape.
Garcia convinced In-who-lise to marry him in part by promising to locate a priest to perform the ceremony and by agreeing to help her return to her family's land in Idaho. He also offered to help her locate the grave of her father, Gray Eagle, buried where he had died on a trail leading away from the Big Hole battlefield. One key point, however, Garcia neglected to share with his prospective bride: "I knew better than to tell her that I was at the Bear Paws the day Chief Joseph had surrendered. I had been with them when they went to Fort Keogh and helped to drive their large band of horses along with them; the horses the Nez Perce never got back. I had seen her people driven on flatboats in the cold like cattle to be floated down the Yellowstone to Fort Buford without any shelter from the storms."
Thwarted in their attempts to return to In-who-lise's native land and dogged repeatedly by whites who mistook Garcia for a renegade, the couple joined another group of Pend d'Oreille. After a horse raid gone bad, a revenging Blackfeet struck In-who-lise in the face with his coup stick, and she died the following day. Garcia buried his "beloved Susie, my In-who-lise among the blizzard-swept crags of the wild Marias Mountains, where the summer skies often are darkened by swirling snowstorms. "
With such a powerful and entertaining story to tell, why did Andrew Garcia fail to pursue publication during his lifetime? L. V. McWhorter often pressed Garcia on just this point. 
When McWhorter's letters arrived, Andrew Garcia was living on a small ranch near Fish Creek, where he and his fourth wife, Barbara Voll Garcia, had raised their four sons, along with winter wheat, fall rye, fruit, and cattle—anything to scratch out a living. He also ran, according to his stationery, "Garcia Brothers: Guides, Packers and Outfitters of Hunting Parties to all Parts of Fish Creek, Montana, and the Clearwater Country of Idaho, the home of the elk."
Garcia confessed to the "true ­reason" he was in no hurry for his writings to see the light of day:
[M]y white wife and family are the only enemies In-who-lise has got. And her who is so good to me in everything else would now rather pick up a rattlesnake than pick up a sheet of this story lying on the floor or anywhere else. Under those sorrowful conditions, I have had to write for more than two years, work hard all day around the ranch, and write till twelve o'clock at night and instead of receiving any encouragement I only receive blank silences about what I write. Hell will be a popping the day In-who-lise appears in print in the Garcia family
This news so alarmed McWhorter that he apparently advised Garcia to keep a copy of his life's work locked in a safety deposit box. Garcia assured him. "I am not going to take any chances on this," probably having already stashed his manuscripts in the boxes meant for storing dynamite.
Garcia had ambitions to change readers' perspectives on Indians... He wanted to prove to the world that native women were "capable of a beautiful love and affection that no white woman would be ashamed to acknowledge and was not a brute, like some writers would have you believe." His work would be "the only attempt that ever was made in defense of the downtrodden, despised, and misunderstood Indian woman." 
Garcia's last paragraph: 
It has been more than half a century since I laid my beloved Susie, my In-who-lise, to rest among the blizzard-swept crags of the wild Marias Mountains, where the summer skies often are darkened by swirling snowstorms. All of my associates of those rough and ready years have crossed the Great Divide, and the Squaw Kid wanderer awaits the final journey.
From the Introduction by Bennett Stein, editor of Tough Trip:
Garcia tells a many-faceted story. He was not merely a sympathetic observer He did not gloss over his own position as an interloper—a white man with good guns, bad whiskey and fake jewelry to trade. Garcia saw himself as an adventurous Spanish kid from the Rio Grande, and he remained a white man, drifting into Indian ways.
---
[Excerpted from the article by Diane Smith, entitled "Tough Trip to Publication: Tough Trip Through Paradise and the Beautiful Wives of Andrew Garcia," published in Montana The Magazine of Western History, (Winter 2008)]
---
<< FEATURED VIDEO: