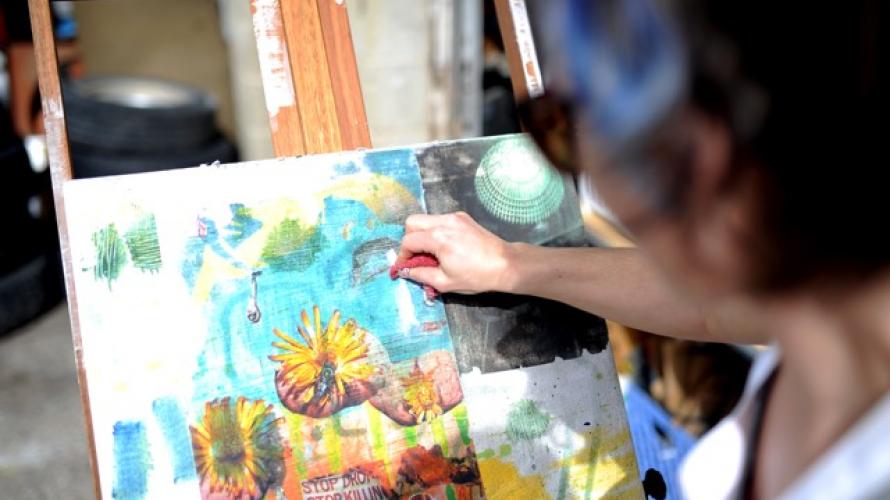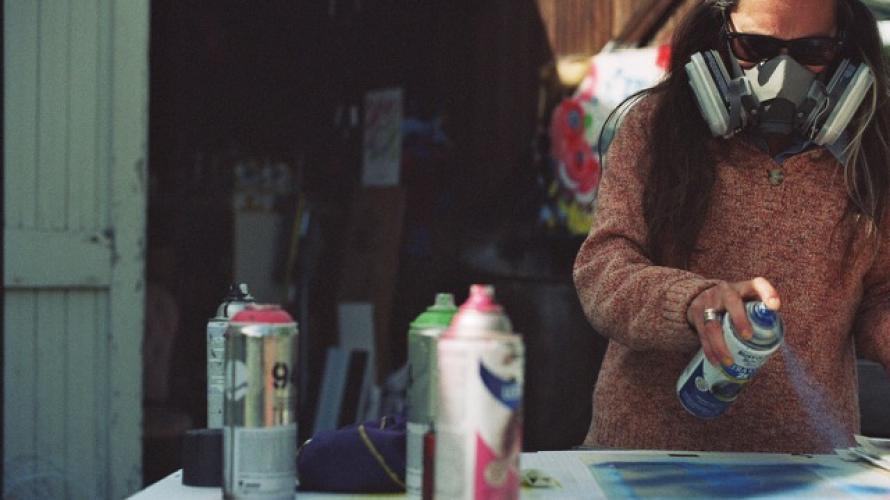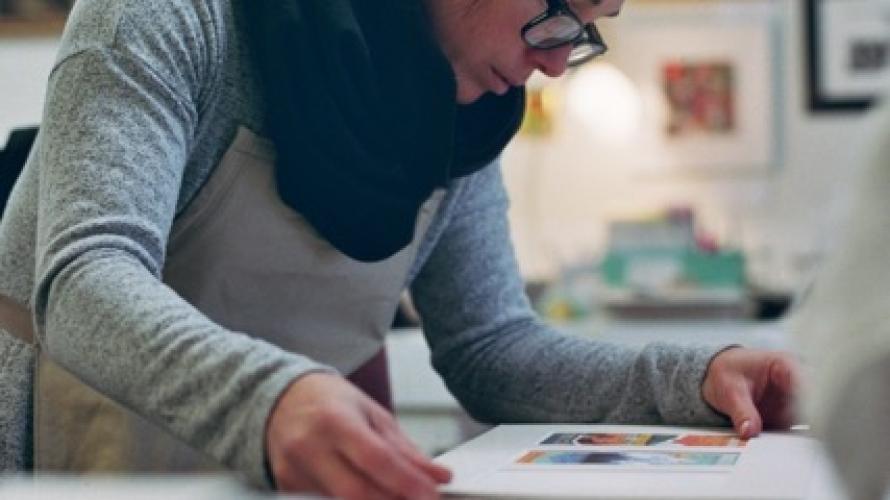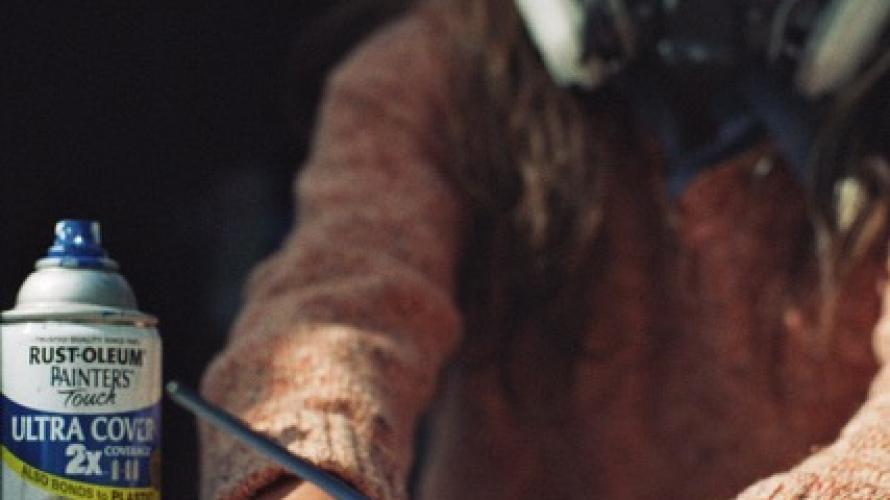 Both the source and the strength of Marlo Crocifisso's collage art can be traced to a timely blend of sentiment and mood.
Indeed, her pigmented, papery assemblages cull their potency and their significance from her never losing her own very acute sight of the human factor.
Crocifisso is proof that there is a visionary continuum in the folk art tradition, where certain images and materials come together, as though of their own accord, and where the artist embraces the spontaneity of emerging patterns.  
"I'm not always able to explain the why, but I can say that the process is everything that has influenced me or is still influencing me," said Marlo Crocifisso, a Helena native who earned a bachelor's degree in Fine Arts education from UM. "I have no absolute idea or inspiration at the beginning, just unsettled feelings or thoughts that I can articulate through collage. There is usually no overall striking inspiration, no divine touch from above or anything like that. I'm just processing experiences and filtering them."
If truth be told, art is the joy (and perhaps even at times torment) we find in work; our minds and souls at war with the unknowable. It is an artist's union with the power of experience that moves their own inner cosmos.  
"Collage is my experiences throughout the day, the week, the month and the year. I'm not satisfied with the idea of talking about things like portrayal or meaning or the message. It's therapeutic and it can be a bit lonely, though I love it. As long as I can remember, I've been surrounded by clips of paper, and I love strips of paper, even if it's just paper strips of bacon and I'm dangling them from the belly of a cherub. Collage is like music or poetry, a resonating time inside of me. It's a challenge to describe it."
One of her collage pieces titled "No Name" is quite specific, revealing the artist's feelings related to the death of a friend in 2014. One of Missoula's most infamous homicide cases, German exchange student Diren Dede was murdered after homeowner Markus Kaarma found the 17-year-old intruder in his garage. Kaarma was found guilty by a jury of deliberate homicide in the shooting death.
"I knew Diren personally and I was obviously processing something," said Crocifisso. "I think it was more of me needing to understand the situation and understand my own feelings that were swept away in the emotion of it directly. This is my way of contributing something to his name, and explaining that he was not just another incident or cause of another gun-related death."
Crocifisso has cut, collected and transferred objects that incorporate social commentary or express a sense of spirituality, or at time simply revel in biting sarcasm. Her artwork is intended to be read, whether elements of language appear or not. Rather than an act of insular simplification, her pieces reveal a metamorphosis of social and personal expression.
"When I'm working in collage there is no pressure. It's interesting because in other mediums you can see the artist's voice, but here I am using other images to make my own images, and I think that that makes it harder to see the artist's voice. I'm not working willy-nilly and I'm not a free spirit artist. Though spontaneous, I pay attention and care about color choices and composition and the interchange between them, and while it could be looking quite chaotic, I do have constraints."
Her artistic materials range from note cards that she has received in the mail and donations of magazines on her doorstep, to the free stacks of miscellaneous publications which scatter the vestibule of the library. Her process starts with a pair of scissors and a basic desire in her to toy and play with a mind full of abstract, visually instructive, and esthetic thoughts.
"I'm fascinated by the mood, interests and the vantage point of magazines," said Crocifisso. "The magazines I use for collage are a mix and a variety, AARP, National Geographic, the glossy art magazine Flaunt. There is something about fashion photos that intrigues me; they are so staged and a bit strange. Growing up in Montana, I guess I'm attracted to things that are urbane, because that is so lacking in Montana. I think those magazine instigated it (the interest in the urbane). It's weird, because the photos have this tension between the organic and the natural versus the false and the controlled. Things like a snake wrapped around the head for shock value. I find playful amusement in those juxtapositions."
No matter how expensive to produce or shocking or vivid, the majority of publications end up in the general waste or at the recycling plant or collecting mildew in the garage.  
"It's weird that a magazine like Flaunt, which is so glossy, just becomes trash," said Crocifisso. "It took a lot of money to set up those photo shoots."
Crocifisso manages to revive such glossy slivers and scraps in her stream-of-consciousness collages. As a result, her artwork above all beckons second scrutiny and sustained survey – the only sure alley to admiration.
"To me, art is something that connects you to something else, whether it's visually or auditorily, with color, composition, imagery, and all of that. I like it when people come up with their own constructive experience and come up with a storyline for a piece, and that they see their own experience in that. I like that they can find a secret."
Indeed, her hodgepodges of snippets are a step into the twilight zone, a stopover well-equipped for touching the individual openly.
"It's unanswered wonder, really," said Crocifisso. "There is no answer to it. I think that without an answer, there is nothing to be afraid of."

Brian D'Ambrosio is a writer/editor living in Missoula, Montana. D'Ambrosio is the author of more than 300 articles and five books related to Montana history, people, and travel.