Iraqi battlefields and U.S. football fields offer vastly different experiences,but they resulted in similar traumatic brain injuries (TBI) for two UM students.
Iraq War veteran Sergej Michaud suffered his TBI in 2007 from a bomb blast. Former UM wide receiver Ryan Burke suffered a serious concussion in 2015 during a Griz football game. Both injuries left lingering symptoms.
Enter UM's Neural Injury Center. Formed two years ago, the center offers screening services for people with suspected brain injuries. The center also works to bring advances in the lab to individuals who may benefit from them — especially free services to the 600 veterans attending UM.
Cindi Laukes, the center's chief operations officer, said that the NIC specializes in advanced technology and an interdisciplinary approach to identify the tiniest changes in the brain from traumatic injuries. Center scientists work together on medical issues affecting those with injuries, including problems with neuropsychological, memory, learning, cognition, balance, and molecular-level changes in brain proteins.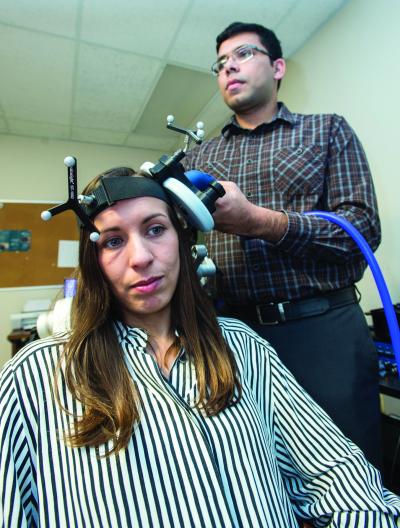 UM researcher Alex Santos takes subjects through balance, eye-tracking, and hand-motion tests. His tests show that TBI patients perform more slowly and with less accuracy than normal. Some of his tests involve using special cameras that track eye movements as patients pursue projected light images on the wall. 
Sambit Mohapatra, another UM researcher, uses a Transcranial Magnetic Stimulation device, which pinpoints areas damaged by injury and may improve functions of those areas temporarily. His work may lead to assessment tools and potential interventions. 
Tom Rau, a neuroscientist, and Sarj Patel, a molecular pharmacologist, track biomarkers in the brain revealed during the TBI recovery process. Their work may lead to a blood test to provide a definitive diagnosis for concussions.
"When students have memory, cognition and focus issues, it makes life difficult," Laukes said. "Our Center provides them with the testing to help determine proper diagnosis and start them on the right path to treatment."