For more than 30 years, the Missoula Art Museum has housed one of the largest art archives in Montana and welcomed visitors from around the world to explore its renowned collections, acclaimed special exhibitions, and enriching programs. Today, the city's cultural benchmark revels in its expansion, renovation, and renewed enthusiasm. 
The museum's stewards now feel they've got the ability to provide a savvier and more creative connection to the rest of the world.  "We've got a real showcase environment here now that has twice the amount of space and new professional ways to present the artwork," says Stephen Glueckert, curator of exhibitions at Missoula Art Museum. 
Occupying a cozy corner of Pattee and Pine downtown, the newly remodeled and expanded Missoula Art Museum (MAM) has resulted in bigger, upgraded facilities and superior visitor services, and is making contemporary art, events, and programs even more accessible for art revelers. 
"The lighting system, the floors, the walls, and the electrical system were all working against us in the old building. Now the walls are pristine and we've tucked away the electrical system; the floors are all brand new, and all the ceiling heights in each of the galleries are distinct. We've also added ways to control lighting that we never had before," says Glueckert.  
Missoula Art Museum, a building that both represents and reflects the liveliness and character of the community, is free to the public all year round. In fact, since reopening in September, the celebrations haven't ceased: street parties, jazz music, live theater, family art activities, cocktail parties, and drop-in tours have been, and still are, part of the museum's carousing blitz. 
"We're really committed to finding ways for the community to come and experience our new facilities," says Nici Holt, community outreach and membership director of Missoula Art Museum. 
Although revealing a contemporary look and modernistic elements and artwork, the new comprehensive Missoula Art Museum remains anchored by and fastened to its original structure: the historic Carnegie Building. 
Noted architect A.J. Gibson, an Ohio native, who apprenticed with H.M. Patterson, one of Butte's leading architects, designed the Carnegie Building. After five years of apprenticeship, Gibson relocated to Missoula, bringing with him the architectural and building skills that gave form to his design ideals. He often sketched from a basic square, to which he added verandas, towers, gables and bay windows. His adroit attention to details developed as he learned the profession from the ground up: first as a builder, then a designer and finally as an architect. The details, such as balanced facades, leaded glass and fancy millwork, made him one-of-a-kind among Missoula architects.
Gibson received the commission to design Missoula's Carnegie Library (one of 17 built in Montana) in 1903. The budget was $12,500. Missoula was eager for the service and just eight years later, the Carnegie Foundation provided $9,000 for a second story addition, designed by Gibson's assistant and successor, Ole Bakke.
The enlargement project changed the exterior appearance of the structure forever, as Gibson had designed a classical Greek Revival style structure and Bakke executed the second floor addition in a Prairie School style. The Carnegie Library later became home to the Missoula Art Museum and a "Renaissance Campaign" to renovate the building and spread out the art museum commenced at an art auction in February 2004.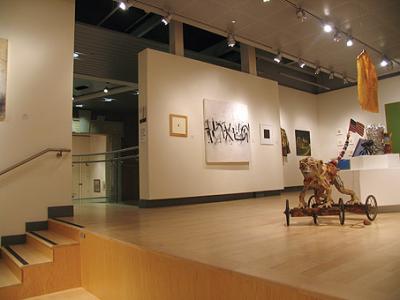 Major renovation features include not only the full historic restoration of the 101-year-old Carnegie Library Building, but an elevator servicing all floors and giving 100% accessibility, two fully-equipped classrooms to serve 12,000 youths annually, state-of-the art lighting systems for optimum exhibition conditions, top-of-the-line storage furniture to house growing permanent art collections, and an exterior public plaza space. 
"We've put more money into the old Carnegie Building than into the new extensional structure because people have fond memories and love for it," says Glueckert.  
The Carnegie Building portion of the art museum has new columns, new molding, a cove in the ceiling, and the addition of leaded glass in a cutting-edge spiral stairwell. (The exterior of the building has been retrofit; the interior is completely revamped and modernistic.) Some of the building's changes are glaring, like the restored reading room that's part of a contemporary library on the second floor; other additions, such as the cement foundation that replaced a wood and gravel infrastructure, are less obvious.  
"We have entered a vibrant period…a Renaissance period for the arts in western Montana," says Renaissance Campaign Co-Chair J. Martin Burke. "The addition of the new museum wings, plus the restoration and renovation of the existing facility enables the museum to mount world-class exhibits of contemporary art and provides a fitting home for the arts in downtown Missoula."
Project architects did a superb job connecting the old Carnegie Building with the new structure. In fact, both edifices intercede in a bold, bright room resplendent with apertures installed to maximize the amount of natural light. 
All of the artwork exhibited or archived at Missoula Art Museum arrived as a permanent or pending gift or as a bequest, and more than 1300 pieces of art are stored in the basement storage vault. The museum now has seven permanent thematic galleries, including wings dedicated to contemporary Native American work and modern Montana art. Each showroom has its own unique character; all galleries vary in height, size and lighting conditions.   
"There are so many demonstrated gifts from artists and patrons in our galleries that it really cements the metaphor of the museum being a gift to the community," says Glueckert. 
"We've got some diverse mediums here. Our collections mainly focus on contemporary art from local and regional artists. Many of the artists who have work here are from Montana, but many are national artists whose work is pertinent to our communities," says Holt. 
Another one of the museum's new galleries showcases the works of Montana's "pioneer artists", such as "protest artist" Marilyn Bruya, one of an original renegade clique of painters, sculptors and photographers ending up in Montana after World War II, who liked to point at unpromising political conditions through their work. Rudy Autio, one of the most adept and influential artists working with clay and figurative ceramic vessels in the country today, is another pioneer artist whose work can be found permanently at MAM. (Rotating art from pioneer artists' collections will be on display at all times.)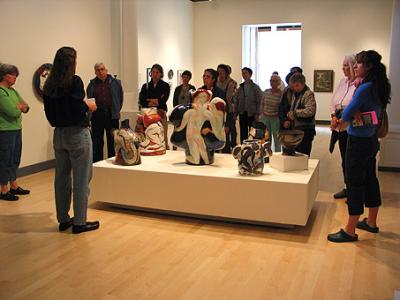 "These pioneer artists came to Montana in the 1950s and 1960s, bringing modernism and contemporary art with them and in the process really changed the art scene. They were brave to do so. At that time, landscape, cowboy and western themes were all that existed – and they changed that," says Holt.  
Starting in 2007, MAM's seven galleries will offer a yearly total of 25 overlapping and staggered exhibitions, none lasting more than three months, for the constant benefit of giving viewers fresh material. 
"Trimpin" is an exhibit opening in January. Gerhard Trimpin, (who legally only goes by his surname), is a German-born composer and sculptor living and working in Seattle.  He is an individualistic researcher and experimenter in musical, acoustical, and sound sculpture design, combining music composition and kinetics with computer technology.
Known in certain artistic circles as a brilliant sound artist, Trimpin displays some of that reputation in a sculpture at MAM composed of a conglomeration of glass tubes of varying lengths, reminiscent of organ pipes, using heat to produce sound. 
"It'll include a huge wall banner and reflective objects that mimic the landscape and topography of the Milltown Dam removal. Plus, it'll include kinetic bamboo shoots and buckets of water on the floor. It's really beautiful. We've wanted to work with Trimpin for a long time, so we're all excited. It should be a learning experience," says Holt. 
In fact, education is at the heart of MAM's mission, say both Holt and Glueckert: "Whether it's through art classes or creative programs teaching about contemporary art and how to view it, to tours and outreach efforts, we want to bring people into the museum and make them part of what we have here," says Holt. 
The vibrant changes made to Missoula Art Museum have also reinforced a strong sense of community pride in many Missoulians. "What's so exciting is that many locals feel like they own the building, and you hear people call the building their own museum. They're quite proud of it," says Glueckert. 
Missoula Art Museum is located at 335 North Pattee Street. For additional information about MAM, visit www.missoulaartmuseum.org. 
~ Brian D"Ambrosio lives and writes in Missoula.  He also publishes the Clark Fork Journal.