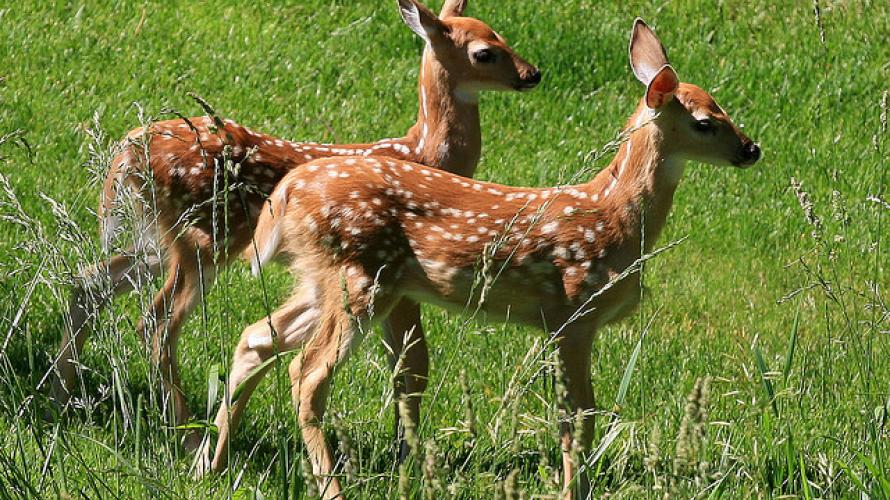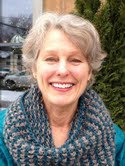 Kathleen Clary Miller has written 300+ columns and stories for periodicals both local and national, and has authored three books (www.amazon.com/author/millerkathleenclary). She lives in the woods of the Ninemile Valley, thirty miles west of Missoula.
********
            A spotted one no bigger than a bunny springs on all four wobbly legs through the tall grass in reaction to my car passing.  While enjoying my daily hike, a jittery doe dashes willy-nilly, her white tail flashing as she darts across the dirt road in order to create distraction from what no doubt lies behind her in the bushes.  Her sister leaps my neighbor's fence, startled by his horse or llama, a cluster of about-to-be-born legs dangling from beneath her belly. 
            It's that time again:  The birth announcement of the fawns.
            I try hard not to look when I pass by the recent aftermath of labor and delivery; it is important to keep a mother's secret safe.  It's far from easy, however, to engage in the self-discipline necessary in order to turn away from wonder!  The fawns are so delicate, small enough to cradle in the cupping of my hands—were I to commit such folly.  Determined not to undermine nature's process, I face front, ignoring both frantic mother and fragile child, and onward I go.
            Back at the house, from my floor to ceiling window that overlooks the forest surrounding the Ninemile Valley, I am a fortunate and appreciative audience.  Because does are dropping fawns around every corner, other wildlife join in the celebration—some of them sans the best intentions.  They are members of the circle of life, with dinner on their minds.  A fox high-tails it through the brush beneath the pine forest, followed by a doe in hot pursuit.  I glimpse the tail of my resident mountain lion that manages to keep hidden 364 days of the year.
            The brown bear that has to no avail wrestled with my bear-proof trashcan for a month now comes lumbering through the trees.  He looks right, then left, then right at me, but decides to move on in search of the party.  Wise choice.
           The straggler is a large white rabbit that emerges from underneath the buckboard ("I'm late!  I'm late!").  His head snaps from side to side, his nose high and twitching, searching out the scent that will lead him in the direction of the birthday bash.  Having caught the drift, he freezes then lunges through the lupines that cluster around the wagon wheel. 
           Meanwhile Cody, my faithful German shepherd, is a manic wreck, tearing from window to window, one side of the house to the other, ears erect and wide eyes trying to discern which aperture offers the optimal view—or more likely, chasing target.  Ultimately, his commotion will interfere with my viewing.  Intent on remaining the anonymous ogler so that the party guests will stick around for me to see, I close him in the mudroom where he is frustrated beyond his capability to cope.  Domesticated animals have no control.
            In the end, after the predatory parade passes, the air settles down and evening settles in.  Mama and baby deer are nestled together on the patch of soft green grass just outside my back door.  Mother rises, baby nurses.  Another pair approach.  The fawns, barely able to stand on spindly sticks that will grow to be like graceful legs of dancers, frolic with each other.  Their play is out of control and frenetic; another aspect of life they will master in time. 
             I'm in no hurry for that time to come.  A couple of my neighbors go deer hunting every year, but me?  I'd rather watch the early summer spectacle, and, well, quite frankly…you can't have your cake and eat it too.  I prefer to hunker down beneath the bedroom windowsill with my daughter who is expecting her first child and my first grandchild and we clandestinely spy on the miraculous scene before us—our very own reality entertainment right here in the woods of Western Montana. 
            Who needs television or even a ticket to the circus?  In my own backyard I've got the greatest show on earth.