Prior to the mid-1800s, the diminutive Swift Fox, like the bison and wolf, abundantly roamed the short grass prairies east of the Rockies in Montana, heading north into Canada and south through the 10 states that make up the Great Plains. Admired across Native American communities for its hunting abilities and speed, the one thing the fox couldn't outrun or out-maneuver was westward expansion.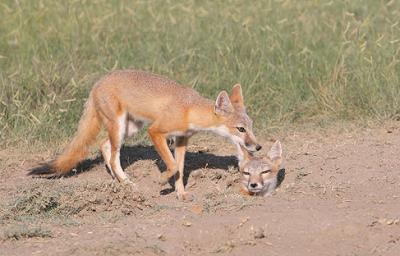 By the early 1900s, this elusive nocturnal canine vanished from 80% of its historic range.  Weighing in around five pounds and standing 12 inches tall the Swift Fox depends on short and mixed-grass prairies to detect and evade predators. Over 45% of its natural habitat was lost to the plow, the cow, and environmental events such as fire and climate change. Intense trapping in the late 1800s and the use of poison to rid the plains of its wolf and prairie dog populations took care of the rest. 
Montana's last recorded Swift Fox sighting was dated 1918, although it wasn't considered extinct from this part of its historical range until 1969. In 1992 a petition for its inclusion on the endangered species list was submitted and two years later listing was considered warranted though precluded by species with higher priorities. In retrospect, a blessing in disguise.
In 1994, wildlife management agencies across the 10 affected Great Plains states and Canada, including a multitude of interested parties like Defenders of Wildlife, formed the Swift Fox Conservation Team (SFCT). Thus began one of the most successful wildlife restoration and conservation efforts in North America. 
In 1998, the Blackfeet reservation partnered with Defenders of Wildlife to initiate Montana's first Swift Fox restoration program. Over six years, 123 Swift Fox were released. Brian Giddings, SFCT member and Furbearer Coordinator for Montana Fish, Wildlife and Parks estimates there are currently over 1,200 Swift Fox populating northeastern Montana, double the amount estimated from the 2005-2006 international population census.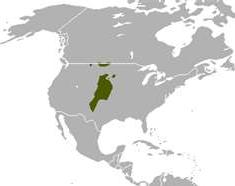 "We now consider the Swift Fox in north central Montana a source population for translocation within the state," said Gidding. "The populations size, survival rate, and distribution increased dramatically."  
The Swift Fox was removed from the candidate list of endangered species in 2001 thanks to the cooperative efforts of the SFCT. The success of the program has accomplished more than returning a native species to its historic habitat. "Working together with different groups of diverse backgrounds helps to build trust that can spill over into efforts to restore other species," said Jonathan Proctor, Rocky Mountain Region Representative for Defenders of Wildlife. 
The Swift Fox is Montana's comeback kid though concerns remain, namely protecting its natural habitat and connecting the entirety of its Great Plains populations. "Their long-term genetic integrity and the fitness of the species depends on it," said Ryan Rauscher, biologist for Montana FWP. 
Fieldwork is underway in Montana to review species connectivity and habitat with results due in early 2012. The SFCT continues to meet and share Swift Fox data across the Great Plains into Canada with discussions to initiate an updated international species census. Montana has opened up the Swift Fox to limited trapping and that data assists in monitoring the health of the species. 
As Jonathan Proctor says, "We all want to make this animals future brighter. It's truly a success story for imperiled species."
~ Kim Ibes lives and writes in Bozeman. She's a fourth-generation Montanan with her roots firmly planted in Big Sky Country. Growing up east of the mountains deep in the heart of Montana's great plains and living at the base of Montana's Rocky Mountains has served to deepen her love for Montana and broadened her perspective on the diversity, untamed beauty, and individuality that this great state has to offer.