Montana's Buzzing Honey Industry
Montana consistently ranks in the top five states for honey production in the United States.
When you think about agriculture in Montana, chances are your mind is filled with images of wheat fields rippling in the summer breeze, or rolling acres of leafy potato plants. Honeybees probably aren't the first thing you think of, but Montana consistently ranks in the top five states for honey production in the United States. In 2014, Montana produced over 14 million pounds of honey, and in 2015, Montana was noted as being the second-largest producer of honey in the nation.
It's not just honey, though… Honeybees are so valuable for pollinating crops that beekeepers from across the northern Rockies ship their bees to California each winter to pollinate the vast swaths of almond groves. There, the bees work hard during the short blooming season before shipping back to Montana around the beginning of summer. In Montana, the cooler nights and long, warm days restore the vitality in the bees who have worked hard in the almond groves. While they recover, they're also producing a heck of a lot of honey. As the days shorten, the cycle begins again.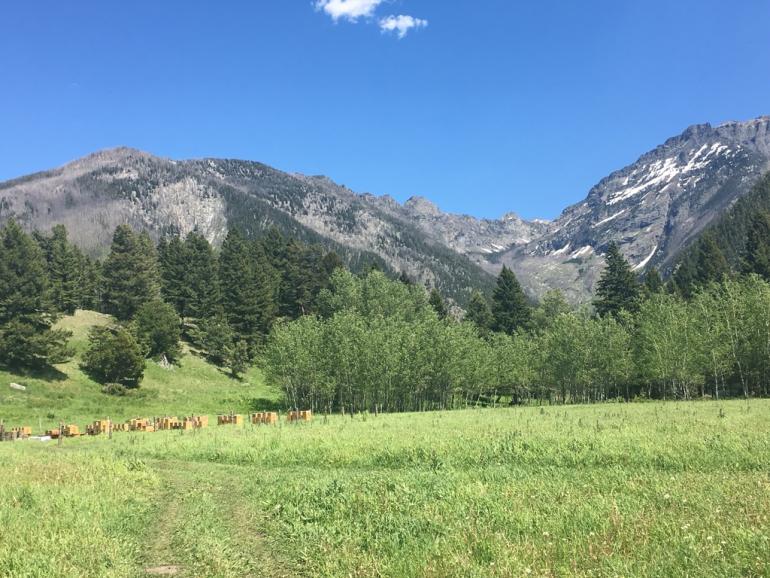 Beekeeping in Montana
Being a beekeeper in Montana takes a lot of work. From seasonal considerations to maintaining the health of the hives and the bees, there are changes and upkeep to track during all four seasons, whether or not the beekeepers decide to ship their bees to California. The effort is worth it, though—from the ability to produce your own honey to the benefits that bees provide to the ecosystem, beekeeping is a rewarding hobby accessible for anyone in Montana with the available time and space.
According to the Montana Department of Agriculture, there are over 200 registered beekeepers across Montana, spanning four different categories of beekeeping and honey production: commercial, landowner, hobbyist, and pollination. Most beekeepers across the country are hobbyists, with ten or fewer hives. As of last summer, all beekeepers in Montana are required to register their apiary site. This ensures that new beekeepers can stay up to date with regulations for keeping hives, shipping equipment out of state, and honey production. It also helps beekeepers more easily connect to local and state resources.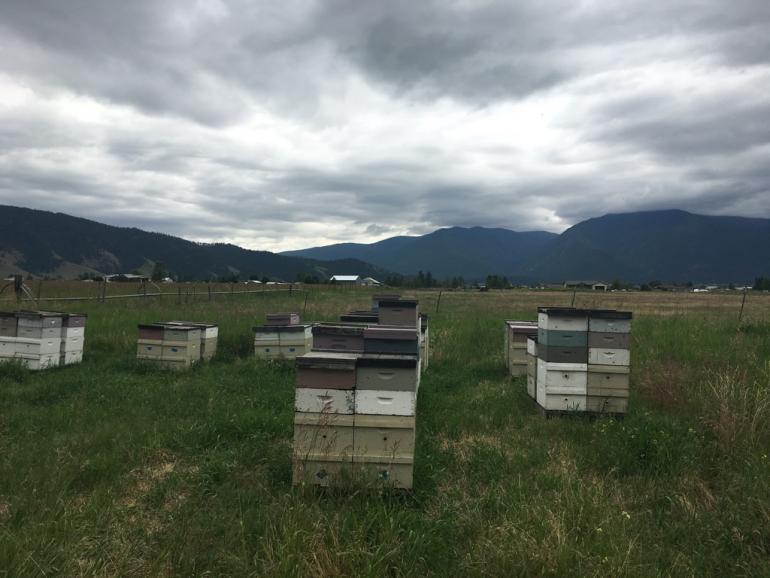 Migratory Beekeeping and the Pollination Cycle
Twenty-five years ago, California almond groves spanned fewer than half a million acres. Today, almond groves cover nearly 1.5 million acres. California grows more than 80% of the world's supply of almonds, and the industry is valued at over $5 billion, according to a 2018 Stanford University article. However, the blooming season is short, lasting less than a month in the middle of winter. Pollinating each acre requires two hives—an astronomical amount of bees and far too much for California beekeepers to cover. This is where migratory beekeeping comes in. 
Honeybees are shipped from Montana and surrounding states down to California, where they spend the next several weeks furiously busy, pollinating the almond groves before being loaded back onto tractor trailers after the bloom is over. Without bees being shipped to California, the almond groves would not be able to produce crops and the industry would crumble.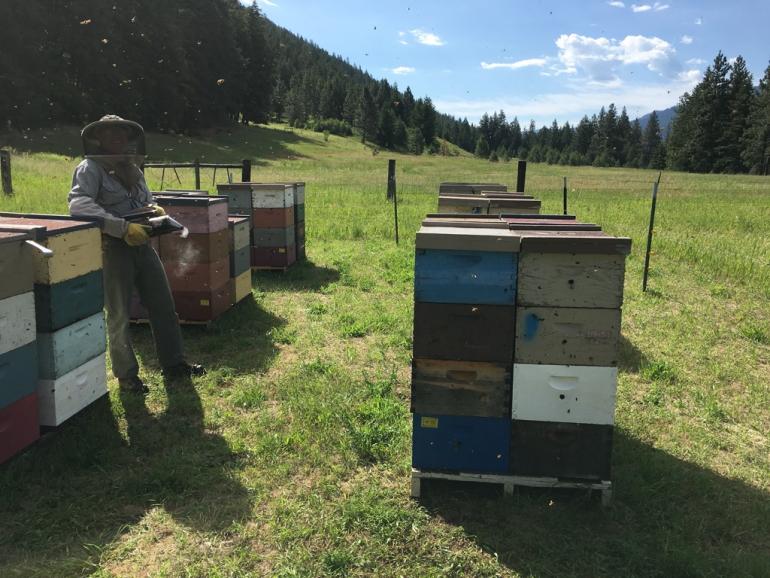 Summer is the time for Montana bees to replenish, getting their fill of clover and alfalfa while recuperating from the hard work of pollinating. Summer is also when honeybees produce the majority of their honey for the year. While migratory beekeeping is a symbiotic relationship between the California almond growers and Montana beekeepers, it's not without stress on the bees. The sheer number of bees descending on the almond groves makes the hives more susceptible to disease spread, and the single crop depletes bees of necessary nutrient variety. By the time the bees are on their way back home for the summer, they are more than ready for several months of long sunny days, cool nights, and fields of alfalfa and clover to replenish from the heavy-duty pollination season. 
However, not all beekeepers choose to rent their bees to pollinate out-of-state crops. Steve Thorson has been a beekeeper in Montana for twelve years, owns fifty hives, and has owned Montana Honey Bee Company in downtown Bozeman for the past three and a half years. Thorson does not send his bees to California for the winter, despite the economic boost that "renting" the hives would net him.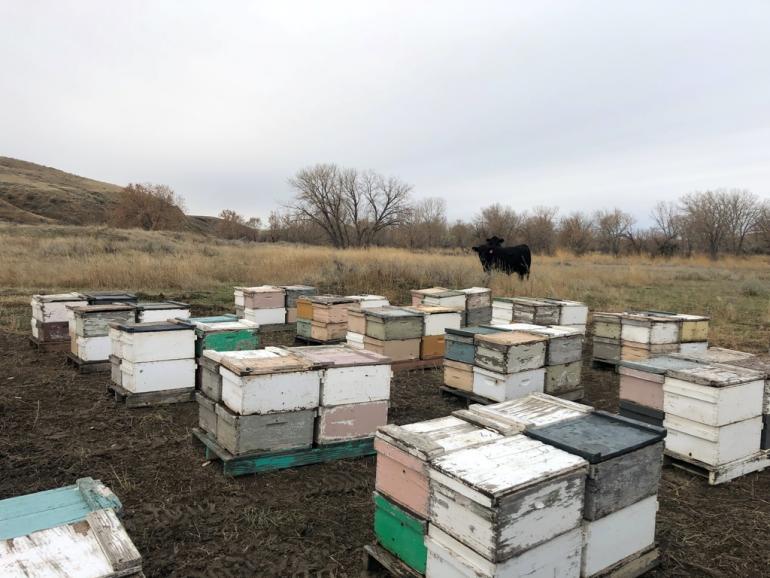 "Shipping bees can be a hassle," Thorson says, "and I don't want to expose my bees to the crud in California." Instead, Thorson keeps his bees on his property throughout the winter, making sure they get enough food—each hive requires 100 pounds of honey to make it through the winter—and insulating them against the cold. Thorson also rotates his bees to other bee yards at different times of the year, ensuring they get a variety of flowers and nutrients. 
Bees in the Ecosystem
The importance of honeybees in our agriculture and ecosystem cannot be overstated. Animal-mediated pollination is necessary for aiding in the reproduction of nearly three quarters of the world's flowering plants, according to a recent paper in the Journal of Environmental Science and Technology. This makes the recent increases in Colony Collapse Disorder (CCD) even more troubling.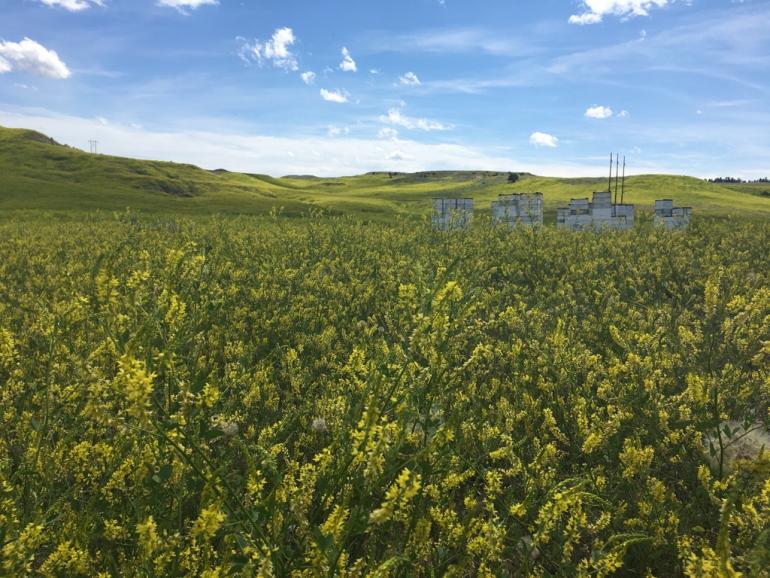 "The hardest thing for beekeepers in Montana," Thorson says, "is the same thing it is for beekeepers across the nation: loss of bees, and there's no clear answer or reason for the epidemic."
As we grapple with the impact of climate change in agriculture, bees are at the forefront of the domino effect created by changing climate. Bees are affected by CCD, losses during transportation and wintering, and declines in colony health if the bees do not have access to diverse sources of pollen. This last factor comes into play when flowering plant diversity is reduced as a result of single-crop agriculture. The use of bees in intensive pollination—such as the almond bloom—requires healthy colonies, but also doesn't offer diversity in flowering plants. This effect, paired with the impact of climate change that further reduces the vitality and variety of flowering plants, means that beekeepers have had to get creative with supplementing nutritional sources with pollen substitutes and sugar syrups. Parasites, viruses, and pesticides are also issues that beekeepers in Montana and across the country need to deal with season to season. 
Want to Get Involved?
Interested in getting started with beekeeping? There are clubs, groups, and events—online and in person—across Montana, to support new and experienced beekeepers. Remember that starting beekeeping as a hobby isn't something to just jump into. Bees have specific nutritional needs, and colony health requires frequent owner inspections to keep the bees free from diseases and mites. Having a mentor in the beekeeping world is especially helpful, and can eliminate much of the guesswork, allowing new hobbyists to have healthy colonies. 
Here are a few clubs and contact info across the state, along with their general meeting locations. A quick internet search will pull up the club's website or Facebook page, and most have Facebook groups and further information for getting in contact. Emailing [email protected] will get you in touch with the right people in the Montana Department of Agriculture. 
For more information on the groups below, visit: http://agr.mt.gov/Bees-FacebookGroups
Big Sky Beekeepers (Missoula)
Flathead Valley Beekeepers (Kalispell)
Beekeepers of the Bitterroot (Hamilton)
Helena Area Beekeepers (Helena)
Gallatin Valley Beekeepers (Gallatin Valley)