Summer is here, and just because Montana is a landlocked state, it doesn't mean we don't have our share of waterfront towns and all the joy that comes with them. From quaint lakeside hamlets to bustling cities with a river coursing right through the center of town, there is something for everyone on a day trip to one of these Montana towns. Enjoy fishing, boating, paddle boarding, swimming, shopping and pretty much any outdoor activity you can come up with.
1. Ennis: Ennis Lake
Nestled in the sprawling Madison Valley, Ennis is a destination for summer recreation for travelers from all over the state. Like many towns across Montana, the busy Main Street of Ennis is the town focal point, featuring block after block of shopping, dining, and art installations. For the rod-and-reel aficionados, Ennis is a world-class fly-fishing destination. Not only is Ennis Lake right on the edge of town, but the Madison River sweeps through the area as well. 
Don't miss: Take a paddleboard, motorboat, pontoon boat, or kayak out on Ennis Lake. Find more solitude by driving down the road and over the bridge. Here you'll find a quieter space with picnic tables, water perfect for wading, and small sandy areas away from the hustle and bustle of the main waterfront space. Back in town, swing through Shedhorn Sports, grab a drink, and catch live music at Willie's Distillery, and enjoy the Old West feel of this town.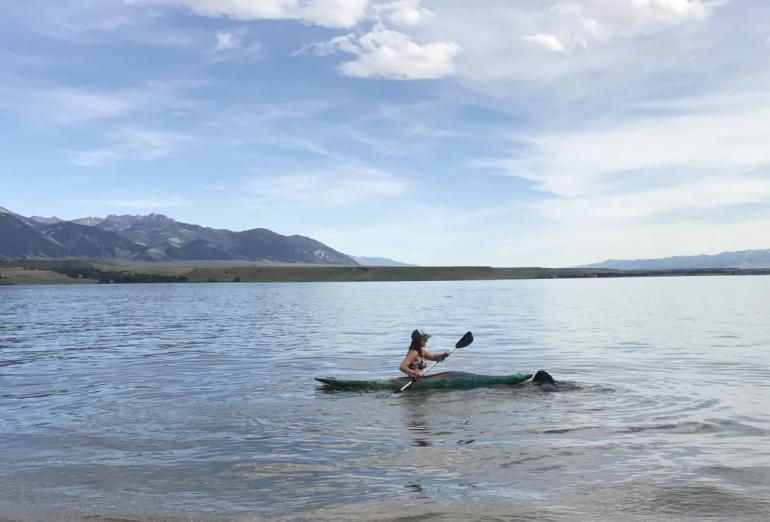 2. St. Regis: Clark Fork River 
Sitting right at the confluence of the Clark Fork and St. Regis rivers, this quaint town is a lovely destination for a summer road trip. Fishing, canoeing, and rafting are all prime activities to enjoy a day on the water. Multiple outfitters call St. Regis home, and are open for the entire season to catch plentiful midsize trout with a pristine Montana backdrop. 
Don't miss: Take the Clark Fork Scenic Drive, which begins in Alberton 40 minutes southeast of St. Regis. This drive can be picked up in St. Regis and followed all the way to the lovely Lookout Pass Ski Area. Take a hike on the Clark Fork River trail, and don't forget your picnic lunch.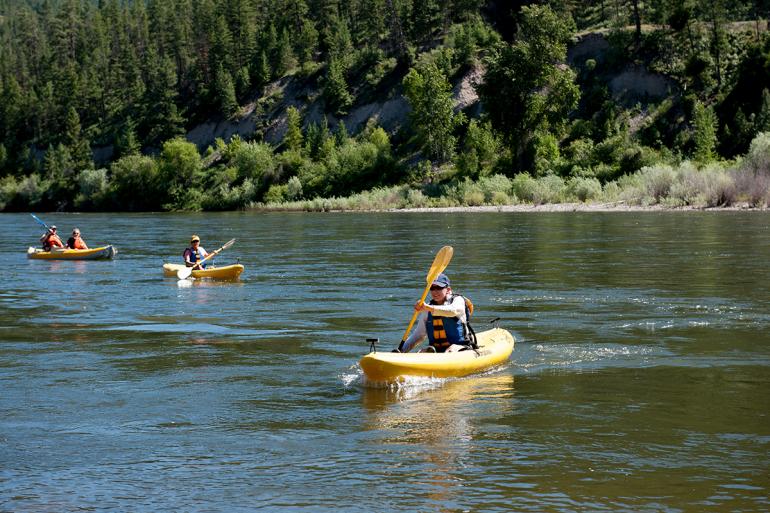 3. Twin Bridges: Confluence of the Beaverhead, Big Hole, Ruby Rivers 
Twin Bridges has the notable claim of being the only town on this list to sit at the confluence of three rivers. The Ruby, Beaverhead, and Big Hole Rivers converge to form the Jefferson River. This small town is worth a stop, with a few homey restaurants and a place to put the boat in the water and float the section between Twin Bridges and Cardwell. This river is a slow-moving body of water… even the faster section between Twin Bridges and Cardwell won't be too intimidating. 
Don't miss: The Jefferson River Canoe Trail begins in Jessen Park, right in town. Paddlers looking for an extended canoe trip through scenic Montana landscapes on a slow-moving river need look no further. Additionally, Beaverhead Rock State Park is located just 10 minutes outside of town, and is on the National Register of Historic Places. Pull in and check out the interpretive signs about this fascinating natural rock formation shown.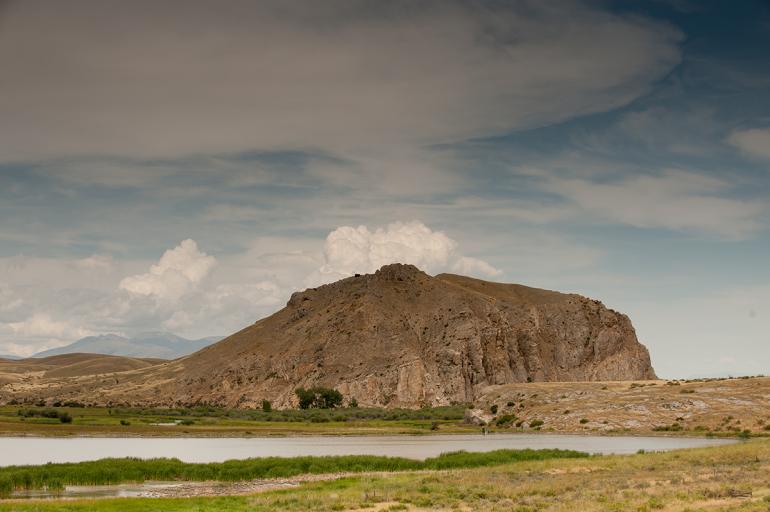 4. Bigfork: Flathead Lake 
This picturesque community is situated right where the Swan River flows into Flathead Lake. Boaters and water recreation enthusiasts will find no shortage of things to do here. When the sunburns need healing, the town of Bigfork is packed with dining, shopping, and even a 27-hole golf course. Flathead Lake has plenty of opportunities for kayaking, canoeing, paddle boarding, boating, and fishing, and there are many options for gear rentals right along the water. There are options for guided tours and rides around the lake, exploring the water and Wild Horse Island. Travel along the west side or the east side to Polson for views of this splendid lake.
Don't miss: Catch a show at the Bigfork Summer Playhouse, or time your visit around the annual Bigfork Whitewater Festival. Take a ride out to Wild Horse Island, a 2,100-plus acre unique island. This state park home to wild horses, hiking trails, and raptor viewing throughout the summer season.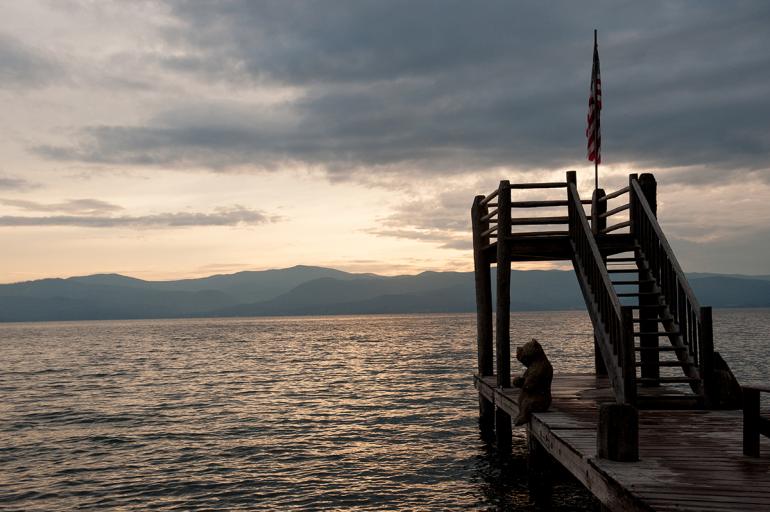 5. Whitefish: Whitefish Lake 
The entire region surrounding Glacier National Park is a landmark destination. This gateway town to Glacier National Park is bordered by majestic peaks and situated right on Whitefish Lake. Whitefish Lake is seven miles long, with swimming, boating, a beach area, and a boat dock. Outdoor recreation opportunities abound, from boating on the lake to mountain biking at Whitefish Mountain Resort. Heading to Whitefish just to experience the lake will more than fill up your day—Whitefish City Beach has a designated swimming spot, a dock, and boat rentals. Families can easily spend all day just in this one place. Whitefish hits the sweet spot between a resort town hosting thousands of tourists each season, and remaining a classic Montana town situated in one of the most awe-inspiring parts of the state.
Don't miss: While Glacier National Park is less than 30 minutes from Whitefish, there's plenty to do in town to keep you occupied. Take a walk on the Whitefish Trail, with over 40 miles of established trails and 12 different trailheads. Grab a seafood dinner at Whitefish Lake Restaurant, or a more casual burger and pint of local beer at the Great Northern Brewing Company.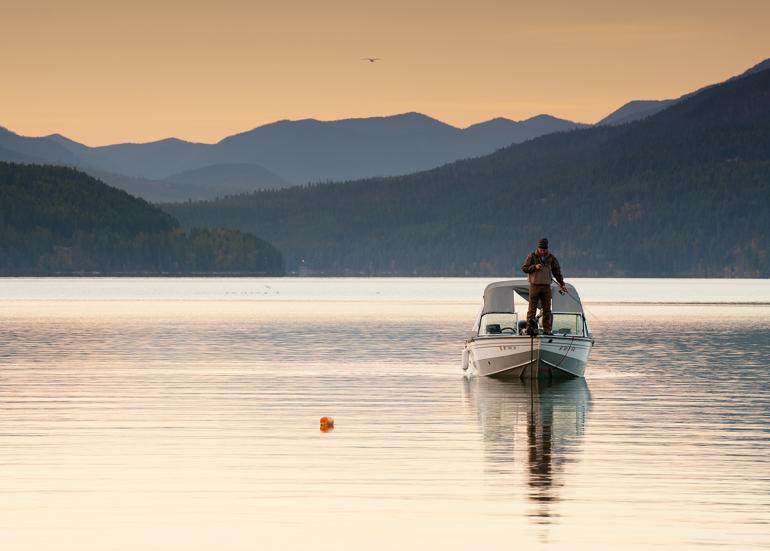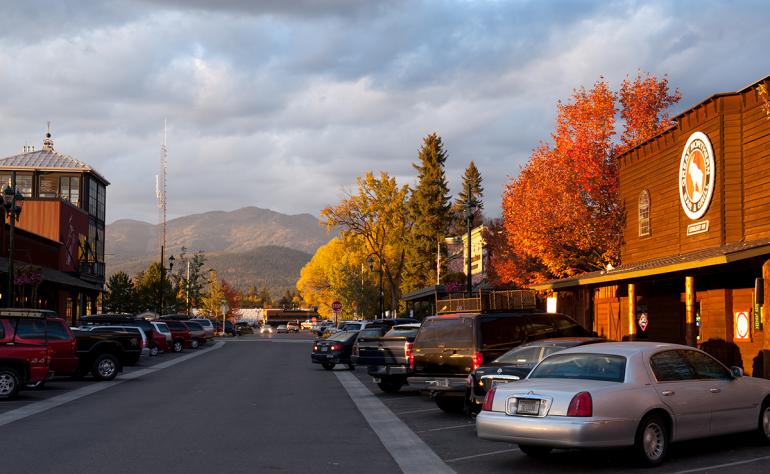 6. Missoula: Bitterroot River
The Bitterroot River begins in Ravalli County, flowing just over 80 miles to where it meets the Clark Fork River right near town. There is something for everyone in Missoula. The recreation of this town centers around the river literally running right through the middle of town, but even for the non-river-rats out there, there are opportunities for recreation and indoor activities for the whole family. With just over 75,000 residents, Missoula is the second-biggest city in Montana. Home to University of Montana, the students bring a vivaciousness to the town infused throughout the local businesses, recreation opportunities, and overall vibe of the town. 
Don't miss: Kayaking, mountain biking, hiking the local trails… there is no shortage of Missoula activities for the active visitor. For folks looking for a more relaxed day trip, time your visit with the Missoula Farmers Market, happening Saturdays and Tuesdays throughout the summer. Take the family to the Rocky Mountain Elk Foundation and learn more about this iconic animal that helps shape Montana's ecosystems. Local shopping, specialty coffee, and dining of all sorts round out a day here.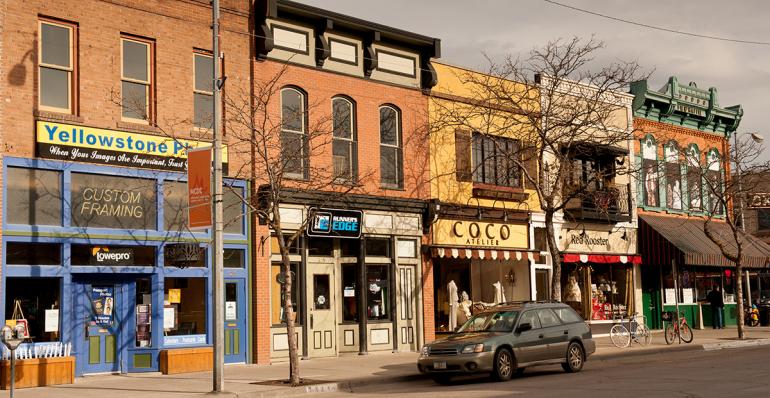 7. Gardiner: Yellowstone River 
Not much compares to cresting the final hill after leaving Yankee Jim Canyon and seeing the open vista of the North Entrance to Yellowstone Park spread out in front of you. The Gardner River is a tributary of the Yellowstone, passing right through the center of town with steep banks before making a dramatic entrance into Yellowstone National Park. Gardiner is an entrance town to Yellowstone, and is home of the famous Roosevelt Arch as well as herds of elk that make their home on storefront lawns throughout the shoulder season before moving up into the hills. It's not uncommon to see bison and deer wandering through the streets throughout the year, and the entire small town is pedestrian-friendly. Driving under the iconic Roosevelt Arch to enter Yellowstone National Park is something everyone should do at least once. 
Don't miss: Take a raft trip with any number of guiding companies who operate full and half-day tours out of Gardiner. Grab a made-to-order sandwich at Tumbleweed Cafe, and enjoy dinner al fresco on the expansive porch at Iron Horse overlooking the Yellowstone River… one of the best restaurant-side views in Montana.