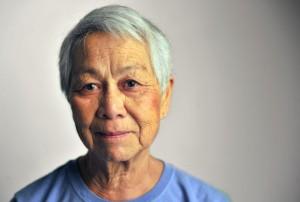 At 83, this Chinese Montanan is a decorated athlete and first-time author. Born in Boston in 1928, Flora Wong moved to a tiny village in Southern China with her family in 1936 at age seven. During the Communist Revolution, Flora escaped China through an arranged marriage in 1947. She and her husband, Charlie Wong, owned and operated Wing Shing Grocery on Main Street in Helena. In 1968, Charlie died, leaving Flora with five children. She operated the store until 1970. In 1973, she opened the Chinese Kitchen in partnership with George and Irene Wong. 
    In retirement, Flora took up competitive running and swimming. Through the years, she has participated in four National Senior Games and one World Senior Game. Flora was named Montana Big Sky Athlete of the Year in 1999. In 2009, the Helena Sports Hall of Fame named Flora to its list of honored athletes. She writes about her life in Long Way Home: Journeys of a Chinese Montanan published by Farcountry Press. - Jessica Solberg
 One thing I know for sure is... that I must keep going, even when I'm tired.
 My first impression of Montana in 1948 was... 
...that there was a lot of snow and the temperature was 20 below, much different from China's heat and humidity.
 The best thing about my age is... 
...being able to watch my daughters and son grow into their 40s, 50s, and now 60s. That is as good as it gets.
 Being a Chinese Montanan... 
...has been an honor for me because I have always been treated well.
 The biggest change in Helena was... 
...the demolition of older buildings during the 1970s Urban Renewal, which affected our former home on Park Street and our grocery store on South Last Chance Gulch.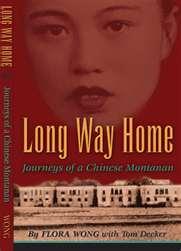 My fondest memory of life in China is...
...celebrating the Chinese New Year when we had time off from working in the rice fields. I really enjoyed the special Chinese pastries made just for New Year's.
I began training as an athlete because... 
...it was a challenge, and I wanted to prove to myself that I could do it. Training makes me feel good and keeps me healthy.
 At my age... 
...I am happy to be healthy, active, and enthusiastic about life.
 Even people who know me don't know that I... 
...1. didn't finish the third grade. 2. was so afraid of the water that I wouldn't put my head in. 3. had an arranged marriage, which lasted 20 years until my husband's death.
 The best piece of advice from my mother was... 
...to be yourself and be brave. She told me this as she was sending me off to be married.
 When I'm alone, I wonder... 
...what would have happened to me if I hadn't left China.
Something I would like to be better at is... 
...reading and writing. I did not finish school when I was in China, so I have trouble understanding the meaning of words. I'm pretty good at looking up words in the dictionary, though, when I am trying to write something.
 Three words that best describe me are... 
...1. happy 2. smart 3. determined
 When I see my family... 
...I am happy and feel very blessed.
My last biggest laugh was... 
...when my son-in-law, Rick, and I walked the Portland Marathon. He got blisters on his feet at mile 6. At the end of the marathon, I asked how he was doing. He said not only were his doggies (feet) barking, but they had died. We still laugh when we think about it.
 The one thing I definitely want to do before I die is... 
...to walk another marathon with my family.
Thank You, Flora ~DM