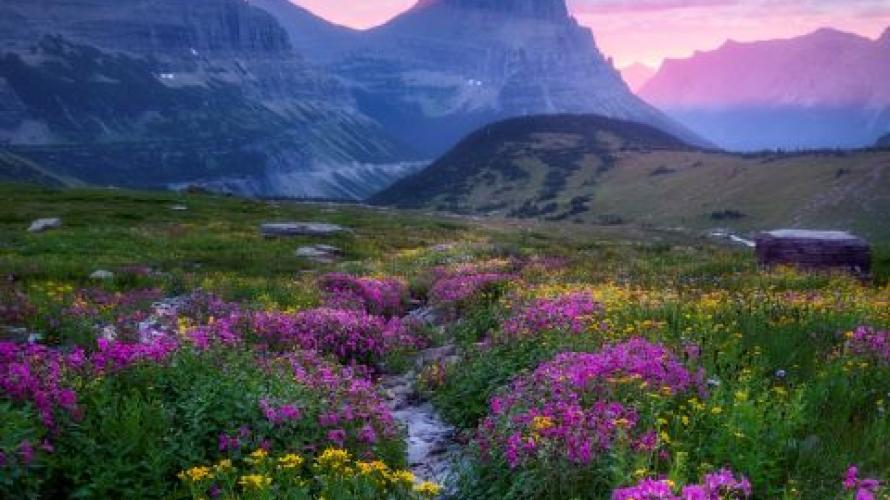 The Best Camping Spots in Montana
The beautiful state of Montana offers numerous astonishing camping spots to explore. This state has some of the most spectacular lakes in the nation and glacial-carved valleys. 
Camping underneath the Montana sky is one of the most relaxing and memorable experiences you can treat yourself with.
The best camping spots in Montana will provide you with breath-taking views of snowy mountain peaks, glacial lakes, healing greenery, and trout-filled rivers. Let's browse through some of the most scenic ones!
Bighorn Canyon National Recreation Area
Bighorn Canyon encompasses over 120,000 acres and offers several campgrounds, ranging from primitive ones to easily accessible ones. 
For instance, you can access Medicine Creek Campground only by boat or hike. 
The thousand-foot cliffs are sure to make a deep impression on anyone who decides to visit. The Afterbay campground near the banks of Afterbay Lake has 12 sites for RVs and 28 sites for tents.
When you are not in the mood for roughing it, opt for quality cabin tents to indulge in pamper camping while enjoying magnificent Bighorn Canyon views. 
Some of the most stunning views in Montana and abundant fauna will provide you with a taste of true wilderness. 
Glacier National Park
Glacier National Park offers 13 different campsites and more than one thousand sites to choose from. Located on the southern shore of Lake McDonald, this park is one of the most significant bucket-list places in Montana. 
With magnificent glaciated landscapes, Glacier National Park is also known as the Crown of the Continent. Fields of wildflowers, glaciers creating valleys, and starry nights make this place a paradise for outdoor lovers. 
Apgar Campground is the largest and one of the most popular ones in this park. Nearly 200 sites in this campsite area accommodate both RVs and tents. 
If you are looking for more privacy and fewer people around, than Cut Bank Campground and Bowman Lake Campground are the perfect choices. 
Makoshika State Park
This is Montana's largest state park, located in the east of the country. It is full of fascinating geology, terrific camping, and hiking opportunities while also featuring badland formations and the dinosaur fossil remains. 
With 24 different sites that are spread out, you are guaranteed with maximum privacy. These sites range from standard to rustic ones and offer easy access to hiking trails and badland formations. 
From morning to evening, the unique and colorful scenery dramatically changes as the sun moves across the sky. 
You'll be able to enjoy different physical appearance and color of this fantastic site. 
Makoshika State Park offers numerous activities like bird watching, bicycling, hiking, wildlife viewing, and exploring archeological sites. 
Lewis and Clark National Forest
Crystal Lake Campground is a real gem located on Crystal Lake, within the big snowy mountain range of central Montana. This stunning campground offers 28 large, widely spaced, and secluded campsites.
The large network of trails to explore and a picturesque lake are perfect for a family campground. The lake is suitable for canoeing, so make sure to bring a canoe, tube, or raft. 
If you are into hiking, then the Ice Caves Trail and Grand View Trail are a must! The former one climbs to the permanent ice caves on the Snowy Crest. 
And the view from there is breath-taking. 
With plenty of available activities like canoeing, swimming, hiking, kayaking, boat ramp, and pets allowed, this quiet mountain environment is a perfect getaway from everyday hassles. 
Flathead National Forest
Located near Bigfork in the scenic Swan Valley of northwestern Montana, Holland Lake Campground is both convenient and peaceful. This camping area is the perfect spot to relax and enjoy, offering views of spectacular Holland Lake and some stellar views of the Swan Range. 
Lake is popular for swimming, waterskiing, canoeing, and boating. 
Forty spacious campsites for tents and RVs provide flushing restrooms and potable water. While exploring the surroundings, make sure to take a hike to Holland Falls. 
When you need some time off from the hectic everyday life, Montana's spectacular scenery with forests, alpine meadows, and massive peaks is sure to provide you with much-needed relaxation and joy.