Best Builder Tips for Your New Home
Because there is a lot of new home building going on in Montana in 2014, we were curious how things looked from the builder side. Pay attention to these great tips from the "pros" and avoid problems, extra expense...and worry!
The Respondents:
Howard W. Mills
Yellowstone Custom Country Homes, Inc.
Bozeman, MT
(406) 842-5068, 560-5068

www.bigskybuilders.com
Steve Miller
Bitterroot Valley Log and Timber Custom Log Homes
Victor, MT
(406) 642-3091
Matt and Teresa Grange
Creekside Construction
Philipsburg, MT
(406) 859-4663
John Giuliani
Montana Timber Products
Missoula, MT
(406) 546-5579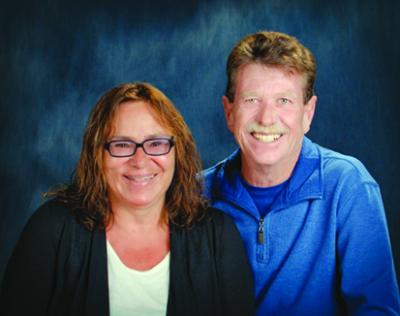 What is the first thing people want to know about the builder when discussing their new home plans?
Howard Mills: Building a new home is the result of many hours of discussion, hours of research and the realization of dreams. Naturally, when entrusting these dreams to a builder, people are interested in knowing about the builder's history, how he is viewed by previous clients (if they can visit several completed homes), and a little bit about the builder's life and family. This produces a level of comfort that is often the beginning of an enduring friendship.
Steve Miller: Building a new home may be the single largest financial 
investment the average person makes in their lifetime, so hiring the right builder could mean the difference in a fun, exciting experience, and a total nightmare.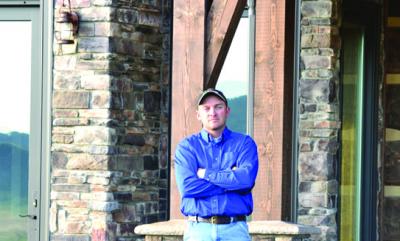 Matt Grange: One of the biggest questions we always get is our availability during a certain time frame to get a client's project done.
John Giuliani: We're often called by builders, architects, and homeowners searching for alternative products, which provide aesthetic appeal but offer cost savings or upgrades vs. other rustic wood materials on the market. Our customers want to know if they can purchase our specialty products direct without involving the extra expense of a lumber yard. Yes, we sell our products direct and find that this approach to market provides the best experience and value for our customers.
What are the key expectations the customer has, and how do you manage them?
Miller: Bringing a project in on time and on budget is something that should be expected by the customer.
Giuliani: Our ranchwood product line, a premium alternative to reclaimed barnwood, has emerged nationally as the preferred option for rustic wood siding, timber and interior selections. Our customers expect a rustic product that has variation and cost savings. We've been successful in providing a menu of color, dimension, texture, and profile options to meet these expectations.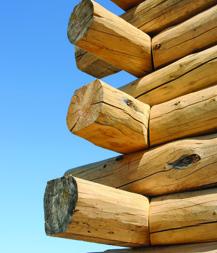 Mills: Most often their concern is about design both in terms of the site itself and the home they will build. Budget requirements, finishes, and scheduling also must be discussed.
Grange: All homeowners should get a builder's undivided attention as it is one of the largest investments they make. We feel it necessary to get to know them very well as this helps with the entire custom build process.
Is there a common misconception people have about the home-building process?
Mills: In many cases the cost of building and the time required to provide the craftsmanship they are entitled to proves to be something they are unfamiliar with.
Miller: Speaking from the standpoint of the Log Home Industry, most people think all log homes are the same, and that simply is not the case. There are many Log Home companies touting their own log packages, but does the average consumer actually know what they are getting for their hard earned money? Some companies will offer stick-built framing clad in log siding and call it a log home. Others will try to sell you a panelized system, a foam core sandwiched in between log siding, and call it a log home. I'm not sure how they get to say that, but when we build a log home, we use full logs. People really need to do their research, whether it be a conventional build or a log home, as it will save time, money, and heartache down the road.
Grange: Home building should be enjoyable; however, it does take a lot of time and attention from both parties. Pick a builder you work well with and you will both benefit from mutual respect and honesty.
Giuliani: We think a common misperception is that people aren't aware of certain alternative building products that may be available.
How would you recommend that people building new homes balance price and quality? Where is the best give-and-take for the money?
Mills: It is always better to spend money on parts of the project that are unlikely to be changed in the future. For example, it is unlikely that windows, insulation, and efficient heating systems will be upgraded at a future date. Our suggestion is not to cut back on these items as they will save money in the "long haul" and increase the home's value. Items, such as floor coverings, counter tops, and fixtures can easily be upgraded in the future. With this in mind, where the budget is an issue, these finishes can be items of more modest cost while still contributing to the overall craftsmanship of the home.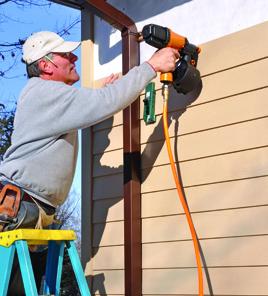 Miller: People today seem to believe that bigger is always better, and that is not always the case. A lot of potential buyers looking for a log home see the magazine pictures of these beautiful homes, usually built on a high budget, and think that is what they need. The average buyer has a bottom line. Spending money on square footage they will never practically use eats up their budgets, and then they find themselves without the money to finish off the home the way they had envisioned. The best advice I can offer to a potential client is build only the space that you need, and with the money saved, invest it in the areas of the home that you will use most. Quality finishes in the kitchen and bathrooms will bring the best return on your investment. Flooring is also a very important area to address during your build. Invest in durable, quality materials for years of service.
Grange: The lowest priced bid should not be the only consideration but one of many when building a quality home. Reputation, references, quality of work, honesty, and professionalism, along with other factors, should be considered.
Giuliani: Often, homeowners have an unrealistic expectation of what they can get for their money and are found in a position where they're forced to compromise on certain product selections midway through construction to meet budget goals. As it relates to our product category (siding, timbers, and interiors), thorough research into all products coupled with an understanding of long term maintenance requirements is integral to making the right choices.
What is your change order process, and how do you integrate it into the building of the home?
Mills: We have a detailed contract that defines what will be included in the home (Description of Work) and the duties of both the Builder and the Owners (Conditions). Under "Conditions" is a category entitled "Alterations or Changes". The terms laid out here clearly state that any addition, deletion or other revision to our contract must be done in writing with the contracted sum increased or decreased accordingly and with signed approval of both the Owners and Builder.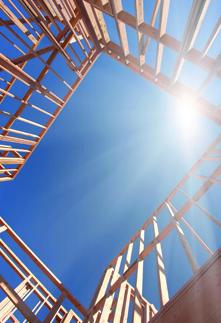 Miller: As most builders know, the likelihood of a project going as planned from start to finish is a rarity, rather than the reality. In our case, our change order process is mainly limited to the structural log aspects of the home. Once the log shell and log roof supports are put in place, the job is then handed off to a contractor, who will finish the home according to our client's needs. The planning process in building a log home is the most important part of the build, and it is imperative that we be on the same page as the client when the log package goes into production. A change order once the home has been milled, or worse, once it is set on the foundation, could be a huge problem not only with the work load, but monetarily. Again, careful planning with the client and the redlining of drawings are needed. Ultimately there are circumstances when a customer wants to change something while in the construction process, and since they are the paying client, you have to remedy the situation to the client's satisfaction.
Grange: Change orders should be minimal if you involve your builder in the planning stages. We like to think we tackle all of the details on a plan before the contract price is set. Change orders however do happen and are agreed to in writing by homeowner and contractor.
What ways do you recommend to customers as the least expensive ways to add value to their new home?
Giuliani: We often find our ranchwood product used for interior wainscot, wall or ceiling panel material. This selection allows the homeowner to spruce up certain areas to complement their interior design at a controlled cost.
Grange: When planning to build a new home, an open floor plan with lots of natural lighting creates an inviting atmosphere without adding much expense. Color selections and curb appeal and an inexpensive touch to all price points.
Miller: Curb appeal can greatly determine the value of one's home in the eyes of a potential buyer down the road. I've seen some great homes built in the past, but their total lack of attention to a home's exterior make it just another home on the block. Tasteful, yet simple landscape design can make any home stand out among others. Also extending your living area to the outdoors can create a fully functioning home, both inside and out. A simple timber pergola lends itself beautifully to a log home. Combining it with a patio it will offer a shaded retreat for all to enjoy.
Mills: The way a home is positioned insuring views, privacy, and a warm appeal is often an inexpensive way of adding to the home's value. 
The areas of the home's interior that add to the value are the details 
and finishes found in the kitchen and bathrooms.
What are the major potential sources of disagreement or tension between you as the builder and your customers? How do you manage customer satisfaction?
Miller: It is not a good practice to promise things to client that you know you cannot deliver in the end. That combined with under-bidding a contract are probably the two things I hear most. A weekly update with your client can go a long way in a builder-client relationship.
Grange: We strive to get our clients a bid that is accurate with their blueprints at the beginning of our relationship. No one likes surprises when building their home. We manage customer satisfaction by being honest from the start and carrying through with our agreements.
Mills: Whether our client lives out of state or nearby we want them to be as involved as possible. We have found through decades of building that this insures customer satisfaction.
Okay, in one sentence, summarize your one best tip for people building their new home.
Giuliani: Evaluate both the short and long term benefits of the exterior and interior wood products you desire through researching the aesthetic appeal, type of wood species, coating (stain), and long term maintenance requirements of the various options available on the market.
Grange: Incorporate your builder early on in the planning process as this will keep your budget and expectations on course.
Mills: When considering a builder follow through by getting to know the history, past clients, and completed projects of the building company you have selected.
Miller: Do your research, build only what you need to be comfortable, and invest your hard earned money on quality products and finishes.