<< FEATURED VIDEO: 5 campfire foods you can make with tinfoil
Everything tastes better when cooked over a roaring campfire. Here are five foods you can wrap up, throw in and enjoy.
One of the best things about Montana are the countless camping opportunities.  How one defines camping can vary — from a luxury fifth wheel in a campground with all the comforts of home to throwing a tent on the flattest piece of ground in the middle of nowhere.  Regardless of what you consider camping, getting out into the mountains and far from every day life is good for the soul. 
Camping days are spent exploring the beauty you have found by traveling deep in the mountains. Or, hiking and fishing. There are no distractions by technology because if you found a good spot it means there is no cell reception.  It is quiet.  The only sounds are of the wilderness and if you have a family, it's happy children using their imaginations to fuel their play.  Everything slows down as you take in the mountain air and relax.  You breathe a little deeper.  Thoughts slow down.  There is no to-do list.  As the sun goes down, the glow of the campfire and the stars above bring even more peace.  Camping is truly captivating.  It's wonderful to fall asleep and wake up with the birds outside your tent, and if you are lucky, a rambling creek nearby. 
Cooking in the mountains is less of a chore and more of an event. You create meals that will be cooked over the campfire, staying simple yet delicious.  Camping food can go beyond the standard hot dog on a stick. It's important to make sure when cooking over a fire that you give it time to burn down to hot coals.  Trying to cook when you first start the fire blazing will result in frustration and over cooked food.  
A SIMPLE MEAL
One of the easiest ways to cook over the campfire is wrapping food in tinfoil with olive oil and herbs and let the fire do the work.  The following is merely a suggestion. Meats and vegetables could be interchanged with whatever is your favorite.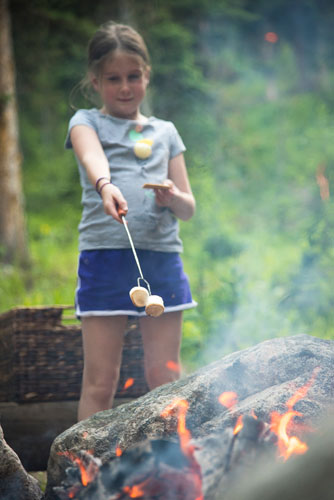 FISH, POTATOES, AND VEGGIES IN FOIL
RECIPE
salmon
2-3 potatoes, diced
1 onion, diced
1 zucchini or squash, diced
2 beets, peeled and diced
2 garlic cloves, minced
olive oil
basil, oregano, rosemary
METHOD
In one large piece of tinfoil place the salmon.  Drizzle with olive oil, top with minced garlic and rosemary and sprinkle with salt and pepper.  Firmly wrap up the sides of tinfoil so the fish is completely sealed in.
In a second large piece of tinfoil toss put the potatoes, onion, zucchini, and beets.  Drizzle with olive oil, sprinkle with basil, oregano, salt and pepper.  Firmly fold up the sides.  If you are making a large amount of this dish, it's a good idea to split it into more than one tinfoil package.  Double wrap each serving with more tinfoil to prevent leaking.  
Place the potato and vegetable mixtures on the fire first.  Using a grate over the fire will make this easier.  After these have been cooking for around 30-40 minutes (make sure to flip and rotate every 10 minutes or so), add the salmon. Cook 10 minutes or until done.  Let everything cool slightly, open the foil, and dig in!  
A HEARTY DINNER
Even in the middle of summer, evenings in Montana cool down especially in the mountains.  Then campfire chili makes an excellent choice for dinner.  It smells great while it's cooking and gets a wonderful smoky flavor from the fire.  Chili is not just a winter food!
CAMPFIRE CHILE
RECIPE
1 lb. of lean ground beef (omit this ingredient for a vegetarian chili option)
1 onion, diced
2 cloves of garlic, minced
1 zucchini
1 green pepper
1 jalepeno pepper
1 can each of black beans, red kidney beans and garbanzo beans, rinsed and drained
1 can (28-ounce) diced tomatoes
4 cups broth (veggie or beef depending on your preference)
2 Tbsp chili powder
2 Tbsp oregano
2 tsp cumin
1 tsp coriander
1-2 tsp ground red pepper
METHOD
Place a deep, heavy bottomed pot over a grate on the fire.   Brown the beef and onions.  If you are making a vegetarian version just sauté the onions in olive oil. 
Add all the remaining ingredients and stir until mixed.  Let it cook for around 1 hour, stirring occasionally and making sure it continues to simmer the whole time.  If it slows down, add some more sticks to the fire to get it going.  If it starts boiling too vigorously, move it to a calmer spot on the grate.  
GLAMPING FARE
While some may not be crazy about the concept of glamorous camping, everyone can get on board with the food.  Add a baguette, bottle of wine, and perhaps an assortment of olives and you've got yourself a fancy tapas dinner to indulge in under the big sky.
SKILLET CAPRESE
RECIPE
fresh mozzarella, sliced
10 to 15 fresh basil leaves
2 to 3 large tomatoes, sliced
olive oil

METHOD
In a cast iron skillet layer cheese, tomatoes, and torn basil leaves.  Drizzle with olive oil, season with salt and pepper.  Place the skillet on a grate over the fire and cook until cheese is melted and bubbly.
Serve with sliced baguette, olive tray, and wine
DESSERT
While a s'more is the obvious choice, this recipe steps camping dessert up a notch.  
BANANA BOAT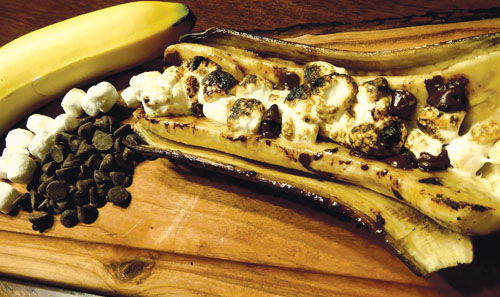 RECIPE
bananas, unpeeled
mini marshmallows
chocolate chips
METHOD
Cut a slit through the top of the banana.  Open slightly and fill the hole with marshmallows and chocolate chips.  Wrap the banana in tin foil to hold everything in.  Cook over the fire until the chocolate is melted, around 5 minutes.  Carefully open the tinfoil and enjoy, I'd suggest using a fork, these are messy!
Whether you are a seasoned camper or are thinking about trying it for the first time, consider going beyond typical camping food.  Be adventurous, try something new.  Everything tastes better sitting around a campfire in the woods.