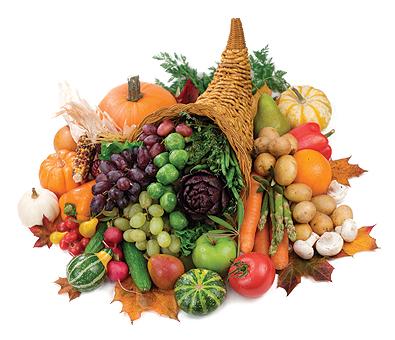 Locally, sustainably, and seasonally grown food is easy to find here in Montana.  It is as close as your local grocery store and farmers' market, and it is available year-round. For people in Missoula and the Bozeman area, it is also as close as your computer.
"Locally-grown" is a term that covers a lot of ground, from food grown within 100 miles of where you live to food produced within your watershed—such as the Clark Fork or Yellowstone River watersheds. Here locally-grown refers to food that is grown or raised in Montana.   "Sustainable agriculture" means good stewardship of soil, plants, animals, and the environment. It promotes economic prosperity and strong, healthy communities.  "Eating seasonally" means eating food when it comes into season where you live.  It gives you an appreciation for time and your locale.  
The Benefits
Locally, sustainably, and seasonally grown food is better for you all the way around.  It tastes better because it is bred for flavor rather than ease of shipment and because it is picked when it is ripe.  It is fresher and more nutritious since it takes a short time to get to market. It is healthier because sustainable farming and ranching practices do not include spraying fruits and vegetables with pesticides or feeding cattle antibiotics along with their corn. 
Purchasing locally-grown and produced food keeps your dollars circulating locally, supporting and strengthening your community. Supporting local farms and ranches offsets the economic pressures on farmers and ranchers to grow houses instead of food. Supporting the local economy reduces the amount of oil used and emissions produced by long-distance trucks and planes, and reduces the amount of packaging that goes into landfills.  
What Is Available and When?
In addition to vegetables and fruits that ripen from late spring to early fall, beef, lamb, and pork as well as chicken, turkey, and fish are found throughout the year.  Milk, butter, eggs, cheese, and grains also are available all year long.       
Montana farms and ranches raise a variety of beef. Grass and alfalfa-fed beef has a strong flavor and texture. Some claim it is more nutritious than corn and antibiotic-fed, mass-produced beef.  Fresh, pastured lamb is far more flavorful than lamb from 6,000 miles away. A few of Montana's producers are listed below: 
• Big Sky Natural Beef, Inc. (406.276.3626) raises Highland Beef in Dell and Forsyth. Buy their beef at the Good Food Store and the Clark Fork's Market in Missoula or from them directly. 
• Half Circle Ranch (www.organicpiedmontesebeef.com or 406.388.0563) raises lamb and beef in Belgrade and sells at the Community Food Coop in Bozeman, Billings, and Helena, as well as online. 
• Lifeline Farm (www.lifelinefarm.com or 406.642.3873) in Victor offers their beef and pork in Missoula, Kalispell, Helena, and Bozeman at a number of grocery stores and farmers' markets.   
• Grapevine Ranch (www.grapevineranch.com or 406.690.4643) near Billings raises predominantly Black Angus cattle and sells their beef at the Good Earth Market in Billings. 
• Farm to Market Pork (406.755.5326) near Kalispell raises pork and sells their roasts, chops, ribs, and sausage at the farm store and at the farmers' market in Kalispell and the Clark Fork River Market in Missoula.  
Free-range chickens taste the way chicken should taste. They have texture and flavor. Eggs from chickens that move around eating bugs and grass have deep golden plump yolks with a distinct egg flavor.  
• New Rockport Colony (406.466.2112) near Choteau sells their products throughout the state as well as turkeys in November and December. 
• Seder Ridge Turkey Farms (406.656.2701) near Ballantine sells their turkeys at the IGA and Good Earth Market in Billings. 
• Good Eggs from the Moiese Valley (406.644.3022) sells their eggs at the Good Food Store in Missoula.
Fresh milk, butter, and cheese from local cows and goats have the flavor of the mountains and high plains.  
• Lifeline Farm's herds of Brown Swiss cows produce all of their milk, butter, and several cheeses, such as Cheddar, Jack, Brie, and Feta. Their products are sold at a number of grocery stores in Montana as well as the Farmers' Market and River Market in Missoula.
• Two-hundred-eighty goats supply the milk for the Chevron, Feta, and Ricotta cheeses produced at Amaltheia Dairy (www.amaltheiadairy.com or 406.388.5950) near Belgrade. These cheeses can be found at Albertsons and Safeway and online.
Montana is famous for its grain, especially its high-protein winter wheat, and produces other grains and legumes as well.  If you can't grow your own, the following products are available:
• Wheat Montana Farms and Bakery (www.wheatmontana.com or 406.632.4804) near Three Forks sells a variety of breads, grains, flours, and mixes at Albertsons, Safeway, IGA, and many other stores. 
• Cream of the West (www.creamofthewest.com or 406.632.4804) near Harlowton provides three cereals and a pancake mix made from Montana grains.  They are found at Albertsons and Rosauers Supermarkets. 
• Timeless Seeds (www.timelessfood.com or 406.278.5722) based in Conrad and Ulm, produces barley, flax, lentils, chickpeas, and split peas.  They are available at the Community Food Coop in Bozeman, Good Earth Market in Billings, Good Food Store in Missoula, Real Food Market in Helena, and Third Street Market in Whitefish as well as other stores in Montana.    
For a complete list of Montana products, go to www.madeinmontanausa/ProDir.asp and select Certified Organic and/or Food and Beverage categories. See www.localharvest.org for farms that supply weekly baskets of produce in your area.
In addition to the food that is readily available all year long, during the growing season, fresh fruits and vegetables can be found at local farmers' markets and some independent grocery stores. The food is ripe, at the peak of its flavor and picked 48 hours or less before it arrives at the market.
For those who live in Missoula or the Bozeman/Belgrade/Madison Valley areas, you can order local, sustainably grown food online.  In Missoula, go to www.farmtofamily.com to order your groceries and have them delivered to your door. In the Bozeman area, go to www.fielddayfarms.com and select Online Market. There you will find locations where you can pick up your order.   
Seasonal Fruits and Vegetables
May: beets, carrots, mustard greens, lettuce, Swiss chard, radishes, rhubarb, scallions
June: asparagus, beets, green beans, carrots, lettuce, peas, radishes, rhubarb, scallions, Swiss chard
July: apples, beets, green beans, carrots, cherries, cucumbers, garlic, herbs, lettuce, peas, scallions, strawberries, Swiss chard
August: apples, apricots, beets, green beans, blueberries, carrots, celery, cherries, cucumbers, eggplant, garlic, herbs, huckleberries, lettuce, melons, shallots, summer squash, strawberries, sweet corn, tomatoes
September: apples, beets, broccoli, carrots, celery, eggplant, garlic, lettuce, melons, onions, pears, potatoes, pumpkins, shallots, sweet corn, tomatoes, winter squash
October:  apples, beets, broccoli, Brussels sprouts, cabbage, carrots, celery root, escarole, kale, onions, parsnips, pears, potatoes, pumpkins, rutabagas, shallots, Swiss chard, turnips, winter squash
For a complete listing of farmers' markets, go to www.aeromt.org/food-ag/farmers-market/.
Community Grocery Markets
Community Food Co-op
908 West Main St., Bozeman
406-587-4039
Good Earth Market
3024 Second Avenue North, Billings
 406-259-2622
http://www.goodearthmontana.com
Good Food Store
1600 S. 3rd St. West, Missoula
406.541.3663
Huckleberrys Natural Market
Rosauers Supermarkets Inc., 
3255 Technology Blvd. W, 
  Bozeman, 406.587.0637
2150 U.S. Hwy 93 S, 
  Kalispell,  406.755.5088
2350 Reserve,  
  Missoula,  406.721.5430
Mountain Valley Foods
25 Commons Way, Kalispell
406.756.1422
Rainbow's End Natural Foods
910 North First Street, Hamilton 
406.363.1626
Real Food Market and Deli
1096 Helena Ave., next to Capital Sports, Helena
406.442.6147  
Third Street Market
244 Spokane Avenue, #B
Whitefish
406.862.5054
Town and Country Foods
1219 North 19th Street, Bozeman
406.587.5541
www.tncfoods.com
~ Dorothy Greene Crocker lives in Missoula with her husband and dog and enjoys exploring all aspects of life in Montana.  She is working on a book dealing with seasonal, locally produced food.