On the banks of the Clark Fork River in Missoula, there is a restaurant where fishermen can watch guests dine.  Most often, it's the other way around.  Maybe it's the view of the river that helped earn Finn & Porter Missoula's Choice in 2005 for "Best Overall Restaurant" and "Best Upscale Bar".  Perhaps it could have been the impeccable service or signature dishes, such as Alder Plank Roasted Pacific King Salmon.  Chances are, it's a combination of all three.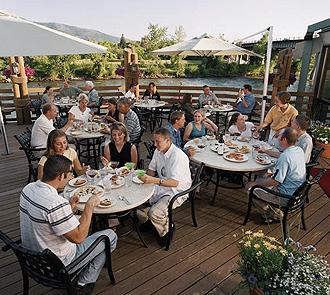 Prior to 2003, Finn & Porter was decorated in 70s décor says the restaurant's General Manager, Jason Glidden.  Then, the Hilton Restaurant Group that owns the hotel decided to change all that.  Their architects came in and created a contemporary dining atmosphere such as no other restaurant in Missoula.  After walking through the lobby of the Doubletree Hotel where Finn & Porter is located, diners are greeted to what could be considered dining in the round. In the middle of a round bar sits a wood-stone pizza oven where a couple can sit at the bar and watch their hand-tossed gourmet pizza made—add a couple of beers and keep the tab around $20.
If you're looking for something a little more uniquely Montana, request to sit by one of the numerous windows that line the rear of the restaurant. "People who call for a reservation and have dined here before always want to sit by the window to watch the river," Glidden says. "We had one guest comment that dining here was a bit like watching 'Animal Planet'." In the past, guests have been treated to bald eagles diving for fish and even black bear wandering the opposite bank.  "Visitors just don't know what to expect," Glidden says.  
Located just downstream from where Rattlesnake Creek flows into the Clark Fork, guests at Finn & Porter can expect to watch animals of the bipedal variety as well. In every month of the year, fishermen can be seen out in front of the restaurant's windows.  "We get asked all the time, 'Do you pay those guys to fish out there?'" Glidden says.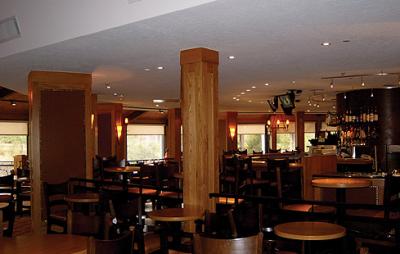 During the lunch hour, folks in varied attire can be found dining.  At one table, the business types may be lunching over some Szechuan chicken alfredo or a bowl of cream of tomato soup with basil and bacon.  Then again, a couple of college students may have walked over from the nearby University of Montana for a taste of the antipasto bar where they can choose from kalamata olives, marinated artichoke hearts, feta cheese and more.
Dinner is a different story.  Although diners can still order dishes such as antipasto and pizza, the real treats are Finn & Porter's feature dishes such as oven-roasted pheasant or roasted rack of wild boar, choices which change everyday.  Fish is flown in three times each week from Seattle.  "People don't question the freshness of our seafood. They know we get them the best quality," says Executive Chef, Seth Fiertl.  Much of the inspiration for feature menu items comes from what's fresh.  "We talk with the fish guy to see what he's got, then we work with that," Fiertl adds.  
As for the menu, Fiertl describes the style of food as progressive in its unconventional preparation, presentation and components.  He adds that guests come to Finn & Porter looking for contemporary food, and they find it in a very dynamic menu.
I recently had the pleasure of sampling this dinner menu, which left my date and me more than satisfied.  Compared to lunch, Finn & Porter's dinner atmosphere shifts gears as they turn down the lights, put a little jazz on the surround sound, and make their guests feel as though they are the only ones there.  
Any good dinner should begin with a nice bottle of wine, and should you not be completely sure what you want, the restaurant's wine host, or sommelier for you Francophiles, can help you decide. The wine list can be somewhat daunting with over 150 wines ranging anywhere from $19 per bottle to $400, but when Ryan Boehme, the wine host, heard I was having the lamp chops, he offered a glass of Tempranillo, a Spanish red wine.  This type of service along with their extensive wine list is why they won Wine Spectator's "Award of Excellence."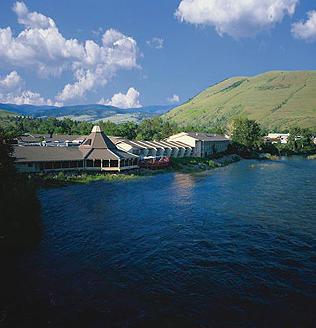 If you prefer a cocktail or two before dinner, Finn & Porter offers 16 beers on tap, seven of which are brewed in Montana.  For the more daring, they also offer numerous specialty martinis that would make Mr. Bond blush if he tried the South of the Border with vodka, Cointreau, and sweet and sour or the Greek with gin, Clamato, olive juice and Tabasco.  Don't be afraid that the wait staff may not know their stuff about booze, either.  Whereas new servers are put through an extensive weeklong training regarding the food menu, they are also trained on matters involving libations.  Every few weeks, Glidden says employees learn about and taste selections from Finn & Porter's wines, along with different selections from the liquor shelf. 
In our evening there, our server treated us to Dungeness crabcake and lobster ravioli.  Whereas the crab cake was tasty, it was the lobster ravioli that stole the show.  Served in a bright yellow saffron coconut sauce, the ravioli are handmade saucers stuffed full of fresh lobster love.  They leave a hint of spice making the wine taste that much better going down.
For the entrée, my dining partner chose Finn & Porter's signature dish, the Alder Plank Roasted Pacific King Salmon.  The dish is served on the alder plank with potatoes that taste as sweet as summer honey.  Chef Fiertl says that by using the proper technique, his cooks get the right amount of wood flavor in the salmon and potatoes. "Technique is so key because it's translated onto the plate and onto the customer," he says. 
As for my lamb chops, they came out stacked to perfection on top of mashed potatoes.  Prepared medium rare (as any good piece of red meat should be), they sliced delicately away from the bone.  Because they're cooked in a huckleberry shallot demi-glace, whole huckleberries exploded with fruity flavor.
As if there could be room for more, no dinner at Finn &Porter is complete without the aptly named Naughty Cake.  About the size of a hockey puck and just as dense, the cake is made with bittersweet Belgian chocolate and barely visible underneath toppings of vanilla ice cream, whipped cream and a sweet raspberry puree.  Sadly, we had to leave a couple of bites behind.  
Other highlights of Finn & Porter include their fresh raw oyster bar, as well as their Sunday brunch buffet that offers the standard breakfast fare along with made-to-order omelets and salmon.  For Griz home games, few fans pass up the opportunity for a Saturday buffet that offers everything from hash browns and bacon, to sweet cheese crepes and eggs benedict.  
Some may think there's a lot of pressure in being named Missoula's overall best restaurant.  For Chef Fiertl, he says it's nice to win, "but we're not here for the contest.  We're here to produce great food and happy customers." As for winning the award again, Fiertl says that as long as his kitchen staff is comfortable in what they do, "It'll happen again, naturally."
Finn &Porter
100 Madison Street
406-585-1245
~ PJ DelHomme recently completed his master's of science at the University of Montana.  He contributes to regional and national publications.