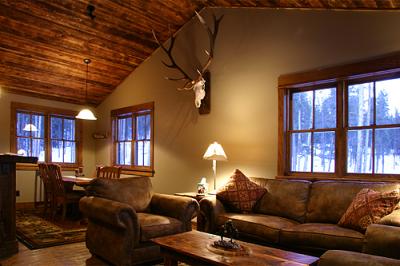 Nestled in the foothills, out under open sky, or perched in a historic neighborhood, smaller homes hold a growing attraction for reasons as diverse as the people who live in them.  And many Montana homeowners and designers are convinced that the not-so-big footprint is much more than a passing trend.
Owners of small houses share their motivating values
"We said, no, we're not going to design bigger and bigger furniture," Breslin shared.  Then, researching sustainable building concepts, they began to apply the same attitude toward the possibility of designing their own home.  It would be a bit of a showcase.  "We wanted to make it so people could see what you can do with a small space," Breslin explained.  "We were trying to show ourselves that we could design something that was simplified, easy to live in, and within our budget."
They've now lived in their 1,200 square-foot one-bedroom home for almost seven years and are clearly pleased with the space.  They wanted a home that sat lightly in its surrounding landscape, had a minimal footprint, and yet felt spacious inside.  With some ingenuity, they achieved just that.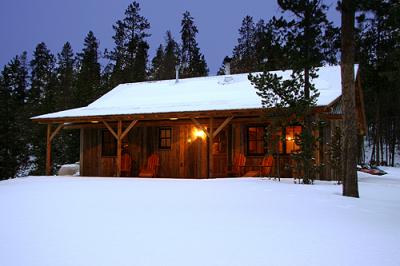 The main living area encompasses kitchen, dining, and living rooms and has five French doors.  In the winter, they let in light beautifully, and in summer, the living area can be completely opened up.  "Our deck space is like a whole other room to us," Breslin said. 
Because the home plan was smaller, Breslin and Sweney were able to invest a little more in some novel finishes. They'd seen a house in Santa Fe that used galvanized tin inside.  So they tried that—on the cathedral ceiling in the living area.  It works.
"It just lights up; we hardly ever have to turn on the light," Breslin said.  "It's unbelievable."
The treatment of light is key in small spaces, according to architect Brian Caldwell, Co-owner of Thinktank Design Group in Bozeman.  When Caldwell designed and lived in his own small home in Bozeman, he paid attention to how light would play in the structure.  He also used a creative interior layout to make the 1,700 square foot home feel modern and spacious inside while fitting on a small corner lot in a historic neighborhood.  
There are five levels to the house, each separated by a half-flight of stairs.  From each level, you can see into other spaces.  "The visual connection creates long sight lines," Caldwell explained. "It makes it feel extremely large."
He also created a sunken courtyard on the south side of the house, which served two purposes: it brought in full daylight into the lower level and it created a private yard space on a lot that is otherwise very exposed.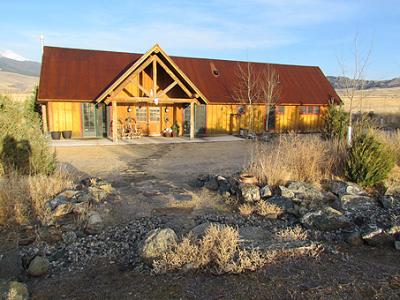 That dual-purpose mentality is another secret of successful small-home design.  Inside and around the home, every space and every design decision needs to count for multiple purposes.  Caldwell summarized the concept: "Fold the program of one space into another." 
Kalispell homebuilder, Todd Allmond, agrees.  "In big houses, there is so much area that you never walk in," he said.  Allmond, owner of J. Todd Allmond Builders, is a contractor who also designs small-home plans.  He has seen an increasing interest from both young professionals and retired couples who question the necessity of larger square footages, and also families who are drawn to a more simplified lifestyle.  "You're cutting a lot of the fluff out of the house… You've got to give up the dining room and the study," he said. 
Or you need to combine certain elements into some other space.  Breslin shared that her bedroom looks more like a den, with lots of bookcases and a fireplace. Allmond said, "The second bedroom is an office-slash-guestroom."  Allmond has also seen front-loading vertically-stacked washer and dryer units installed next to closets, both saving space and making laundry day very efficient.
It's clear that small house design demands creativity—from architects, builders, and homeowners alike.  That creativity leads to some clever solutions.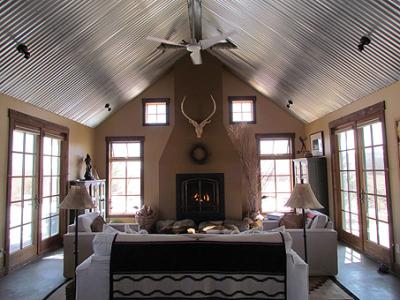 A little innovation makes small spaces infinitely livable
In 2008, Mary and Matt Strong built a thousand square-foot two-bedroom home in the Kings Hill area north of White Sulfur Springs.  They sketched a design of their own and then went to architect Mark Weirich for advice and final design.  The Strongs wanted a modern home with a rustic cabin look, nestled in the mountain terrain. 
Weirich, owner of Mark Weirich Architect, Inc., explained that hall space is an area where home plans can quickly cut back on square footage.  The hall in the Strongs' home is just under 40 square feet and is in the middle of the home, acting "like a hub on a wheel."  Weirich described the project as an enjoyable challenge.  "When there are no limits on scale, the easy way out of a tough design is to simply add more space… On projects like this, it is not an option," he said.  He found it very satisfying "to fit a large program into a small space." 
For the Strongs, the Kings Hill home is very livable.  "Weirich knew how to design the floor plan to enhance the living space and make great use of corners for storage," Mary said. Space-saving solutions abound in the house that Caldwell designed too.  He dropped the ceilings in a few rooms to allow for loft-area storage.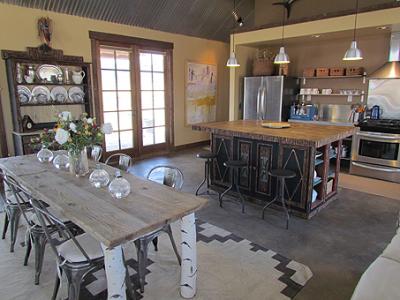 Energy efficient and economical
The little compromises are far outweighed by the benefits of small home living according to Breslin and Sweney.  They were able to use some higher end finishes and unique materials because the scale of the house was reduced.  They also invested in blown-in insulation and radiant heat.  The house is not only remarkably sound-proof on windy days, they also only pay about $40 per month to heat the home.  
The house that Caldwell designed is similarly efficient with $60 per month utility bills in the winter.  In the summer, there is no need for air conditioning because of the home's unique design.  "You open the windows below and the skylights above; it ventilates like a chimney," Caldwell explained.  "It pulls the cool air up through the house."  There is also a solar screen to shade a large south-facing window.
For some, efficiency is a primary goal in the small-home design process.  For others, it's simply a nice perk.  But a smaller footprint almost always translates into lower utility costs.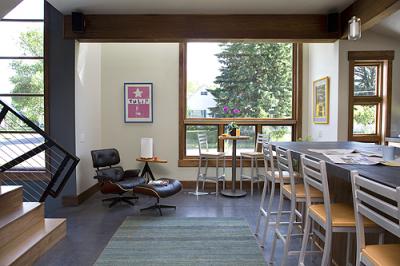 Cut the footprint, put more toward materials and land
Small and efficient does not have to mean spare or cramped.  With clever architecture and interior design elements, the small house can be very comfortable and beautiful.  That assurance has made the little house a truly viable option for many new or downsizing homeowners.
In that vein, Caldwell noted that people who want a little house tend to value owning a few things of great value, rather than many things of mediocre value.  He compared small-home design to the decision to buy organic fresh food and spending more time in the kitchen preparing it.  "Small homes are a reflection of people's changing tastes," Caldwell said.
Whatever the motivation, Breslin noted that it needs to be a heartfelt desire.  "It has to be part of your life choice," she said.  "You want to live that way for a certain reason—to leave a lighter footprint or live more efficiently."