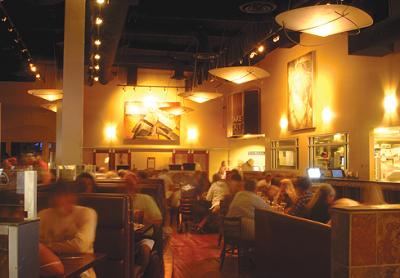 Slices of roast pork, cut beautifully and dipped well into a bowl of sesame seeds after a plunge into mustard so spicy it blasts the brains into clarity from the back of the throat—now that warms the belly and the spirit.
"When I go into the Mustard Seed in Missoula," says Career Counselor Cindy Boies, "I enjoy the atmosphere. The ceilings are high, but it's not a noisy place. And, given that it has a minimalist setting, it's not tinny sounding."
One to notice things like that: the floors (polished painted concrete) and artwork (local artist Timothy Lane), Cindy was my entrée to the Mustard Seed many moons ago, when there was only one restaurant with the evocative name and the indelible Asian flare. 
Today, there are two. The original is found in the heart of Missoula—through a distinctive brick-fronted entrance to Southgate Mall. The other is in Spokane, Washington, at Northgate Mall. In and between these two river cities, the Mustard Seed partnership also operates eight fast-casual outlets, called Noodle Express in Billings and Great Falls. This Asian Bowl approach allows them to offer a smaller menu, but the same healthy, affordable, and, possibly, addictive meals.
I'm serious. Take the Chicken Osaka—she of the fluffy rice and creamy sauce—as an example. "Customers tell us that, that they think we put something addictive in our food," says Tim Leegan, general manager of the Missoula restaurant. (For the record: They don't.)
"It's about consistency," he says. "We're making good quality food out of great ingredients. We make everything from scratch. Nothing sits around. Nothing sits overnight, or three days. All our soups, salads, our desserts, including the ice cream—we prepare everything for that day." 
"We always have specials," Tim says. "Right now, we have an Ahi Tuna Wrap, Crab Wontons, and a really nice beef dish, Singapore Beef.  We've always got something new." In fact, the chefs compete regularly for a spot on the menu.
I confess that every time I visit, I order the same meal: Chinese Roast Pork appetizer, followed by the golden Osaka…poured over perfect chicken morsels bathed in their own haunting sauce…and beneath it all, that tender rice.  And maybe, if there's time, a plum wine.
Cindy understands. "When I lunch there, I always have the Chinese Roast Pork and a salad with ginger dressing," she says. "For dinner, I always have the Osaka."
Her husband, Mark, favors the Fireworks Shrimp—a gorgeous meal that now tops my "Order Next Time from the Mustard Seed" list. Right after the Poppy Seed Cake. 
Tim says, "That's why our family-style dining is so popular. In a group, you can try something else at the table." 
Happy Hour (4 to 6) is another low-commitment approach. "The regulars particularly like the dim sum," he says. "The bar's full every night" because of these "small plates." Exclusive to Happy Hour, they let you sample the hot wings, spring rolls, wontons, pot stickers, ribs, and other items.
Perhaps as dessert, you can try one of their signature drinks: the martini. "We have a huge martini menu," Tim says. "We have a S'mores Martini: crushed graham crackers and chocolate on the rim. We do a Carrot Cake Martini, with cream cheese frosting on the glass. We do a martini where we hand-stuff the olives with blue cheese."
My "Next Time" list grows again. 
But, whom am I kidding? My very next opportunity—with the excuse of deadlines and winter storms—I completely bail. I order the Roast Pork and Osaka...TO GO. 
I also order the Asian Tacos, and it's a brilliant move. To have missed this dish (the peanut sauce, the curry, the vegetables) would have been sinful.  It's the first thing I consume upon arrival home. The tortillas are still warm. Two nights later, reheated, it's fabulous all over again. 
As for Tim's response to my Osaka confession…."Next time," he says, "add something. Or take something away. Add Dragon One…or Dragon Two."
That's the Mustard Seed's spice scale: One to Four Dragons. I can now vouch for Dragon One. Dragon Two and I have a date. 
"Or try adding broccoli," he says. "Our 'regulars' do that. We can do anything our customers want. Take out the vegetables, or add them in. We have some customers who ask us to mix the Dynamite Shrimp with the Kid's Macaroni and Cheese. The rapport my staff has with the customers, they feel free to order whatever they want."
And that's all it takes.
Suddenly, I'm no longer an oddity, but part of a posse: the Mustard Seed faithful, many of whom don't venture far from their favorites. 
A partner in his company, which began in 1978 with the dream of two sisters (and their family and friends) to blend childhood Asian cooking styles with the culture of the Pacific Northwest, Tim makes his own confession.
"I'm an Osaka guy, too," he says.  "I eat here five days a week. I have done so for the last 20 years. I never get tired of our food.  It's good."
What more can you say?
The Mustard Seed is open seven days a week for lunch (prices average $10) and dinner ($12-$18). At The Noodle Express, prices range from less than $5 to $8. To Go Ordering is available at all locations. Check the Web site (mustardseedweb.com) for locations and sample menus. No trans fats; gluten free, and whole grain rice are available.