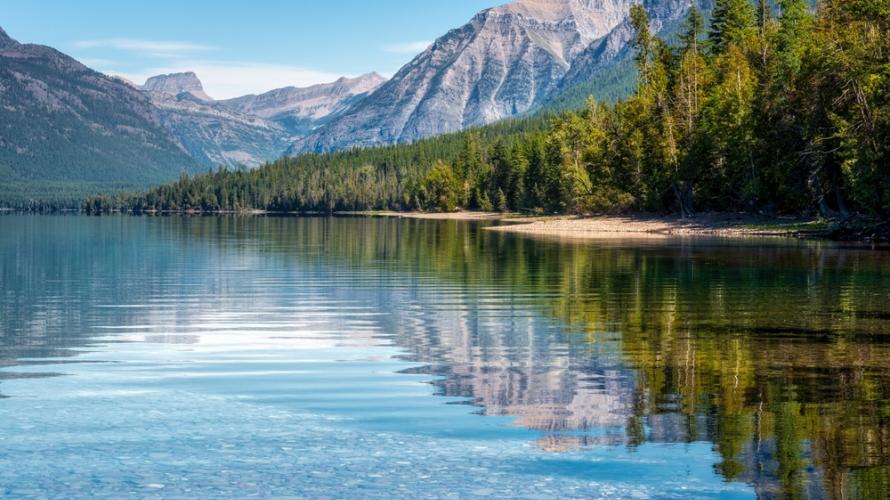 Does Mining Compromise Montana Tap Water?
There is a long history of copper mining in Montana goes all the way back to the 1880s. Sadly, while the mines have disappeared, the effects are still present. Heavy metals such as lead and salts like arsenic are present in our groundwater, so much so that as late as the 1990s, the water in Butte and the surrounding areas was unsafe to drink. The situation has certainly improved over the last few decades, but as you will see there is still much to be done.
Toxic Water Kills 3,000 Geese
Fortunately, with the improvement of filtration methods and the replacement of old wooden supply pipes, Montana drinking water has improved considerably. However, that doesn't mean there still aren't many problems with it. The closure of the old Berkeley Pit has been particularly problematic, with a lake being created that is a major health hazard. Only two years ago, the Guardian reported that, "At least 3,000 geese [were] killed by toxic water from former Montana copper mine."
Groundwater and Berkeley Pit Pool
The concern about the Berkeley Pit is that it is fairly close to the Silver Bow Creek, which is used by the residents of Butte and the surrounding areas as a water source. The residents were told that there is nothing to worry about and that the poisonous water from the Berkeley Pit pool will never trickle into the groundwater. However, considering what happened to those 3,000 geese that had the misfortune to land in the 'toxic stew' of the Berkeley Pit, it may not be wise to not take action and simply trust the local government and water companies to keep you safe.
Water Contamination in the Area
While it is true that Silver Bow Creek and the surrounding areas have been transformed over the last 30 years, there is still a long way to go. To quote from the Clark Fork Coalition, "The [mining and smelting] contamination impacted drinking water wells and agricultural soils, and today the river functions at only 1/5 of its fishery potentials. Compounding the problem, the upper river faces additional challenges from drought, sediment loads, and dewatering."
Contaminants in Our Drinking Water
Is the drinking water in Montana is safe to drink in general?
Let's have a look at some of the local utilities and the quality of their water. Please note that the figures used here represent health guidelines, not federal guidelines.
On a side note: You may not be surprised to hear that the federal guidelines on what constitutes 'safe' drinking water are much more relaxed. Remember Flint, Michigan, where people were protesting that the drinking water was green and smelled 'funny'? For weeks, the local government was saying that everything was fine. However, it later turned out that it wasn't.
City of Billings
The water utility company in the city of Billings in southern Montana supplies water to nearly 115,000 people and yet its drinking water contains 10 contaminants whose levels are above health guidelines. These contaminants are:
·   Arsenic
·   Bromodichloromethane
·   Chloroform
·   Chromium (hexavalent)
·   Dibromochloromethane
·   Dichloroacetic acid
·   Nitrate and nitrite
·   Trihalomethanes
·   Trichloroacetic acid
·   Hormones
Source: Environmental Working Group National Tap Water Database
Of course, not all the above can be blamed on mining. For example, hormones come from animal and human wastewater which has entered drinking water sources. However, arsenic and chromium certainly do originate from mining.
City of Butte
The Butte's water utility company supplies water to the much smaller population of 33,000 people but still has seven contaminants that are above what's considered healthy:
·   Arsenic
·   Bromodichloromethane
·   Chloroform
·   Dichloroacetic acid
·   Radiological contaminants
·   Trihalomethanes
·   Trichloroacetic acid
Source: Environmental Working Group National Tap Water Database
As you can see, most of the contaminants are similar to Billings (Butte is only a four-hour drive from Billings…). However, one that stands out is 'radiological contaminants'. These were present in the Billings tests as well, but did not reach the same levels as in Butte water. We'll go into what these contaminants can do to our health in a moment.
City of Kalispell
The city of Kalispell, far to the northwest of Butte, lies on the edge of Glacier National Park. You would imagine that the water here would be cleaner than anywhere else but sadly, contaminants are still present:
·   Bromodichloromethane
·   Chlorate
·   Chromium (hexavalent)
·   Nitrate and nitrite
·   Radiological contaminants
·   Trihalomethanes
Source: Environmental Working Group National Tap Water Database
As you can see, the contaminants are often similar, with the only variations being the different contamination sources. The reason for this is not so much the area where you live. Common contaminants are present because the water purification process is the same throughout America. Ironically, this very process is what causes some of the contamination in the first place.
Why the Above Contaminants Are of Concern
If ingested in large enough quantities, almost all of the above substances can cause cancer or have carcinogenic properties. Arsenic is linked to thousands of cases of cancer alone. Other contaminants, such as bromodichloromethane, may cause problems for mothers-to-be. Finally, radiological contaminants including radium and uranium may affect the development of unborn children.
How Can the Contaminants Be Removed
The fact is that America suffers from drinking water containing a whole range of contaminants that exceed health guidelines. The best way to solve this problem is through filtration. According to BOS, one of the best ways to get access to clean drinking water is to add a reverse osmosis filter system to your home. (Learn more here:   https://www.best-osmosis-systems.com
Although you should do your own research because every situation is different, reverse osmosis is a highly potent water purification method. To quote Simple English Wikipedia, a reverse osmosis filter "is how you can get small particles out of water, even in solution, by forcing it through a filter (a membrane)."
At times when corporations put money before people and the government is influenced by the very companies it should be protecting us from, it might be better to take action now, before it's too late.
If you want more information on the quality of your drinking water, sight your local utility's water quality report and act accordingly. This will allow you, your partner and most importantly your kids to sleep safe at night knowing that the water coming out of your taps will not harm them.