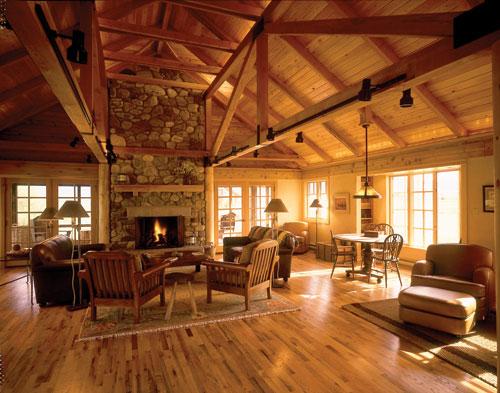 The fluorescent red strike-indicator dipped suddenly beneath the surface of the green occluded water. I quickly raised my rod, but before I could get the tip up, the fish was taking line and heading up stream and into faster water. 
Guide, Joe Duvall, stood behind me with the net.  "Keep your rod tip up an lean it toward the bank."
I did as I was told, but the fish turned in the fast current and headed down river, toward me. I held my rod high and stripped line, but it was too little too late to slow the fish.  He raced by me in the fast water. 
I turned and moved past Joe to follow the fish, but the river, swollen with spring run-off, lapped into the willow banks and wading was tricky. 
My line disappeared into the dark green water just as the river skated across a shallow gravel bar and crashed into a steep cut bank, thick with root wads and wild rose bushes. The fish was in control and both Joe and I knew it. He wasn't coming back out of that current and I wasn't going to go in and get him. 
The standoff lasted only a few seconds. I felt a strong tug, tug, tug and then a quick jerk, and the line went slack. 
I reeled in and Joe quickly grabbed the leader and tied on another nymph. "We're using 3X tippet," he said. "Make sure you get them in quick. They won't break the line unless you let them get below you."
He tossed the nymph and indicator out into the current. I pitched another cast directly up stream from me and close to the bank. With river as fast and high as it was, the fish were holding in the only place they could—the shallow water on the edges.
Close to the bank, the water seemed to be moving too slow, but my indicator suddenly stopped and went under water again. 
This time I knew what to expect and I pulled hard against the brown trout. I leaned the rod toward the bank, and Joe moved ahead of me and netted the fish just as it was turning downstream. Joe reached into the net and pulled out the writhing fish. The bronze sides, and dark spots nearly glowed in the warm morning sun. 
"Nice fish," Joe smiled as he held it up for me to see. 
The fish was better than nice. Though we didn't put a measuring tape to it, the fat, spring brown trout was probably 17 or 18 inches. It was my first fish of the day. Joe quickly reached up with his other hand and pulled out the hook, put the fish back in the water, and let it go. 
The whole process from strike to release had taken less than two minutes. 
"Thanks Joe," I said grinning like he'd just released the first fish I'd ever caught. 
"Cast right back in there," he said. 
I did and two minutes later Joe released another brown.
Down stream, just out of sight around the bend, my fishing partner, Gavin, was finding his groove too. Joe had him fishing the inside of a slow, deep hole next to a gravel bank. He stood at the edge of the water and caught seven fish without moving his feet. 
What does the perfect day of fishing look like? For Gavin and I, it was a warm day in late April on the Ruby River in Southwest Montana. The sky was clear, the weather was warm enough for t-shirts, and the water was high and murky. 
It was our second day of fishing at Ruby Springs Lodge, just outside of the small town of Alder, Montana. We'd come not knowing what to expect. What we found, besides excellent fishing, was good food, new friends and the accommodations of kings.
Amongst other Montana lodges, Ruby Springs stands out as a small, out of the way outfit. Alder is about 50 miles northeast of Dillon and about 65 miles south of Butte. It's tucked under the Tobacco Root Mountains and situated in the pastoral Ruby River Valley. Surrounding the lodge are thousands of acres of hay and grain fields, river bottom and upland foothills and benches. 
The lodge itself consists of several cabins, a dining lodge, and a recreation lodge. All are crafted in the spirit of the west—simple, yet elegant.
We arrived Sunday evening and were greeted by co-owner, John Sampson. He had the look of a fishing guide—sunglasses, ball cap, khaki pants and sandals. 
"Let's get you to your cabin and then Joe'll be down. I think there's still time to get in a little fishing before cocktails."
He must have seen the look in my eye. 
Ruby Springs' focus is on relaxation and ease. If you're a fisherman or woman, they'll give you as much as you can handle. And it's clear, Sampson and his co-owner, Paul Moseley, know how to cater to the fishing crowd. 
Sampson and Moseley have been friends since grade school in Seattle. They learned to fish in an all-American way: from their fathers and grandfathers. But it was their time guiding fishermen in Alaska that taught them how to run a lodge. "We basically went to school up there on how to run a fishing lodge," Sampson said one evening during cocktail hour at Ruby Springs. 
We were relaxing on the screened porch of the recreation lodge. We stared out toward the mountains, watching the occasional trout rise in the winding river flowing just outside the door. 
When they decided to open their own lodge, Moseley and Sampson told that going into business with a friend wasn't a good idea. But they did it their way and it's turned out wonderful.  "We're as good or better friends today," Sampson said.
For them, learning the local rivers as fishing guides was vital to the success of their future lodge. They bought the land the lodge sits on in 1992 and then went to work as local guides, learning the ins and outs of local fishing secrets.
"The best lodges are owned and operated by people who understand fishing and understand guest services," Sampson said.
For them, learning the local rivers as fishing guides was vital to the success of their future lodge. They bought the land the lodge sits on in 1992 and then went to work as local guides, learning the ins and outs of local fishing secrets.
"The best lodges are owned and operated by people who understand fishing and understand guest services," Sampson said.
Ruby Springs Lodge is in the heart of some of Montana's premiere fly-fishing. Their guides host fly-fishing float trips on the Madison, Big Hole, Jefferson, and Beaverhead Rivers. As well as guided wading trips on the Ruby River and several pieces of private water and ponds.
Ruby Springs doesn't just cater to the fly fisherman. Gavin and I were among 11 guests staying at the lodge. Most of the guests were couples vacationing from Portland, Oregon. Some of them had been coming to Ruby Springs since the lodge opened in 1995.
Ruby Springs offers guided horseback rides, a private masseuse, access to hiking trails, golfing at the relatively near Jack Nicklaus-designed Old Works Golf Course, and wildlife viewing. In the fall, they boast excellent opportunities for upland bird and waterfowl hunting. 
Ruby Springs is an all-inclusive lodge. The rates they offer include fishing and other activities as well as food and drinks. "All inclusive was what our customers wanted," Sampson said. "You don't think about money once you check in."
A regular day at Ruby Springs starts with a gentle knock at your cabin door. This is the wake-up call, and attendants leave a steaming carafe of coffee and mugs. Breakfast at the dining lodge is a hearty, delicious, and made-to-order meal.
Then guests split off for the day's activities. A guided day of fishing usually means you're back at the lodge by six p.m. This gives you time for a shower or luxurious bath before cocktail hour kicks off.
The greatest thing about Ruby Springs is the communal atmosphere. Guests are encouraged to rendezvous in the evening at the recreation lodge for drinks and appetizers. The open bar is a welcome sight at the end of a long day of fishing and guests are encouraged to help themselves to the libations, which include a vast array of fine wine, beer and liquor. 
Once a crowd has gathered, appetizers are served. We enjoyed everything from battered calamari to stuffed mushrooms. The conversation always is a recap of the day's events. This gave Gavin and I a chance to embellish on our perfect day. 
Dinner was served at about eight every evening. And again, it was family style. The small tables from breakfast were pushed together, and we all sat around getting to know one another and enjoying the fine meal. The rack of lamb was a favorite. But it was hard to choose from night to night. The wine, the meal, the fellowship of new friends made each evening better than the one before. 
Enabling customers to have an once-in-a-lifetime experience is paramount for Moseley and Sampson. "For a lot of people, this is their three or four days they decide to go fishing every year," Sampson said.
Ruby Springs is also about giving back to the community. The sleepy little town of Alder is vital to the experience at the lodge, he said. It's all part of the uniqueness. The lodge employs about 40 people from the local area. "With success comes giving back," Sampson said. "That just feels right."
The vacation packages at Ruby Springs vary between cabins and stay lengths, but for a typical three-night, two-day fishing package, expect to pay between $2,200 and $2,500.
Make reservations early. Ruby Springs is becoming a well-known secret, despite Sampson and Moseley's decision to ease into advertising.  
"We have a few people who have been here every year for 13 years," Sampson said. "So far, it's all been word of mouth."

800-278-7829
[email protected]
www.rubyspringslodge.com
~ Greg Lemon is a freelance journalist in Hamilton. He's written for numerous local publications, including NewWest.Net, Big Sky Journal and Northwest Fly Fishing.