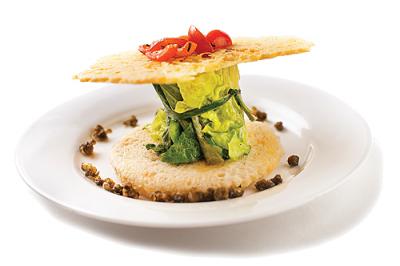 February 11, 2012, was the coldest day of the New Year; an icy wind blew gusts from the southwest.  Chef Todd Christensen of Triple Fork Catering was manning the barbeque grills set up behind the Museum of the Rockies in Bozeman.  His infrared thermometer read -5 degrees and his propane tanks were beginning to freeze.  To grill salmon and steaks for one of the museum's biggest fundraisers, he was cooking outdoors.  
Chef Todd related the experience at the museum with a smile.  "If we can turn out a fabulous meal under those circumstances, we can do anything.  I have two great partners in Triple Fork Catering: Laurie Zabawa who takes care of the dining room details, and on the business side Keshia Kailey who makes things run smoothly for the client."
After graduating from the Los Angeles Culinary institute, Todd cooked in country clubs around California.  His food often reflects his Japanese heritage, but in an American way.  For an appetizer, he'll make a bao, an Asian style steamed bun filled with savory meats.  However, his bao may contain a mini bison cheeseburger wrapped in yeast dough and steamed.  He likes to baste American cuts of meat with a barbeque sauce flavored with ginger, soy and mirin.  "Soy is a great ingredient to use in barbeque; it tenderizes meat and adds flavor but it also helps to keep meats from burning at high temperatures."
After a season at the Gros Ventre River Lodge in Jackson Hole, Wyoming, Chef Christensen moved to the Crazy Mountain Ranch north of Livingston.  Guests from all over the world expected game and local fish on the menu.  Visitors loved his elk chicken-fried-steak with morel gravy.  He sought out fresh huckleberries and used them in barbeque sauce as well in traditional desserts.  Flathead cherries and sage flavored biscuits topped with smoked pheasant gravy gave a Montana twist to traditional biscuits and gravy.  He added, "Smoked trout and walleye can be used to make cakes similar to the traditional crab cake.  People who come to Montana have adventuresome palates and like to see local ingredients used to give classical dishes the true flavor of Montana. "
Triple Fork Catering made their debut last summer at the Bite of Bozeman.  The trio, with Chef Todd leading the crew from the Hilton Garden Inn, presented what has become one of their signature appetizers, the Mashtini.  That is a martini glass filled with fried onion pieces, flavored mashed potatoes with a savory rib topping it all.  The Mashtini sold out quickly.  Other variations include: potatoes flavored with wasabi and topped with Asian-flavored garlic potatoes with a barbecued rib. 
Todd plans another unusual but tasty appetizer for this summer's events.  He's using a savory wrapper resembling an ice cream cone and filling it with red wine, braised beef, risotto, and flavorful greens.  He is also thinking about the concept of Junk Food Gone Up-Scale, preparing dishes like red velvet Twinkies with a white chocolate mousse filling.
When asked what he thought the next food trend would be, Todd replied, "Moroccan food looks very interesting to me right now.  Those are such amazing flavors, combining lamb or chicken with apricots, nuts, and vegetables and using fresh garlic and ginger.  Cumin and sweet spices like cinnamon add to the complexity."
"I've created a lamb tagine with a barley and vegetable pilaf that I want to share with your readers.  Montana Highland Lamb from Whitehall is great for these dishes; it's always tender and delicious. I like using barley for a change from traditional couscous."  Todd added, "I recommend a Paul Hobbs Felino with this dish.  It's a reasonably priced, full-bodied Argentine Malbec."
Triple Fork Catering is staffed to prepare a dinner for six in your home or an event for 500 in a local venue or at the Hilton Garden Inn. To deliver the best event possible, the partners are visiting venues to photograph and study the special issues they will face when catering an event. "We complete an event strong from start to finish because we all genuinely care," Keshia summed up.
 --
Triple Fork Catering may be contacted at...
406-219-9005.  They are located in the Hilton Garden Inn at 2023 Commerce Way in Bozeman, Montana. Triple Fork Catering is on Facebook.com/pages/TripleForkCatering.
--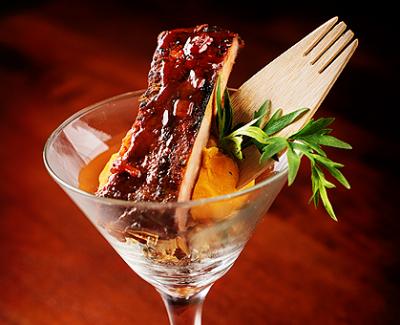 MOROCCAN LAMB TANGINE
Serves 6
Sauté 2 lbs. boneless Montana Highland lamb, cut in 1 ½ inch chunks, in 2 Tbsp. olive oil until brown.
Add 1 thinly sliced red onion, sauté until translucent.
Add 5 cloves minced garlic, sauté 2 minutes more.
   2. Turn heat to medium low and add the following:
1 Tbsp. each paprika and ground coriander, 
1 tsp. ground cumin,
½ tsp. each cinnamon, turmeric, cayenne pepper and rosemary;  
2 Tbsp. chopped fresh ginger, 
3 Tbsp. chopped Italian parsley, 2 Tbsp. honey.
   3. Add 4 cups chicken stock and 4 Roma tomatoes chopped.
   4. Let simmer for 45minutes to 1 hour until lamb is tender.
   5. Add ½ cup chopped dried apricots, ¼ cup raisins, 1 cup toasted slivered almonds and the zest of one lemon. 
   6. Simmer for another 15 minutes and serve with barley timbale. 
BARLEY TIMBALE
Serves 6
Cook 2 cups barley in 4 to 5 cups chicken stock on medium heat until cooked but firm to the bite, about 40 minutes.
Drain barley and set aside.
    2. Heat 1 Tbsp. olive oil over medium high heat and add 1 Tbsp. minced garlic, sauté             until soft.
     3. Add 4 asparagus spears cut in 1" pieces, and ¼ cup each diced carrot, mushrooms,             green bean zucchini, and red pepper.
Sauté until vegetables are tender. 
     4. Return barley to pan, add 2 Tbsp. white wine, stir well.
Add 1 Tbsp. softened unsalted butter, salt and pepper to taste. 
     5. Spoon barley mix into an individual oiled timbale, mold to shape, and then unmold          onto a plate. 
     6. Surround with lamb tagine, garnish with chopped fresh parsley.  
     (Repeat for remaining servings.)
--