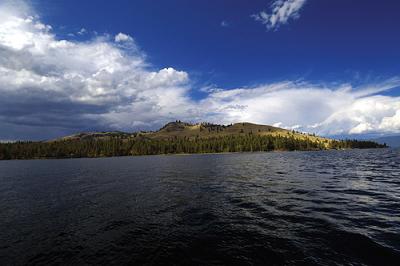 What to do in Montana...
A recreational paradise, the Flathead Valley may be best known for being the gateway to Glacier National Park and the vast and deep waters that make up Flathead Lake — the largest natural body of freshwater west of the Mississippi River.
With 187 total miles of shoreline, the lake itself is roughly 27 miles-long and up to 15 miles-wide, making the 191 square miles of surface a paradise for sailors, sightseers and fisherman alike. Flathead Lake is not only one of the largest lakes in the world, but also noted as one of the cleanest lakes on Earth.
The lake contains a gem: Wild Horse Island (Flathead Lake State Park). The state of Montana purchased Wild Horse Island in 1978 in order to preserve it as a primitive state park. The fact that there is no overnight camping allowed and other strict regulations, combined with limited access, help to ensure the preservation of its trails and wildlife habitat.
Wild Horse Island lies just off the western shore of the small town of Dayton and gets its name from the rich history that surrounds its past. For a time, it was used by Salish-Kootenai Indians, who were said to swim their horses over to the island to protect them from theft against raiding tribes. Today, there remain three wild horses on the 2,100 acre preserve and an abundance of other wildlife, including a herd of Rocky Mountain big horn Sheep (consisting of several full-curl rams), Mule deer, coyotes, Bald eagles, osprey, and numerous songbirds and waterfowl.
A unique collection of wildflowers also make the island a popular destination for hikers and photographers.
Wild Horse Island is not only managed and protected by state agencies and laws, but also by Mother Nature herself. Although the island is just a couple of miles from the shore of Dayton, the sheer size of the lake can create unpredictable storms without notice. Thus it is recommended that visits to the island are made by only experienced sailors in boats over 15 feet in length.
Luckily, for boatless, land lubbers like myself, there is a local character known as "Wild Bill" who has dedicated over twenty years of his life to helping preserve the island's history and habitat through his business, Pointer Scenic Cruises.
This past July, I chartered his service for a small group of vacationing friends from his tiny shack in Bigfork — not knowing that the trip to the island would be but half the overall experience.
Wild Bill emerges from the freshwater lake a rather salty character who looks rather Hemingway-esque, has the dialogue of a Rhodes scholar and the dialect of an old 'Fargo stagecoach driver.
My group arrived promptly at 3:00pm to prepare for our 7-hour "twilight tour" scheduled between 3:30pm and 10:30pm. With the thunder beginning to roll, Wild Bill erupted from his tiny, seaside shack, "We've got a small problem here folks…two storms appear to be forming right in the path of our travels. Hold tight while I get on the horn with the weather service and see if we can work this out."
My wife, who had taken the tour once before, turned to me and raised her eyebrows as if to say, "I told you this was going to be an adventure."
Right then, Wild Bill called out from the shack, "Okay, folks, step in here and I'll show you what's going on!" Our group of six huddled around the entry to his office and peered over one another's shoulders while he pointed at a tattered map he had pinned to the wall. "This is where we are and this is our planned course," he said. "If we leave right now, we can probably squeeze between the storms and make it across the lake to the island by the time they pass."
Simultaneously, my wife put down her camera bag just as I picked mine up. She was apparently keying in on the word "probably" while I was keying in on the phrase, "leave right now."
Wild Bill asked us what we wanted to do and encouraged us with his years of experience. My thought? Anyone with a moustache like he sports has got to know something about the water.
Soon, our gear was loaded and we were comfortable in our assigned seats. As we made our way slowly out of the harbor, Wild Bill explained additional safety tips and detailed instructions of our planned course. He was professional and thorough and helped to calm the tension created by the impending storms.
Alas! We were in open water! Watching massive thunderstorms change shape to our port and starboard, Wild Bill remained in constant communication with the weather service. With lightning striking and thunder rolling, he repeatedly exclaimed, "This is good, just what we want!" and "Okay, folks, this is just what we want to happen"… Somehow I didn't feel the same comfort, as I tightly clutched my Nikon camera and massive (metal and glass) zoom lens. The thought of being struck by lightning in the middle of this ocean, in the middle of Montana was both cool and scary at the same time.
Slowly and steadily we pressed onward, and the thunderstorms did cease in the exact order that Wild Bill said they would. Once across the lake, Wild Bill traded his captain's hat for that of a tour guide and encouraged us to make ready our cameras and binoculars.
"There are plenty of Bald eagles and osprey along the shore here, folks, let's all be ready to see one," Wild Bill said as he scanned the shoreline with his binoculars. And soon after he had spotted one, Wild Bill spoke with the excitement of a child as he directed his hand towards the location of the eagle. "Notice how I don't point my finger at the eagle folks? These are magnificent creatures that command respect and I only ask that you don't point at them."
Wild Bill racked up huge points with me in one statement. I respect anyone who shares their love and passion for the outdoors and habitat as he did so freely.
We were all enjoying the moment, but perhaps not as much as Wild Bill himself who had begun to talk to the symbol of freedom. "It's okay boy, it's just me. It's just me, boy." Detecting our disbelief, Wild Bill added, "When you spend as much time with these guys as I do, you get to know them all."
With an eagle sighting under our belts, we slowly made our way up the shoreline as Wild Bill delivered more facts about the lake and changing landscape. We stopped along a steep cliff where Native Americans had painted several symbols, called pictographs, of bison and Indians on horseback with bow & arrow, indicating the cliff was once used as a buffalo jump.
Once again, Wild Bill proved to be an invaluable wealth of knowledge, not only pointing out the historical site, but also explaining the various paintings and their intended meanings.
We made out way around Wild Horse Island and spotted several Bald eagles, osprey and Mule deer along the shoreline. Then, we made our way towards a narrow beach located on the northwestern shore.
With the boat secured on the beach, we enjoyed a picnic lunch while Wild Bill gave us tips on where to roam and what time to be back at the boat. Because this is a state park, it is illegal for a professional guide to remain with visitors. So after our lunch, we parted ways with Wild Bill and made our way up the trail.
There are still a number of old structures from original homesteads on the island and they make excellent points of reference on the rolling landscape. Not quite a half-mile up the trail, we encountered a bachelor herd of Mule deer and it was magnificent to see their velvet-covered antlers glow in the warm sun through my lens.
Looking east, we could see a small group of Rocky Mountain sheep, so we made our way up the trail towards them. The trail was easy to navigate and the brush offered a golden glow in the foreground of the deep, blue lake surrounding the island. A closer look revealed scores of Glacier orchids that somehow seemed to sum up the majesty of the entire experience.
We were able to get within 300 yards of the full-curl rams, which also provided a beautiful vantage point of the surrounding boat harbors and homes along the shore. Wild Horse Island is an awesome reminder of why my wife and I moved to Montana.
As we pulled away from the island, a group of world-class Mule deer bucks sipped water along the shoreline. With several once-in-a-lifetime photos now captured by our cameras, I felt blessed to be so inspired.
The boat ride back across the lake toward home was uneventful and rather quiet. The orange glow on the horizon gave way to a changing pink and purple sky, reflected by the now calm evening waters of Flathead Lake.
Life is good. For travelers or locals wondering what to do in Montana, a "Wild" trip encompasses everything that is great about being here.
To schedule a Wild Horse Island Charter Boat Trip, please contact Pointer Scenic Cruises, 452 Grand Drive, Bigfork, MT 59911 or call (406) 837-5617
~