Just down the road from Bozeman is one of the planet's greatest winter recreation destinations. Yellowstone National Park offers world-class winter fun, with access to match. From groomed ski trails and easy snowshoeing to ski mountaineering and ice climbing, Yellowstone provides.  And you don't need a snowcoach to get there. 
Open year-round, the North Entrance road leads five miles to Mammoth Hot Springs. From there, the possibilities for winter fun are endless.  The 45-mile winding, scenic, snowy drive to the Northeast Entrance is also open year round.  Along the way you may encounter wintering bull elk, bison herds, coyotes stalking mice in the snow, eagles and rough legged hawks hunting and, with some luck and a spotting scope, you might get to watch Yellowstone's famous wolves.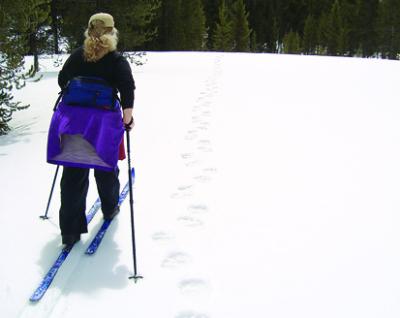 However, you don't have to go far beyond Mammoth to play. Drive to the end of the plowed road at Upper Terrace, where a groomed ski loop follows the one-way summer road through a bizarre landscape. Hot springs gush over travertine terraces and clouds of steam coat stunted junipers and pines with rime ice. This easy loop connects with the more difficult Snow Pass ski trail, an ungroomed but well-used route to Gardiner's Hole, a vast, snowy plateau at the foot of the Gallatin Range.
Snowcoach shuttles are available to Swan Lake Flat and Indian Creek in Gardiner's Hole. Established ski trails include the Indian Creek and Bighorn Loops. You can break your own trail through the drifts of this wide-open landscape, or opt for the downhill run to Mammoth via Snow Pass or Bunsen Peak Trail.
The vast Blacktail Plateau opens up a few miles east of Mammoth. This is a fantastic area to blaze your own trail, as it is mostly open and not too mountainous. You can also ski the six-mile Blacktail Plateau road, ending near Petrified Tree. But be sure to arrange a car shuttle, or leave time to ski back. 
The Tower Falls trail follows the unplowed road from Tower Junction three miles to Tower Fall. This popular option may not be passable this winter since the road is under construction. But you can ski from Petrified Tree to Lost Lake and Lost Creek Falls.
Both Slough Creek and Lamar Valley offer wide-open exploring in the snow. There are no groomed trails here but plenty of room to ramble. Make sure you don't approach any wildlife, especially wolves.
Near the Northeast Entrance the snow piles up deep and soft. Ski through quiet, snowy woods below the massive East Face of Baronette Peak on the five-mile Baronette ski trail. Or head out from the Northeast Entrance on the easy Bannock Trail following a historic Indian migration route. Cozy cabins are available just two miles from the park entrance at Silver Gate. Three miles further, the road ends during winter at the snowmobiling mecca of Cooke City.
Plan your winter getaway to Yellowstone now. Christmas week is very busy, as is President's Day weekend, but any other time, you can have this incredible park almost to yourself. 
The Mammoth Hotel is open from December 20 to early March (ask about special Packages), and the Bear Den ski shop rents skiing and snowshoeing gear, arranges snowcoach shuttles and provides local knowledge.
Find printable ski trail maps of Tower, Mammoth, and the Northeast Corner at www.nps.gov/yell/planyourvisit/skiyell.htm
How to have fun and stay comfortable in winter
It is very enjoyable to be out and about in the snowy winter landscape. Everything is quiet and sparkly, covered with a crystalline blanket.  Spindrift swirls in the frosty air, and wildlife tracks are everywhere.  But winter demands special preparation and caution.
Make sure you are familiar with your gear and that it is working properly before you venture out. As I have discovered, something as simple as a lost pole basket can make snow travel much more difficult. A broken ski binding can be life-threatening.
Choose skis and boots suitable for touring or ski mountaineering, meaning metal edges and sturdy boots. Save the skinny edgeless skis and the skating skis for cross-country ski trails like West Yellowstone's Rendezvous trail system, or for spring "crust-cruising" on the flats.
Dress in layers, no cotton of course, and carry extra clothing, plenty of high-calorie food, water, hot drinks, fire starter, hand warmers, and a repair kit for your ski or snowshoe gear. Always have sunglasses and sunscreen with you, as well as a warm hat and gloves (consider a thinner and a warmer pair). Try to keep your clothing fairly dry, and have a dry shirt handy in case you sweat through the one you are wearing.
Give wildlife plenty of room, for your safety and theirs. Winter is their most vulnerable season, and any stress may affect their survival. Leave your dogs at home.
Don't travel alone. Let someone else know where you are going. 
The Yellowstone landscape has the special hazard of scalding hot springs. Stay well away from these unless on a board walk, and even then be extra cautious. 
Learn about avalanches and how to avoid them. Watch for icy trail conditions, changes in the weather, and changing snow conditions. Only a few Yellowstone trails are actually groomed for skiing.
If you are hardy enough (and crazy enough) to consider winter camping, Backcountry Use Permits are required for overnight trips.
If you want to learn to cross country ski, improve your skills, or just go with a guided group, sign up for a ski course with Yellowstone Association Institute (yellowstoneassociation.org).
Please remember when walking or snowshoeing, stay out of ski tracks. See you in Yellowstone!