It was April, but it looked more like January! Except there were small evidences, like pale green grass sprouts and large, wet snowflakes that easily clung to whatever was in their path before hitting ground. The wind was howling, and the wet snow flew in the car as I opened the window. A spring blizzard and a prime subject - elk foraging on the grass – were at my disposal. My 500mm lens, resting on the beanbag on the car window, gradually filled with snow inside the lens hood. My view through the camera became obliterated.
This is typical but can be rewarding in getting softened, tonality in photos during a spring snowstorm. The flakes are gigantic and, if not windy, they descend through the air like feathers casually drifting to and fro. Before me, my subjects are dappled with white waiflike blemishes while my background becomes soft and hushed, barely visible as though in a fog. 
The painterly snowstorm style expresses muted form, much like a Russell Chatham painting, as opposed to defined line.  The resulting pictures are soft, ethereal, and mystical. Details are subdued while colors are blended in quiet tones. Thus, my subjects become muted by a curtain of speckled white, whether they are fence lines, animals, or landscapes. The overall impression is introspective and moody. 
But one word of caution when photographing in snowstorms: remember that the snowflakes can cause frustration when using the auto focusing system. It wants to chase the flurries and not focus on your subject. This can drive the photographer into exasperation, so, switch to manual focus! After suffering through this major irritation, you'll be rewarded. Spring storms can turn an average photo into a piece of fine art with its snowy, mottled appearance.
A blanket of snow mutes the elk herd, barely visible as the spring snow sweeps in and obscures them, as well as my view! 
"Breakfast in Montana with snowy horses" appear as though they've been wrapped in a shroud.  As a result, their lines are less severe while soft background tones are subdued.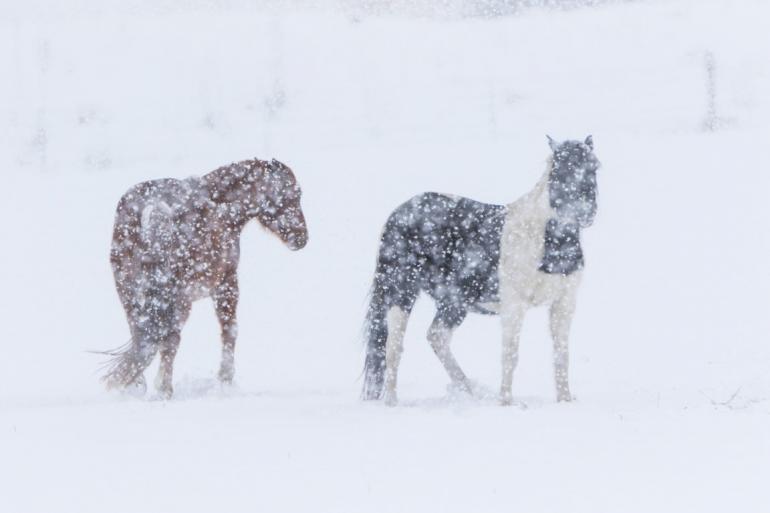 Cattle, huddled together in the snow, consume the nourishing green hay which adds a brightness to the otherwise earth tones of browns and blacks. The thin lines of fencing add foreground framing to the photo and gradually appears indicating a corner and then disappears into the background.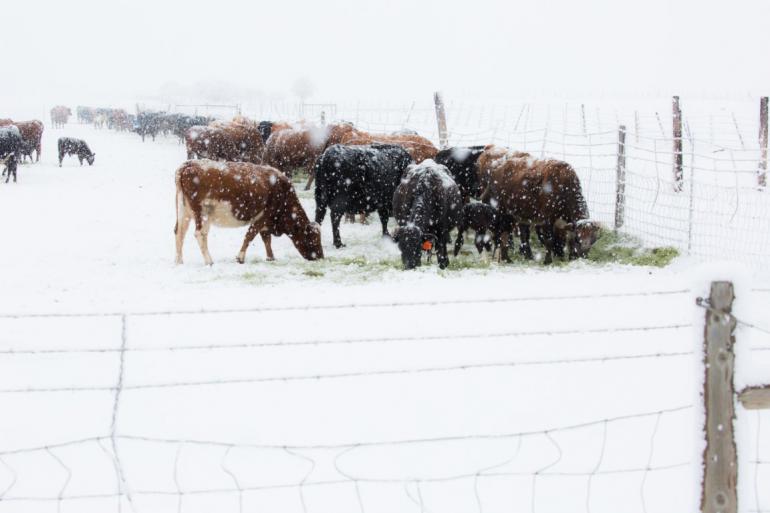 Disappearing fence lines become "paths" to infinity. Obliterated and without definition, they are left standing alone, as they become minimalistic subjects in a landscape of white. Because of blizzard conditions, the wet snow attaches to one side of the posts as though glued in place.   
Montana's rapid change in weather shows this defined robin in late April at 8:47a.m. Within 4 minutes, a spring storm swept in and suddenly I had a subdued, ethereal photo that intrigued me more than my contrasted, feeding robin from 4 minutes previously.