Capturing the color, excitement, vitality, and romance of life in the West, Larry Pirnie exemplifies the spirit of Montana through his paintings.  He has spent over three decades living and painting western art in Montana, yet he is widely known and collected throughout the country, because his art is unmistakably Pirnie.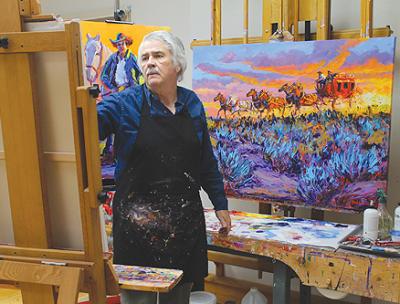 Larry Pirnie was born in 1940 in Bettendorf, Iowa, and spent summers traveling to the West to visit his grandparents.  He met Norman Rockwell in 1959 and acted on his recommendation to attend the Pratt Institute in New York.  After earning his BFA from Pratt, he worked in advertising and marketing for many years before giving up a corporate position to live his dream of being a cowboy artist.  Seeking a more creative and tranquil existence, he moved to Montana in 1978 and met Irene, who would become his wife two years later.  She became his agent and has since placed his paintings in 130 galleries.  In 2004, Lynne Himes created the Pirnie Art Showroom that now represents his work exclusively.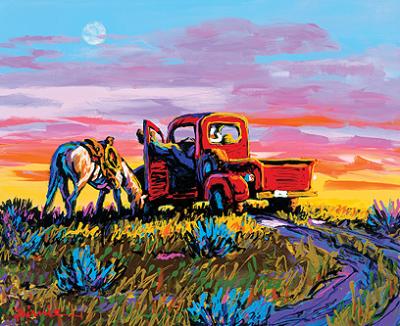 Upon arriving in Montana, Larry painted in a more subdued color range—often associated with western art—for the first few years.  But gradually, inevitably, he began to explore the vivid color harmonies so recognizable in Pirnie artwork today.  Some credit the formal training from Pratt or the popularity of the abstract movement while he studied there.  Larry recalls a show in New York of paper cutouts created by Matisse in his later years, with a bright orchestration of form and color that delighted his eye. The more he played with color, the more fun he had, and the more of what he calls "The Kid" showed up inside. "The Kid' loves color and playfulness with paint," Larry explains.  Color also inspires the passion of his collectors.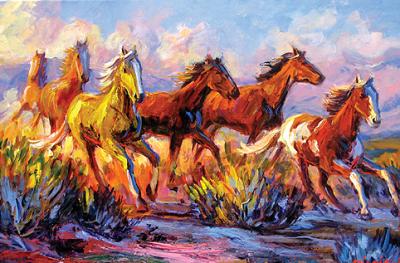 "Art should be a part of our everyday experience," he insists.  As a result, Larry's work can be found in many public venues.  When heart patients tell him that his paintings in the International Heart Institute at St. Patrick Hospital in Missoula bring them pleasure while they are recovering from surgery, it brings a different kind of satisfaction to him personally.  The stories of children willing to wait to ride on the Carousel until Larry's creation, "Paint," is available, put a smile on Larry's face.  Larry has always felt that art belongs among "regular folks", not just hanging on the walls of a museum.
There's no better way to spend a Missoula evening than dining downtown at The Depot, with a beverage from their award-winning wine list and a view of a Pirnie original. Long ago owner, Mike Munsey, decided to feature Larry's artwork in his establishment, and the two men have been friends ever since. Over the fireplace, where patrons can relax on comfortable couches, hangs Sunsettin', showing sweethearts in an old red pickup truck admiring a vivid western sunset.  Nearby hangs a painting of a lovers' farewell by the train station — train tracks can be seen out of the windows facing this painting beyond the street. The largest original canvas in the restaurant hangs just inside the entrance.  The mountains dwarfing the cowboy leading his packhorse along the ridgeline beckon guests into the dining room.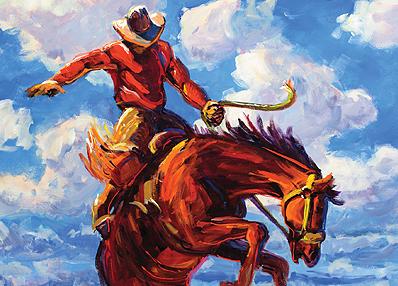 Regular Depot customers develop seating preferences based on what Pirnie painting they can see from their table.  One particular painting, Stoppin' At the Local Fish Market, of a lone fisherman casting his rod below a lovely waterfall, is especially popular, so be sure to reserve your table ahead of time for a prime viewing spot.
Triple Creek Ranch, a luxurious Montana hideaway in the mountains near Darby, is another place where visitors can enjoy Larry's work.  Original paintings and colorful three-dimensional cutouts grace the main lodge and many of the tastefully appointed guest cabins.  Not long ago, a couple from Dubai honeymooned at Triple Creek and fell in love with the Pirnie artwork in their cabin.  Rumor has it that they have contacted the Pirnie Art Showroom on more than one occasion since to surprise each other with reminders of their special stay in Big Sky country.
Larry designed a colorful running horse logo for First Security Bank that has become enormously popular.  Long-time customers of the bank favor the debit cards and checks available with a wild Pirnie horse emblazoned on them.  First Security Bank has even thanked valuable customers with prints of Pirnie artwork.  The bank recently acquired a large-scale commissioned painting with this horse, known as The Leader, featured prominently in their boardroom.  That running horse has anchored the reputation of this successful Montana bank, and remains the keystone of their current bold ad campaign, setting them ahead of the competition.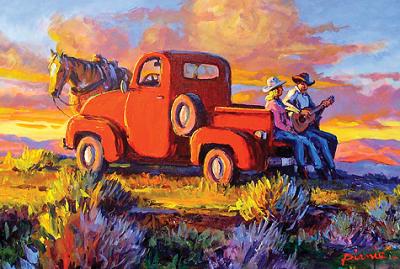 In addition to the originals always on display in the showroom in Missoula, in recent years Larry's work has traveled to all the metropolitan art centers in the West. His artwork alone is featured throughout the 2012 edition of the JG Black Book of Travel, inspiring readers to daydream over worldwide adventures.  He has often been a featured artist as the prestigious Western Masters art show at the C.M. Russell Museum, as well as the Rendezvous Royale at the Buffalo Bill Historical Center.  Mr. Pirnie found joy in authoring a book, My West, to tell his story; he's also collaborated with his friend, renowned cowboy poet Paul Zarzyski on other published works. 
In giving to the local community in Missoula, Pirnie has donated original paintings to many charities, especially charities whose aim is to help children.  He is often asked to appear as an inspirational speaker to professionals and students alike.  The charities are too numerous to mention, but include the Missoula Children's Theatre, the collegiate rodeo programs, and Chicks N Chaps, a local charity that raises money for breast cancer research. 
A pickup truck emblazoned with wild Pirnie rodeo images will be traveling the 2012 national rodeo circuit to raise awareness for their cause.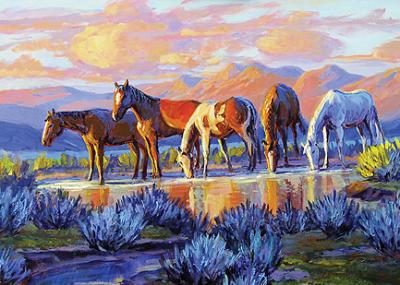 In spite of all the acclaim he has received, he remains an artist who would rather be in the stands at a small-town rodeo or on the dusty back roads of Montana, with his paints to keep him company, rather than under the limelight at a gallery opening.  His career spans decades, and his loyal collectors have followed the shift in his work over many years, from rather peaceful narrative works with sublime color harmonies to wild-eye popping cut-out figurative works, to symphonies of color on a grand scale.  Ever present in his changing style have been the symbols that resonate most deeply to him: old red trucks, full moon romance, and wild mustangs, all telling the stories of the Wild West.  Larry Pirnie will be the first to tell you, it only gets put on canvas if it brings out the kid in him.  The world is a much more colorful place because he listens to "The Kid."
Places mentioned 
The Depot Bar & Restaurant
(406) 728-7007
Triple Creek Ranch
800-654-2943, 406-821-4600
Pirnie Art Showroom
(406) 543-2713
Carousel for Missoula
(406) 549-8382
First Security Bank
(406) 329-1958
JG Black Book of Travel
Toll Free: (888) 241-9763 ext. 1