As I walked out of the changing room at Red River Hot Springs, I heard a chugging engine and looked to the parking lot. I noticed his car before I noticed his hair. He was driving an ancient Volkswagen Beetle, covered with dust, its engine wheezing and rattling. One fender was missing, and I later noticed it stuffed in the back seat on top of his few possessions. His hair was long and unkempt, twisted into unplanned dreadlocks. He had a wild look in his eye and a determined set to his jaw. I asked where he'd come from, and he gave me a simple answer: "Across the Magruder."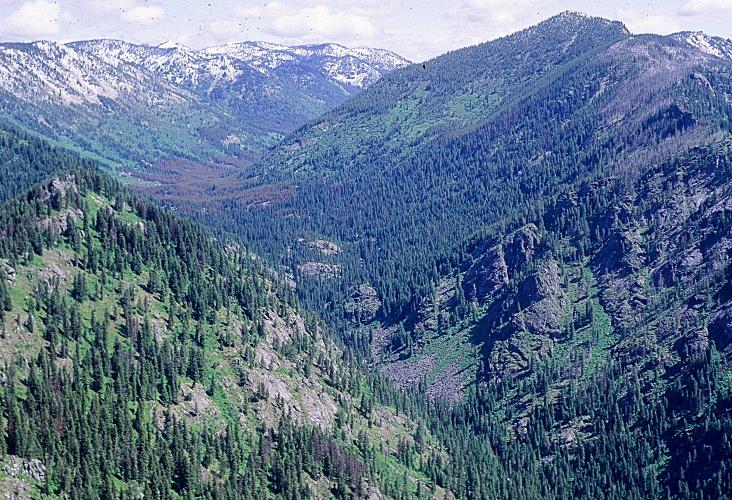 When it comes to epic back roads in the lower 48, nothing beats the Magruder Corridor. Take the wildest, most remote country you can think of and slice a one-lane dirt road through the mountains and forests. Pock the road with tire-puncturing rocks, rip it into the edge of cliffs, carve it across steep passes, bridge it over raging, flood-prone rivers, and link two of the biggest western states, and you've got the Magruder.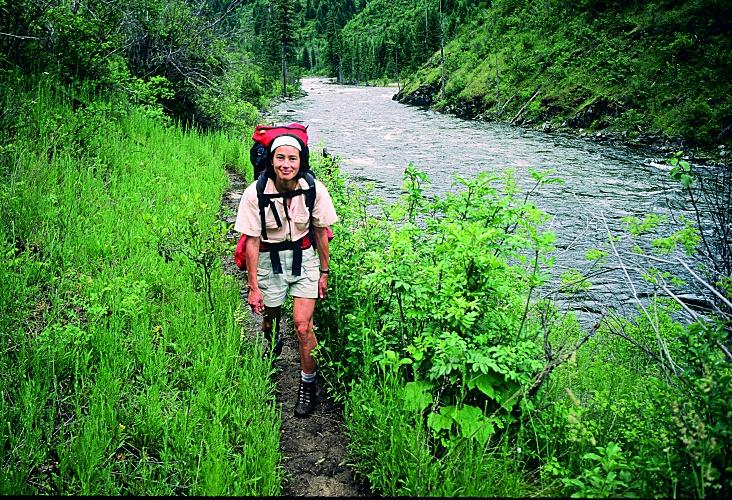 While few people are brave or foolish enough to attempt the Magruder  in a Volkswagen Beetle, it's a popular challenge for folks looking for a piece of the back of beyond. The Magruder Road, Forest Service Road #468, links Darby, Montana, at the wild end of the Bitterroot Valley, with the logging and mining town of Elk City, Idaho. It's a hundred and one miles of rugged one-lane, mostly dirt road, with few turnouts and plenty of rough going.  There are no services for 117 miles, unless you count lots of wild forest, spectacular views, camp sites, trailheads, wildlife, elbow room and adventure.
The road was named in honor of Lloyd Magruder, a successful merchant from California who was murdered with his companions while traveling this route in 1863. Magruder was robbed of his gold dust and dumped over a cliff. Magruder's friend Hill Beachey pursued his murderers and eventually they were apprehended and three of them hung.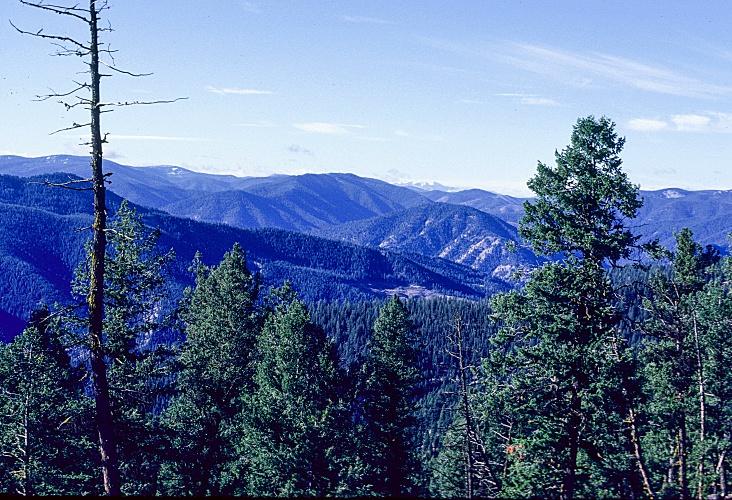 Constructed in the 1930s by the Civilian Conservation Corps, The Magruder offers access to some incredible country. To the north, the 1.2 million acre Selway-Bitterroot Wilderness straddles the Montana-Idaho border along the extremely rugged Bitterroot Mountain Range. On the south side of the Magruder is the Frank Church-River of No Return Wilderness, second-largest Wilderness area in the lower 48 at over 2.3 million acres. The Frank Church encompasses some of the finest whitewater boating in the world, including the Middle Fork and Main Fork Salmon, also known as the "River of No Return."  Frank Church was an Idaho Senator who sponsored the Wilderness Act of 1964, the Wild and Scenic Rivers Act, and the Central Idaho Wilderness Act of 1980.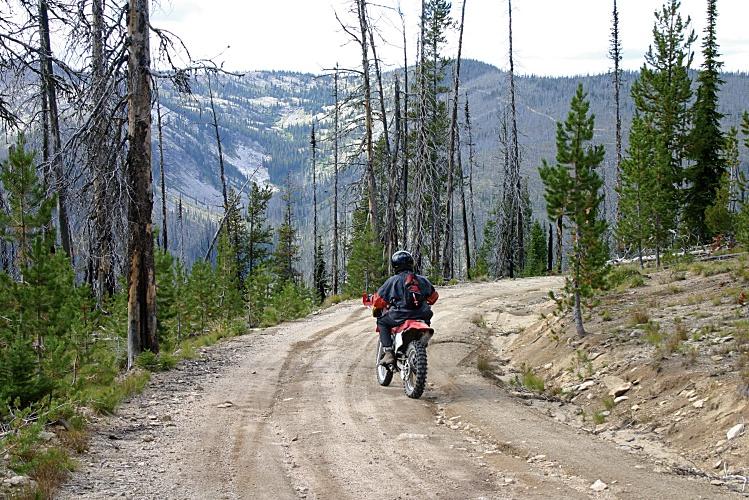 All told, the Central Idaho Wilderness Complex, also known as the Greater Salmon-Selway Ecosystem, comprises the biggest chunk of wilderness in the United States outside of Alaska, at nearly nine million roadless acres. It includes the Gospel Hump Wilderness as well as several roadless areas such as Meadow Creek, Kelly Creek and Cove and Mallard, scene of major protests against national forest logging and road building in the 1990s. The Magruder Road crosses right through the middle of all this. Nez Perce Pass, at 6,587 feet, is the high point of the road, but with four-wheel drive you can reach the spectacular Burnt Knob Fire Lookout, perched on the very top of a granite crag at 8,200 feet. Other roads lead to similarly remote locations.
Though there are no grizzly bears left in Central Idaho, you may see black bear. Wolves were reintroduced into Idaho in 1995 and are now plentiful. Watch for elk, mule deer, moose, river otters, eagles, and bighorn sheep. Mountain goats scurry across the highest ridges, and lynx and wolverine survive here in remote pockets.
LOGISTICS
You should allow at least eight hours of travel time to traverse the Magruder. Better yet, take two or three days and camp along the way at one of the many developed campgrounds or dispersed-camping areas.  There are at least 30 trails to choose from, offering numerous hiking and backpacking opportunities in the Bitterroot Range, Salmon River Mountains, Clearwater Mountains and Bighorn Crags. The fishing and hunting potential is superb. You can even rent the Horse Heaven Forest Service guard station for a night or two (see recreation.gov).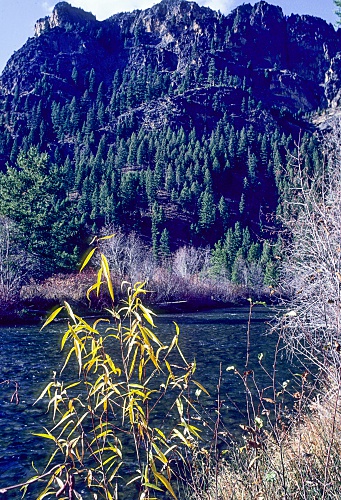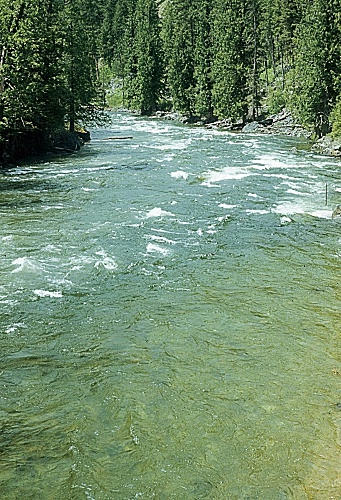 The Magruder is also the route to the put-in for the Selway River at Paradise Campground, via Road 6223. This a pristine, challenging whitewater river with a drop of at least 28 feet per mile, and the 47-mile float to Selway Falls is on the bucket list of any whitewater boater. Look for Road 6223 at Magruder Crossing, the only road bridge over the upper Selway.
 You've got some options when it comes to vehicles, but high-clearance is required. If the road is muddy or snow-covered — which it is most of the year — four-wheel drive is essential, and of course in winter it's only passable by snowmobile. Lots of people travel the Magruder on motorcycles or four wheelers, and heartier travelers ride mountain bikes followed by a "sag-wagon" (four-wheel drive truck) carrying their gear.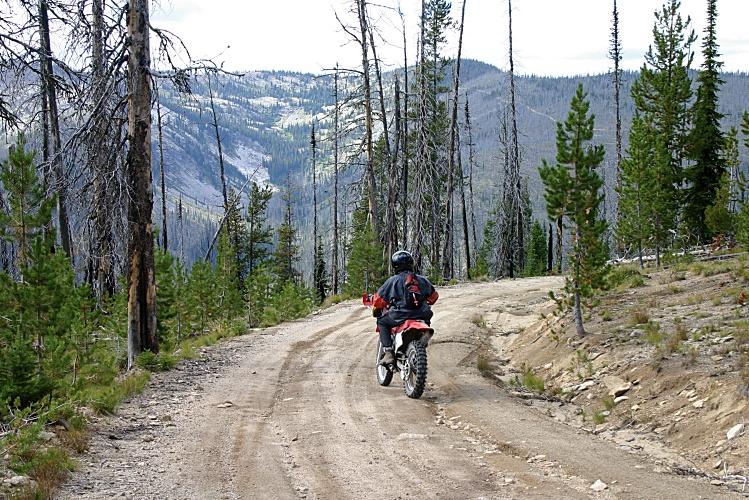 BE PREPARED
Before you launch onto this remote and rugged route make sure you are well prepared. They don't call it the River of No Return for nothing. Have good 10-ply tires on your vehicles and bring a spare tire (or two), jack, shovel, come-along, winch, tool kit, axe, saw, survival kit, camping gear, sufficient clothing, maps, and plenty of food and water. Don't count on cell phone service should you get stranded. Landslides, mudslides and flooded roads are not uncommon. For instance, a massive mud and rock slide blocked the Magruder Road in August 2014 after heavy rains hit an area burned by the 2013 Gold Pan Fire.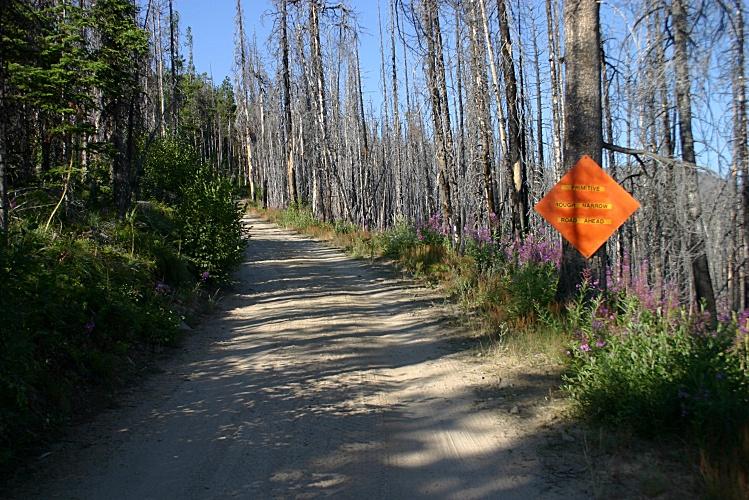 Forest fires are a yearly occurrence along the Magruder and in surrounding Wilderness areas.  You'll see plenty of evidence of these fires in the form of ghost forests, and if you travel later in the summer you may experience smoke and even see a fire burning. Fire is considered an essential part of the forest ecology in western Montana and Central Idaho, and you can see forest recovery happening along the road.
GETTING THERE
From Highway 93 between Darby and Connor, Montana, turn onto Highway 473. Just south of the West Fork Ranger Station, turn right on the Red River-Dixie Road #468. This is the Magruder, which is at first paved because timber sales were planned in this area before it was declared a protected Wilderness. 
On the western end of the Magruder you will reach Red River Road #222 and the old Red River Ranger Station. Continue to Elk City and take Route 14 to Grangeville or Kooskia,  Idaho. Drive back to Montana along Route 12, following the Lochsa River, to complete an extraordinary journey.
Tip: best time to go is between mid-July and end of September.