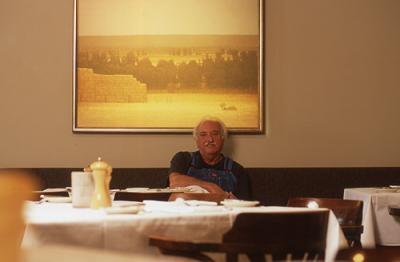 An historic and culinary landmark, Chatham's Livingston Bar & Grille sits prominently at the corner of  Park and Main. Its iconic neon sign is a beacon from the past and its menu an ode to classic dishes. While owner Russell Chatham's name initially draws many to the restaurant, locals come – and come regularly – for the superb food, great bar, and venerable bartender, Glenn Godward. Regular customer Annette Leeland summarizes the Bar & Grille, "The best food, the best bartender, and the best service." Dink Bruce elaborates, "The food is good, but the best thing about the Bar & Grille is Glenn – he's classy, a gentleman bartender of the old school." Keith Lowry claims, "Glenn is the best barman in the world." Efficient, acerbic, and exquisite teller of off-color jokes, Godward recently won the Livingston Weekly reader's poll for best bartender, while the Bar & Grille took second for fine dining, and restaurant owner Chatham won best artist. 
Chatham is a world-renowned painter and lithographer, author of over a hundred articles and half a dozen books, fishing guru, and owner of independent book publishing company, Clark City Press. He opened the restaurant nearly a decade ago in order to have a good place to eat in Livingston. Chatham explains, "I was literally driven to create a fine restaurant in a place that's never had one." His vision was of an elegant, casual restaurant that would be, "a focus of sociability where each dish's flavor and balance of ingredients are carefully considered, and where the dining experience is competitive not locally, but with the great nationally recognized restaurants." Diners concur with this ambition. "It's my favorite restaurant anywhere. I can't believe I get to live in a rural area with such a high caliber restaurant that has the best atmosphere, and gourmet food using local products of such high quality," says Bozeman native Mary Beth Siewert who lived in the Seattle area for 15 years and has resettled in Emigrant. 
Chatham gutted and rebuilt the interior of the 125 year old building to design his restaurant, creating a serene space subtly lit and graced by his signature lithographs. "Most people don't have the opportunity to build the restaurant they want; they move into a place and get what's there. I went in and designed it to make it quite beautiful, which is not the same thing as fancy. I wanted to create a nice environment for people to sit in with the same emphasis on quality that we bring to the food," explains Chatham. His approach to food, art, and books is, "driven by the same sense of quality, ethics, and aesthetic," he says. 
Chatham's rare resolve to create unique goods measured by quality not revenue in all his businesses is quietly revolutionary. "Everything more and more is controlled by large corporate entities and it cheapens all of us in every way," Chatham reflects. His high standards for food include serving as many local organic ingredients as possible and prohibiting threatened species or farm-raised salmon from the menu. "The restaurant sells both experience and flavor," Chatham says, "unlike most restaurants that exist solely to make money for the owner, so you never get food that anyone cares about." Until the restaurant becomes self-sustaining, Chatham has been able to offer his ambitious menu of independently produced, high quality ingredients of great variety – from locally raised lamb, to fresh oysters flown in, to duckling breast – in rural Livingston because, as he says, "Painting has taken the role of a rich partner." 
Unfortunately, people often consider the Bar & Grille the fancy place to go only for special occasions. "The atmosphere is intended to be elegantly casual, but it's so beautiful that it gives people the impression that it's fancy," says Chatham. So people  miss out on regularly enjoying the Bar & Grille's many small joys: wonderful wines by the glass, salads that taste just-picked, half-orders of fresh pasta, real sashimi, sharing the dreamy dessert sampler with friends, and of course, bartender Glenn. There is also a misconception about prices; Bar & Grille steaks, for instance, are similarly priced to those in other area restaurants, but have the benefit of superior accompaniments. 
Any night of the week, the Bar & Grille is populated by appreciative local regulars who network over happy hour drinks, have a light dinner at the bar, or sit down to beautifully prepared main courses. It's a place where 'everyone knows your name'. "Its my home away from home," says Clay Bowden, "I like to be able to sit at the bar if I'm eating alone, that's nice." He enjoys his favorite spinach salad with prosciutto, gorgonzola, and bacon sherry vinaigrette, followed by a steak, which he describes as, "Delicious, organic, and consistently good." Nan Van Horn says, "It's my favorite bar in town, I like the wines they serve, and being able to come in just for espresso and dessert." Libby Caldwell says of the Bar & Grille, "It's a great place because all types of people come here and they all have fun." 
The Bar & Grille menu changes seasonally to take advantage of the freshest ingredients as well as offering regular diners new dishes and revisitations of old favorites. "Gorgonzola polenta is the best," says Annette Leeland, who also enjoys the, "rich, snappy horseradish mashed potatoes." The velvety butternut squash soup is a hit with Megan Shaw who claims, "It's like a dessert, I could eat it every day." Rainy Martin declares, "The duck is sumptuous." 
While people inherently have favorites, there's something for everyone. For traditionalists, there's an artichoke with lemon curry aioli, crisp Caesar salad, pork loin chops over honey-mashed yams, and three cuts of steak grilled to perfection. For those craving Asian food, there's warm sake, edamame, ahi sashimi with seaweed and wasabi, fried coconut shrimp salad with pickled cucumber and fried rice noodles, and mussels in Thai coconut sauce. For vegetarians, offerings include roasted garlic with chèvre and crostini, portabella gorgonzola terrine, roasted beet salad with spiced pecans and pomegranate vinaigrette, or pasta with hazelnut, spinach and arugula pesto. Fans of Italian food can enjoy the antipasti plate with ingredients from the local Gourmet Cellar and Matt's Butcher Shop, puttanesca pasta, or fresh raviolis with beef and pork. Seafood lovers can indulge in raw oysters with mignonette sauce, calamari, Dungeness crab cake (all delectable crab – no fillers!), smoked salmon, spaghettini with shrimp, or linguini with garlicky clam sauce (worthy of licking the bowl).
The wine menu is impressive, not surprising as Chatham is a wine aficionado, and affordable, which is a bit more surprising. The wines by the glass are consistently lovely, and it's a joy to simply ask Glenn for a "tart white," or "chewy red," or "dry rose" and he'll wordlessly set the perfect glass of wine before you. 
The Bar & Grille's kitchen is once again under the direction of Carole Sullivan, the restaurant's first restaurant employee. Chatham lured her from Minneapolis when he started the Bar & Grille, but says, "As an intelligent, independent person she wanted her own business after a few years." Sullivan ran the highly regarded Mustang Catering in Livingston but, recently married and a mother, found she wasn't able to spend the time she wanted with her family. The Bar & Grille was in need of a chef, and Chatham says of Sullivan, "I was thrilled when she came to talk to me, as she's a very grounded intelligent person and has a food sensibility that resembles my own – which you can't construct artificially; they get it or they don't." He says the Bar & Grille has returned to the direction it was intended to go in from the beginning. "It's a return to the original idea, which was basic, classic simplicity in the food and adhering to a regime of strictly first quality stuff. I don't have to worry anymore about how things go; it's that consistency you dream of." 
Desserts at the Bar & Grille are prepared by pastry chef Jill Harbright, who Chatham considers, "one of the most brilliantly educated, world-class chefs around." Harbright came to the Bar & Grille from the Four Seasons Hotel in Chicago and creates delights such as chocolate marjolaine atop raspberry puree, crème brulee, and gelato ice cremes du jour, such as chocolate with macadamia and white chocolate chunks, and vanilla with fresh strawberries. Her sorbet offerings have included: tangerine, prickly pear, black cherry, guava, and champagne.
Chatham says of his employment philosophy, "It's healthy to work somewhere that has meaning. The employees at the restaurant appreciate working where they can be proud about what they are serving."  And, in turn, the people who eat at the Bar & Grille are lucky to have its excellent cuisine available.
The Bar & Grille is open nightly.  Winter hours are from 5:30 to 9 p.m at 130 North Main Street in Livingston.  Tel: 406/222-7909.   
~ Kris King writes widely for local publications and can often be found sipping rose' and slurping oysters at the Bar & Grille in avoidance of writing deadlines.