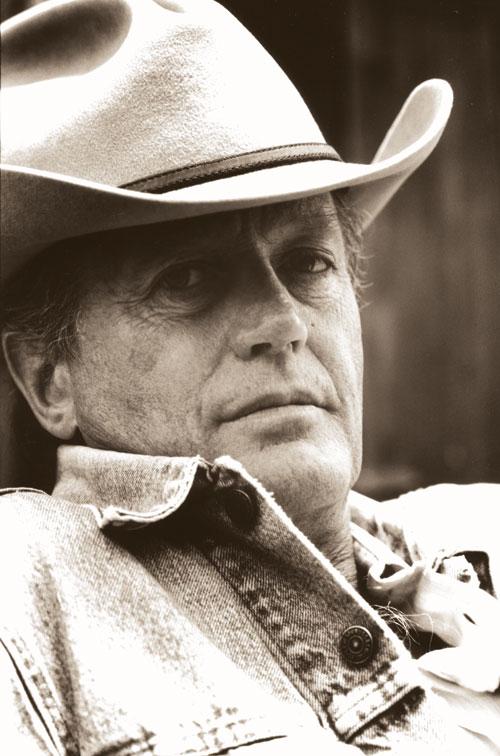 Peter Fonda, actor, director, producer, screenwriter, educator, moved to Montana 31 years ago and has made the Paradise Valley his principal residence ever since.  He came here, he told me, for the love of a woman, the beautiful Portia Rebecca Crockett McGuane, his wife since 1975, the mainstay of his life.  Sailing, surfing, and warm climes were more to Fonda's taste, but he gradually became accustomed to the vast beauty, ruggedness and isolation of Montana. He has grown to appreciate all this state has to offer and to call it home.  
Six-foot-plus and decidedly slender, a self-declared string bean, the 66 year old Fonda speaks with a soft voice and has a philosophical turn of mind.  Only occasionally in the conversation does the former feisty rebel surface.  He recently discussed  Montana, the Hatchfest, his early life and movies in an exclusive interview for Distinctly Montana.  
"Yes, the move to Montana was a major change in my life," Fonda said.  It was difficult to leave Bridget and Justin, the children of his first marriage, in L. A. and to part from his beloved yacht, Tatoosh, which was anchored in the Pacific.
"I did it for Becky," he stated simply.  
For a number of years it was his habit to take long trips on Tatoosh between movies. The boat, an eighty-two foot wooden ketch, was a haven.  It has provided him with some of his life's calmest moments and happiest memories.  After their marriage Peter and Becky continued to sail on Tatoosh when they could, and also kept a place in Key West, so Fonda is by no means an ocean-deprived Montanan.  Later, his son Justin came to High School in Livingston.  Peter was glad to get Justin away from L.A. and the influence of his step-father.  Justin, and Becky's son Thomas McGuane IV, one year apart in age, became true siblings each finding in the other the brother he had wished for. 
"Montana is gorgeous," Fonda said.  "This recent rain has brought out the beauty of the landscape.   I love hunting and fishing, and the skiing here is incredible.  We have been doing less of it since Becky injured her back.  The best thing about Montana is the promise of privacy.   A celebrity can live here undisturbed."   
Some years ago Peter and Jeff Bridges, the actor, joined a little band called "The Declarations."  They played and sang at dancing cowboy bars.  Mostly nobody paid attention to them.  If a stranger did come over, Peter would say, "You can't touch me, man, I'm in the band," and that took care of it.  He was not bothered again.  "Now," Fonda remarked wistfully, "many of those cowboy bars have been taken over by coffee shops."  
But some things in Montana don't change.  He spoke of the Golden eagles that nest in the tree above his ranch, and the moose that gave birth one spring in the creek.  "I don't know why they pronounce it 'crick' here not creek. How would it be if you said 'dip crick' instead of 'deep creek,'" he mused. 
Fonda was 10 years old when his father gave him a fly-tying kit from Dan Bailey's fly-fishing shop in Livingston.  The boy was in  the hospital recovering from an accidentally self-inflicted gunshot wound.  Peter sent a royal coachman he tied to Bailey to critique. He received a positive reply by mail a few weeks later.  Fonda could not have imagined then that 24 years into the future he would buy Dan Bailey's log house in the Paradise Valley.
When he was twenty-two, Fonda came to Dillon, Montana for a five day elk hunting trip with his father's friend, George Peppard.    Peter was already a seasoned actor, having played on Broadway and in several movies including Lilith  and The Young Lovers. He irritated his companion by disdaining to kill a bull elk 'just for the antlers' on his first day out.  With youth's idealism he saw no reason to shoot except 'to provide food for one's family,' and a cow elk gave better meat.  He redeemed himself and gained Peppard's respect by shooting a female elk on the final day.    
We spoke of Hatchfest, an annual international film and arts festival held in Bozeman each fall since 2004 when it was co-founded by Fonda and Yarrow Kramer.  Hatchfest's stated mission is to invest in the future of the arts through mentorship, through bridging the gap between business and the arts and through reinvigorating film production in Montana.   Bozeman is the ideal place, Fonda told me, because it is growing so fast and it needs an artistic identity.  
"We've been cowboys and ranchers, now we should pay attention to the arts.  Besides, the festival brings in money.   Film was a natural first choice because it is the most immediate of the arts; it grips one and takes hold of the mind.  There are some excellent film people right here.  J. P. Gabriel, for one.  He has the best equipment and a worldwide reputuation."  "There are good film schools in this state too.   Montana State University is a wonderful school.  My son Justin graduated from there.  My stepson Thomas took a degree in English literature but he is now a metalsmith and goldsmith.  He makes the most incredible knives.  He went back to M.S.U. to get a doctorate in metallurgy.  Three weeks into the semester his professor told him, 'You should be teaching this course not taking it.  You know a great deal more than I do on the subject.'"
"Hatchfest has also sought out talented kids who have excelled in film and gone on to make big contributions to the arts, some of them are our Montana kids.  Last year Chris Eyre was awarded the festival's 2005 Native Spirit Award.  He is tremendous.  He directed Smoke Signals, the first Native American film to receive a national theatrical release.   We were very fortunate to have him here.  When we find talent like that we need to embrace it." 
In 2004 Peter Fonda received the Hatchfest Gary Cooper Award presented by his neighbor, Jeff Bridges.  Cooper, a Montanan, grew up in Helena. He was the epitome of the western actor, and twice won the Academy Award.   He was a friend of the Fonda family.  
"It was very cool to win that award.  I knew Cooper.  He was a great actor and a kind man." In his acceptance speech, Fonda told the audience, "This award means more to me than a Golden Globe ... than an Oscar."   Fonda has twice been nominated for an Oscar. 
Peter Fonda comes from a distinguished family of actors. He is the son of Henry Fonda, brother of Jane, father of Bridget.  When I suggested that acting was in the blood, Fonda replied that there's no such thing as a family acting trait.  "Each person comes to acting from an inner urging, and perfects it through study and practice.  It does not come easily."  When his daughter Bridget decided to be an actor, he was worried for her.  He told her acting is a verb not a noun.   The actor must gain access to the hearts and minds of the audience.   It is not an easy task.  Bridget, he admits, has mastered the art and he is proud of her.
Peter Fonda should know about mastery.   He has more than 70 films to his credit.  He has been involved in every aspect of film making from producing, directing, writing screen plays to acting.  He has his own company, Pando Productions.  His first big hit was Easy Rider, a ground-breaking movie that is a classic today.  He produced that movie, co-wrote the screen play with Dennis Hopper and Terry Southern and starred as the memorable Captain America.  He started filming Easy Rider on his twenty-eight birthday.  Fonda wrote in his autobiography, Don't Tell Dad (1998):  "Dennis and I were young men, dissatisfied and disenfranchised when we put Easy Rider together.  We had lives to live that could contribute to our country, our cause."  It was a low budget film.  Fonda's first wife Susan and his children Bridget and Justin were extras.  After attending the screening, Bob Dylan told Fonda and Hopper the film was 'fantastic.'  Dylan wrote the words, "Ballad of Easy Rider" especially for the film.  Easy Rider gave Jack Nicolson, who played the lawyer George Hanson, his first important acting success.  Fonda described Easy Rider as "a western, although it went in the opposite direction of most westerns; it went east.  Our Indians were ourselves."
At 29 Fonda directed his first movie, a western, The Hired Hand in which he also played the male lead.  He is very proud of that movie.  It's now in the  MOMA (the Museum of Modern Art in New York) film collection listed as a western classic.  Fonda admits that his father's movie, The Ox-Bow Incident, was influential in the way he saw The Hired Hand.   Five of the 12 movies Peter Fonda submitted to the 2006 Paris Film Festival this summer were chosen, among them Easy Rider and The Hired Hand.  
When I asked Fonda how he views his legacy and if he is pleased with what he has achieved so far, he cited the Paris film festival as a measure of his success.  "Yes, I am pleased when I reflect on my career." Then he qualified his answer by adding the word "somewhat."  
"I've met so many goals I set for myself.  In the fog of my private war, I have always needed to express myself."
In spite of privilege and glamour in his early life, there was more than a fair share of pain and tragedy.  Peter and his older sister Jane lived in the shadow of their famous father who was cold, austere, and rarely home. Their mother died when Peter was 10. It was a few years before he accidentally learned his mother's death was a suicide and not from a heart attack as he'd been told.  Peter attended various boarding schools, and was obliged to adapt to new step-mothers as his father went on to marry three more times.  
"My father abandoned us.  He abandoned the whole family.   Nobody ever talked in our family.  For years I was very angry.  My grandmother burned my mother's letters; it blew my mind."  
Today his family is very important to Peter Fonda.  Discovering and believing in himself was a long, arduous journey. "You first must have something of yourself to believe in before you can accept family."  He admits that it took him years to come to this point, to find forgiveness for his parents, to forgive himself.   Two bright spots in his early years were the companionship of his sister Jane, and his Aunt Harriet, his father's sister in Nebraska, where he spent months at a time.  "Aunt Harriet was fabulous, the best."  She was conservative in politics and her young nephew had the makings of a rebel who would easily explode, but they sat together at the table with Uncle John Peacock and talked and talked.  "Nobody in the family ever talked to me before."
"I always sought attention and love.  I never respected authority, except on a boat.  There the Captain's word is law."  From the age of six, after a devastating experience in the hospital, Fonda had a recurring nightmare.  Only on his boat did the nightmare cease.
"I wake up every morning thinking I know nothing.  Freedom is very important.  I learn from each day.  I recreate my life anew.  Looking forward is how I see things.  What is the meaning of life?  The question is not why we are here, but what we do when we are here."  
Peter Fonda, whose name is embedded in the sidewalk on Main Street, Bozeman, deserves to be proud of his accomplishments.  We, too, are looking forward to what he has in store for us.  
~ Valerie Hemingway has lived in Bozeman for 25 years.  She is the author of Running with the Bulls:  My Years with the Hemingways.  Portrait by Lynn Donaldson.