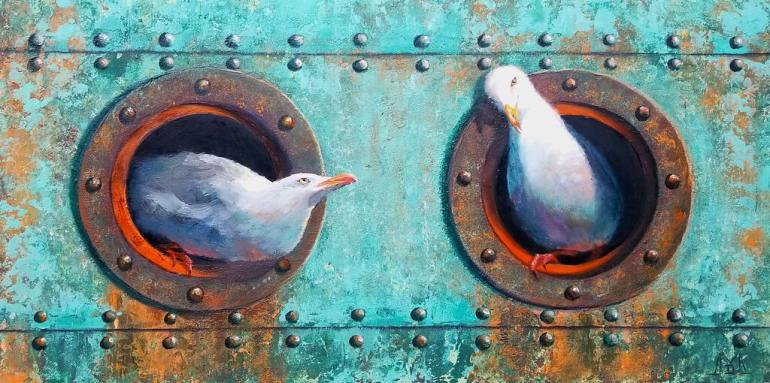 YOUR PAINTINGS ARE CAPTIVATING AND, IN OUR OPINION, DIFFICULT TO LOOK AWAY FROM. CAN YOU TELL US ABOUT HOW YOUR PROCESS AND STYLE HAVE EVOLVED?
Thank you! I have always had the artist spirit in me, but when I decided to develop an art career 15 years ago it was portraiture that dominated my interest. I didn't realize at the time that I couldn't have chosen a harder subject! In a way, it was similar to deciding to become a mathematician and starting with calculus. For the first four years, I concentrated on studying the art of the portrait but soon found that the same principles involved in capturing a human likeness applied to nearly every other subject matter, and creating an animal portrait, a bird portrait, or a still life "portrait" was just as satisfying. 
AS A MONTANA FINE ARTIST, CAN YOU TELL US ABOUT HOW MONTANA HAS INFLUENCED AND INSPIRED YOUR WORK OVER THE YEARS? 
I have traveled the world widely, and I can say with absolute honesty that there is nowhere else in the world I'd rather live than Montana! Montana embodies my spirit, my breath, and my life. Most days I need look no further than out my window to be inspired. To breathe in a lung-full of crisp Montana mountain air in the springtime is the very essence of the word "inspiration."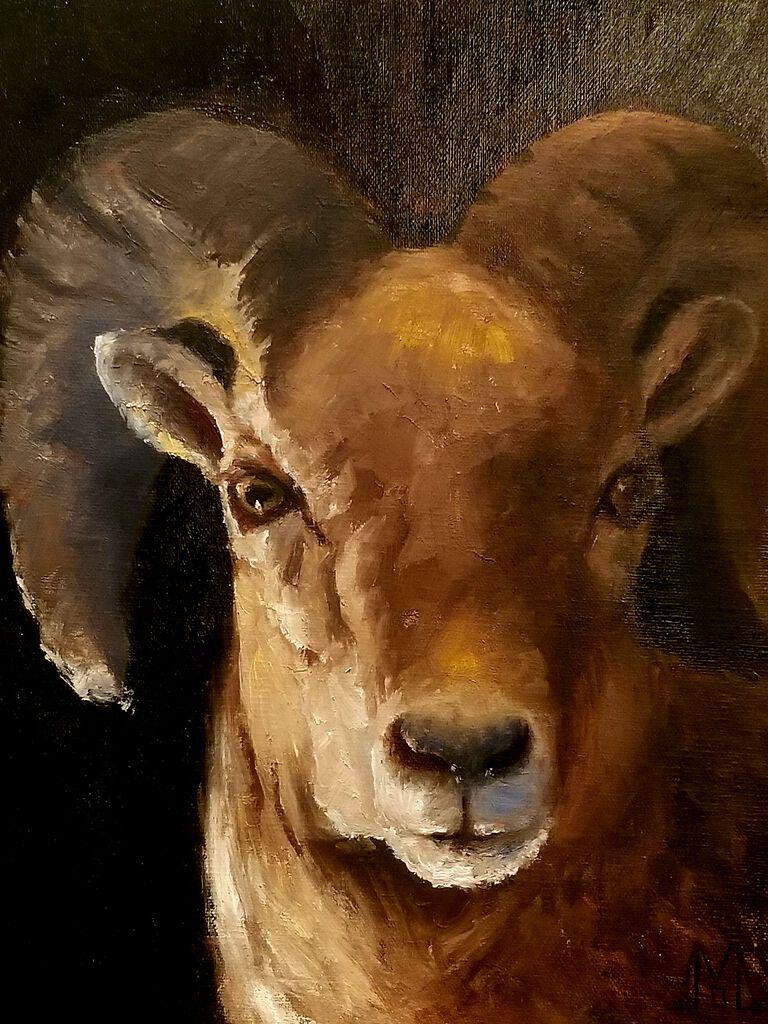 PLEASE WALK US THROUGH YOUR CREATIVE PROCESS, FROM INSPIRATION ALL THE WAY THROUGH TO COMPLETION.
I would say that 75% of a painting takes place in my mind before I even pick up a paintbrush. There never seems to be a time when I am not "painting in my head." I feel that this is one of the most important aspects of creativity. 
When I am painting in my head I will have a spontaneous vision of a concept or composition and can see the process from beginning to end. Then there are times when I have stood before my easel, time stands still, and there is nothing else but the painting before me. This is rare and wonderful, and I find myself marveling at how the finished artwork seems to have created itself. 
Years ago, I took a lesson from well-known American artist Scott Burdick on how to use Photoshop to compose a painting. Once I have a concept for a painting, I will often begin by laying out the basic composition on the computer, playing with colors, values, borders, backgrounds, and focus. I fully realize that this is a non-traditional way of beginning a painting (most artists will lay out their painting by creating thumbnails and sketching), but we live in the age of technology, and I believe that we should use whatever tools we have available to us. When I am able to hold classes in my studio once again I will be offering a workshop for artists on how to use Photoshop to compose a painting.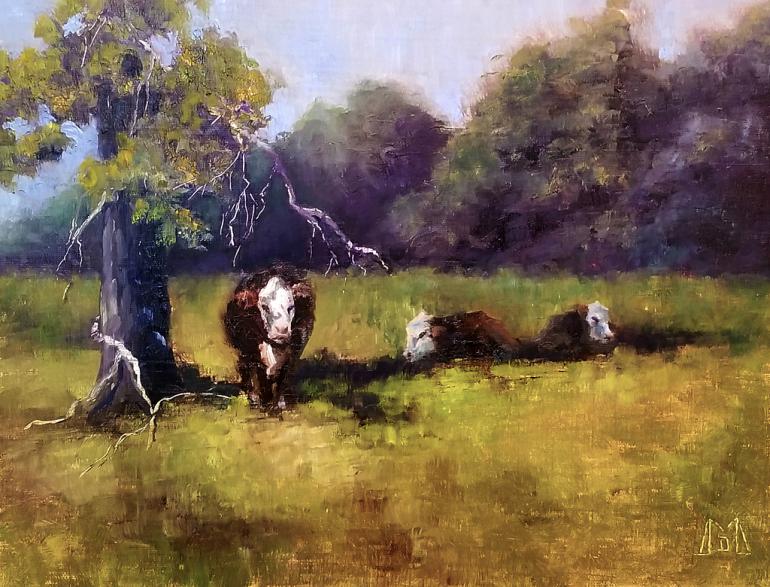 YOU'VE CREATED PAINTINGS THAT YOU CALL "PETROGLYPHS" THAT WE WOULD LOVE TO HEAR MORE ABOUT. WHAT CAN YOU TELL US ABOUT YOUR "PETROGLYPHS?" 
I have long been fascinated by texture—from the silky feel of an ethereal piece of fabric to rough and sharp edges of tree bark or granite. When we remodeled our home, I created many walls with a stony rough texture and played with the illusion of depth and shadow through the application of paint on those walls. This eventually led to my concept of creating the illusion of rock on a three-dimensional base of a stone-like foundation, then painting on that to give the appearance of fresco. The Petroglyphs are large works of art that look like huge 3" deep chunks of stone that have been painted on but are actually light enough to hang on a wall. 
My largest is Red Bird. Red Bird (Leroy Whiteman) is a member of the Northern Cheyenne tribe of Montana. Leroy honored us a few years ago by modeling for our artist's group. After painting his portrait from life, I was inspired to use him in my first Petroglyph. He is depicted wearing his great-grandfather's war bonnet and carrying a rifle given to his great-grandfather by one of General George Armstrong Custer's officers. 
In the painting, he is wearing a medal around his neck commemorating the 100th anniversary of the infamous Battle of the Little Big Horn. The carvings in the stone represent both Red Bird's personal life and the lives of notable Cheyenne people. If you look closely, you can see a herd of horses, a buffalo hunt, and a sun ceremony. I signed the painting with my own handprint, silhouette-blown with charcoal dust!
EVEN YOUR STILL-LIFE PAINTINGS SEEM TO RESONATE WITH EMOTION. HOW DO YOU MANAGE TO INFUSE INANIMATE OBJECTS WITH FEELING? 
Every painting is, in some way, an emotional experience for me. Creating an illusion of depth and mystery in a still life draws the viewer in and helps them experience a painting by appealing to their emotion. Even though these paintings are called "still life," true life is never still. When I set up a model with flowers, leaves, and pottery, it will take on a life of its own and will move imperceptibly as light changes and flowers wilt. I try to create a still life painting that invokes a mood of nostalgia and longing and draws the viewer inside. Hydrangeas in Summer and Anna's Toby Mug are two of those paintings that I feel strongly appeal to emotion and nostalgia.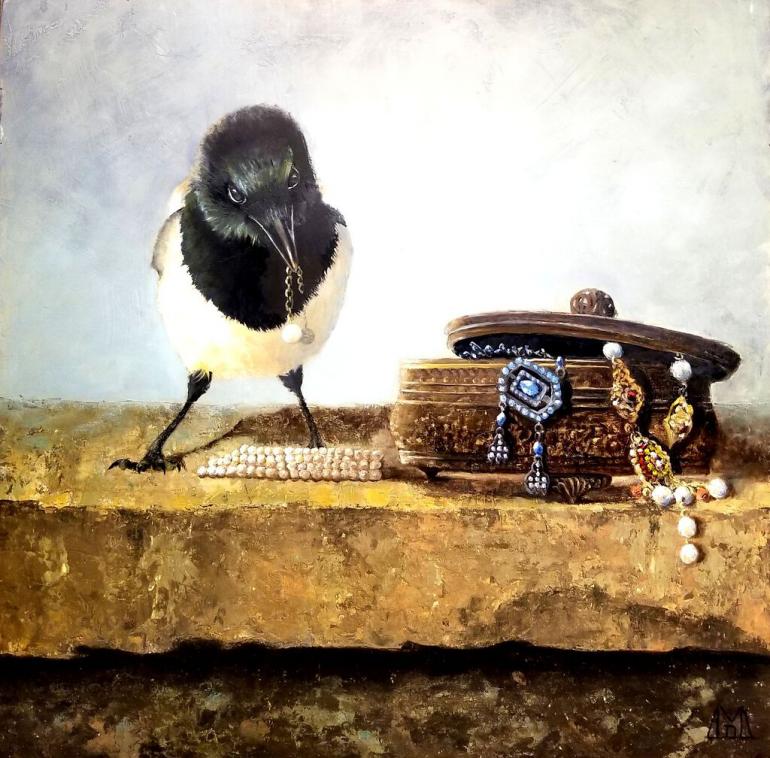 IN ADDITION TO YOUR MORE TRADITIONAL WORK, YOU CREATE ANIMAL PORTRAITS. WHAT CAN YOU TELL US ABOUT ANIMAL PORTRAITURE? WHAT'S THE MOST INTERESTING ANIMAL YOU'VE EVER PAINTED? 
For me, it's all about the eyes, whether I am creating a human or an animal portrait. The eyes are truly the window to the soul in every living creature.
The most interesting animal painting I've done is my portrait of a wild turkey. We have had the joy of having a large flock of turkeys regularly visiting our yard. 
They are at once comical and majestic, and to see a line of them "turkey trotting" rapidly through our yard is just simply delightful! When I painted Tommy I was fascinated by the light glowing through his wattle (or dewlap), the flap of skin under the beak. The wart-like bumps covering his head reminded me of the texture of a dinosaur's skin!
YOU ENJOYED AN INTENSIVE FOUR-YEAR STUDY WITH SOME BIG NAMES IN THE ART WORLD. WHICH OF THESE ARTISTS HAS HAD THE MOST SIGNIFICANT IMPACT ON YOUR WORK AND CAREER?
My first art instructor was Susan Blackwood. Susan has been a major influence in both my life and my art career and remains one of my dearest friends. In pursuing my initial study of portraiture, I sought out well-known artists whose work I loved and desired to emulate. One of my first instructors was Quang Ho, with whom I studied at a workshop in Monterey, California. He is one of the most intellectual and articulate teachers I've ever had, and I filled a book with quotes from him.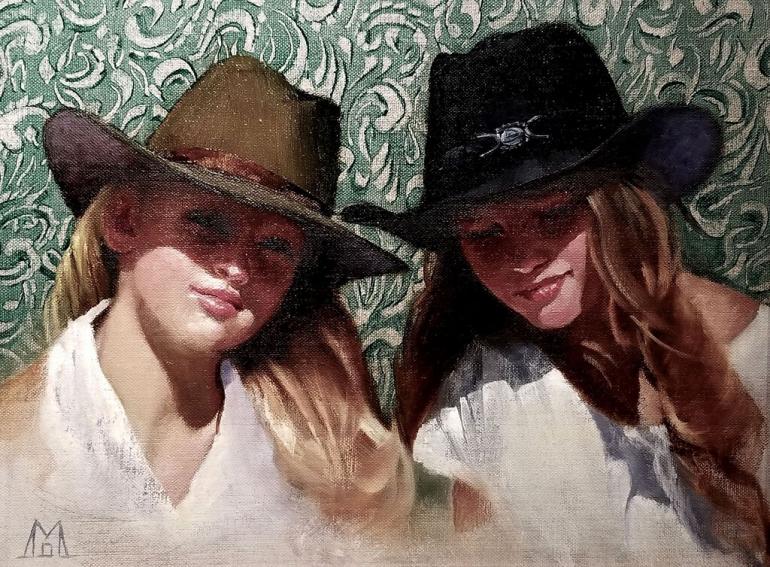 WHAT ARE YOU WORKING ON NOW, AND WHERE DO YOU SEE YOUR ART TAKING YOU OVER THE NEXT FEW YEARS?
I am very excited to announce an upcoming show at Old Main Gallery in Bozeman in July, 2021! This exhibition will be in conjunction with our local Audubon Society and will focus on our relationship with bird life and be an appeal to all of us to help preserve and protect our natural bird life and habitat. Two of my favorite paintings from this series is Old Raven Walking (he reminds me of a contemplative old man) and Romance at Sea (which depicts two seagulls in love). 
One of the purposes of this show is to make all of us aware of the things we can do to protect our bird life. For instance, a great danger that threatens birds are domestic cats.
Although we own three cats, we have created an outdoor "canopy walk" enclosure for our cats, which includes tree house platforms, a log bridge, a suspension bridge, a spiral staircase, a 20-foot underground tunnel, and culminates in an escape-proof enclosed garden complete with a fountain and a fairy tale cottage treehouse for lounging in! This is the CatHouse Canopy Walk and can be visited during the summer when the Gallery and Gardens are open to the public. This coming summer the gardens and ponds will be undergoing major changes to make them more wildlife friendly... visitors are welcome but should expect construction in progress!
It's difficult to say where I see my art taking me in the future. I feel a deep responsibility for us as artists to use our art to inspire people, bring joy to their lives, and affect societal change for the better. I will surely be thinking of these things as I plan my next exhibition!