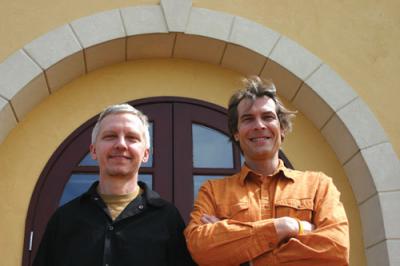 Co-owner Laurent Zirotti is one of the main attractions at Enzo Mediterranean Bistro in Billings. His movie star looks and French accent draw patrons through the door. But it is the firm handshake and friendly slap on the back for the men and gentle double-kiss on the cheeks for the women that encourage them to remain and to return.
The ambiance is European and the food is a tempting mix of American, French, Asian, and Italian cuisine. The atmosphere is relaxed but the attention to detail is serious, with a wait staff known for its sense of detail and efficiency. Savor a special meal or make Enzo your home-away-from home, as many regular customers do. Enzo Mediterranean Bistro successfully accommodates all palates and moods. 
Laurent Zirotti opened Enzo Mediterranean Bistro with partner James Honaker in 1998. Together they brought a world of experience, evident in their menu. Rock Shrimp Vegetable Tempura, Salad alla Caprese, Braised Lamb Shank with Puree of Winter Root Vegetables, as well as such staples as Certified Angus Beef Burger and Charcoal Grilled Prime Beef Tenderloin are among the selections. Their beverage choices allow for savoring a bottle of vintage Bordeaux or Barolo, rejoicing over a glass of sangria, hoisting a Hefeweizen, or relaxing with a can of Sofia Coppola sparkling wine. An excellent selection of affordable wines is offered.  Mixed drinks are not available.
On a recent visit to Enzo, my husband and I followed an attractive blond woman who had just stepped out of a bright yellow Corvette, through the entry doors.  She was greeted by Zirotti with a kiss on both cheeks, spun around to his arm, and escorted to her table upstairs. Zirotti's female customers have come to expect this treatment, and those in-the-know avoid his night off.
We were meeting some friends who had already been seated, but before we had found our place, Zirotti was at our side, guiding us to our table, offering a warm smile and cheerful greeting.
Typical, even on a Tuesday night, the restaurant was packed. Enzo is the most popular restaurant in Billings and on most nights, a reservation is required to dine here, though there is some seating at the bar where walk-ins can be accommodated.
The restaurant is centrally located. The Mediterranean style farmhouse with red tiled roof is situated in a strip mall anchored by a large grocery store. Its closest neighbor is a fast food eatery, and across the street is a gas station and convenience store. 
Once inside, the commercial chaos disappears and comfort reigns. The arched metal doors of the entrance lead straight into the kitchen where a brick wood-fired pizza oven dominates on one side and the stoves and grill area on the other. The patron is tempted to enter but never gets that far because Zirotti or one of his staff beckons with an immediate welcome.  
The faux-painted light espresso-colored walls, ceramic tiles on the floor and framed French themed prints take the Montana diner to another continent. The large room, casually divided into sections by a pair of low walls, allows most diners to see who is coming and going. The same ambiance is duplicated in a dining area upstairs.
Physicians Kathleen Ryan and her husband Jim McMeekin eat at the bistro almost weekly. "As two busy professionals, we don't have much time to cook. Enzo offers healthy meals at good prices. We have eaten all over the country and it is hard to find a better meal with such value. My only complaint is we have to eat late, because I'm not organized enough to make reservations," states Ryan. 
Rick Stricker, who has worked at Enzo since its opening, waited on us.  He recited the evening's specials with emphasis on the details and emotion on the adjectives. On most nights, fresh fish is offered along with a beef special. On our evening, Pan Seared Canadian Salmon with an Anaheim Cream, Stuffed Organic Beef Ribeye with a Shallot Blue Cheese Demi Glace, and Halibut with Wild Mushroom Balsamic Gastrique were the specials.
The bistro has been instrumental in introducing world flavors to Billings. Zirotti and Honaker have spent years earning the trust of the local palate. Zirotti admits that the concept of "Mediterranean cuisine" was confusing in the beginning. People thought only of Greek and Italian food.
Zirotti and Honaker met by chance in San Francisco. Honaker, a Billings native, had clocked hours in kitchens at Beringer Vineyards in Napa, Gerard's Brasserie in San Francisco, and The New School in New York, while Zirotti built his hospitality talents as deputy general manager at Hotel Majestic on the French Riviera in Cannes. Back in 1989, they introduced the restaurant La Toque to Billings. The French eatery was short-lived because it was too ambitious. The restaurant presented exotics such as sea urchin when the town was deeply rooted in steak and potatoes. Ten years later, they rejoined forces and opened the bistro named after Zirotti's oldest son. He jokes that his younger son, Luca, still challenges him on this choice.
These days at Enzo, Honaker believes that "When we cook everything from scratch, using really good products, a good meal results. Prep is 80%. Execution is the main thing." Honaker beams when he speaks of the seafood they serve. Fish is one of their specialties as "40 to 50% of the entire menu 0are fish specials," says Honaker. Both Honaker and Zirotti claim that they will not serve seafood that they cannot eat raw. Later Honaker escorts me into their cold room and proudly demonstrates a freshly arrived hunk of orange-fleshed Nairagi, or Striped Marlin and boasting of the meticulous packaging it came in.  
Zirotti and Honaker are the perfect pair. Zirotti is outgoing and the public extension of the restaurant. Honaker is shy and understated. Both are confident and humble. Both view their work at the restaurant with zeal and earnest. Zirotti admits that "it is a true profession. It is really hard work and we have a really good staff."
Executive Chef Roger Johnson joined Enzo over a year and a half ago, bringing expertise from his work with Red Square in Las Vegas. The wait staff is educated about the food they serve. Zirotti wants the servers to be able to answer questions such as the nation of origin of the vanilla they use in their desserts, or "how did Airline Chicken get it's name?"  The servers are very familiar with the wine list, pre-tasting all spirits and can offer helpful suggestions. 
"It is truly a wonderful home. The cliental is wonderful. I enjoy the intensity and energy. Everyone pitches in," Rick Stricker said as he brought us the plate of Rock Shrimp and Vegetable Tempura. The succulent shrimp, encased in a crispy light batter, was tossed with fried carrots, onions and red peppers and finished with a lime ginger dressing. 
The soup of the night, Potato Garlic Soup, made with roasted garlic, arrived at the table in a broad white bowl, wonderfully hot. My husband's Enzo Caesar salad came tossed with a light creamy dressing and thin rings of red onion. For main courses, two of us chose the Roast Airline Chicken Breast which was served with a rouille, mayonnaise flavored with garlic and saffron, and a balsamic pan reduction. ("Airline Chicken Breast" became popular in the 1960s when major commercial airlines served the chicken breast with the wing intact.) The chicken was golden brown and moist while the risotto was softly al dente. The garlic rouille exuded golden floral scents and richness, but was quickly balanced by the sweet and acid character of the balsamic. 
My husband ordered the pan-seared Canadian Salmon which came to the table surrounded with three baby carrots, on top of polenta and sprinkled with diced red bell pepper, while our other dining companion, Jani Morse, opted for the Halibut with Wild Mushroom. The halibut is served on a bed of risotto with baby zucchini on the side, all on top of an artful drizzle of balsamic gastrique.
Jani and her husband, Steve, have dined at Enzo at least 50 times over the years. She says, "I think Rick is the best waiter in town. I come to Enzo to see Laurent, enjoy the food and to see friends."       
Our meal ended with steaming decaffeinated coffee served in large white porcelain cups with saucers. The "Colonel", lemon sorbet topped with a splash of Absolut Citron Vodka, was presented in a martini glass and was a refreshing way to end the meal. The Lemon and Ricotta Cheesecake was accompanied with a puddle of raspberry coulis and topped with lemon sorbet. In the past, when I was in the mood for chocolate, Molten Chocolate Cake with Praline Crema always satisfied my craving.   
Before we departed through the arched doors, Zirotti gave Jani and me a double-cheek kiss and a firm handshake to the men. We will be back to see star attraction Zirotti, but also to taste the world of flavors at Enzo Mediterranean Bistro.
1502 Rehberg Lane
Billings, Montana 59102
406-651-0999
Open everyday at 5 p.m
~ Stella Fong writes and cooks in Billings and Big Sky.