It isn't really summer until the shelter belt on the east side of corrals leafs out. That makes all the difference because it blocks the sun in the first corral. It is also the time when, if you sit in the ancient Crow vision-quest site on the western side of the ranch, you will see the sun rise at the center of the valley in a remarkable suggestion of the first light of the world.
I had three mares confined. Two had already had their colts and the third, my adored quarter horse LuLu, was three weeks late and very uncomfortable. The saddle horses, five geldings, including two venerated pensioners in their twenties, stayed close to the corrals in their pasture because they were interested in these births and had proven to be doting uncles over the years. But in the summertime at first light, they were usually lying down asleep in the sun. Nothing moved, not even their tails, because it was still too cool for flies.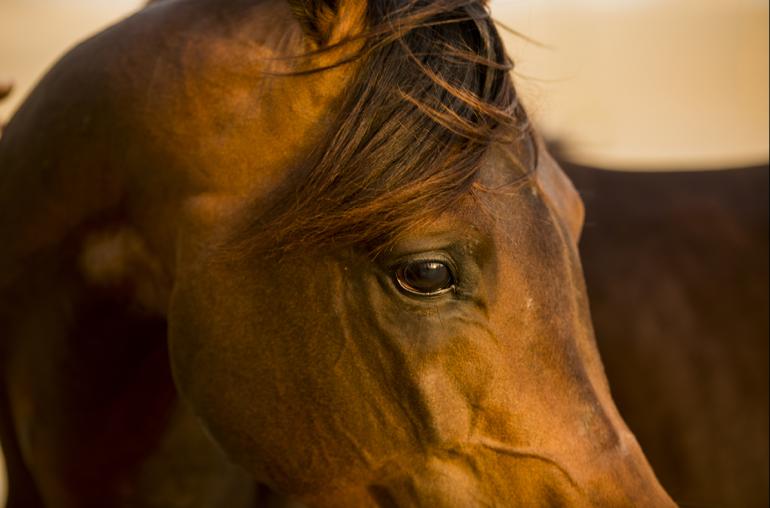 I usually get up early and head to the bunkhouse, where I work. I don't always go straight in there as I try to suggest by my brisk departure. I worried that in that building, hunched over a legal pad still in the trance of sleep, I might feel irony was required and it was much too early for that; though in the early quiet, it is often to big issues one's mind wanders, guilt at all this tranquility, the feeling that I and my work had been diminished by thirty years of rusticating among the Missouri's smallest headwaters. At such times, I console myself with some literary anecdote like Mencken's remark that he didn't care how well Willa Cather wrote, he wasn't interested in anything that happened in Nebraska, a remark that blew up in Mencken's face like an exploding cigar. Or, I think of the ways Montaigne got everyone to visit him in the boondocks. And so on and so forth. I was carrying my coffee. A small river whispers around the edge of the yard and down behind the barn, a sparkling freestone river that springs from the mountain range I can see to the south. Its height changes daily according to melt-off and storms in the mountains, events I couldn't detect; but can see the dark rings around the stones when the river is falling, the shells of transforming stoneflies, the dart of yellow warblers crossing the river to their willow nests.
LuLu had not been happy, not eating, strangely unimpressed by the snacks I kept in my coat, and after two weeks her broodiness had infected me. When I reached under to feel her taut udders, its heat and softness were pronounced; she pretended to lift a leg toward me with an annoyed grunt but I knew it was because she was sore. Her foal liked one side of her body one day and the next was on the other, pushing a knee around the side of LuLu's stomach. LuLu laid her ears back close to her head at this provocation. It did seem that the nipples had faintly exuded some wax, which, just ahead of the colostrum, could mean imminent birth. LuLu was the tenderest of animals, though in her days as a cutting horse, she could astonish with her bursts of speed and hard, sliding stops. She mourned for six weeks when a friend of hers, a cat, went to another ranch to mouse, So, her stoniness toward me at this late hour of her confinement was disquieting.
One morning, I made my accustomed feint toward the place of work and irony, and went to the corrals. The geldings were asleep in the pasture, except for the most avuncular of them, Lucky Bottom 79. LuLu no longer consorted with the mares who already had their colts. Instead, she stood in the shade of the caragana bushes without any movement. She was thinner all right, but she looked alone. I went to her with a chill of fear; the speed of birth in horses is such things go wrong very quickly. But when I was a few paces away, a small head popped up and regarded me; the foal was almost invisible against the ground and LuLu nickered to me.  The afterbirth was on the ground a couple of yards away. I lifted it up and inspected it for completeness. Glistening, startlingly heavy, and still warm, the afterbirth was shaped like the bottom of a pair of long underwear with one leg shorter than the other. Any dog worthy of the name, like my three, considers this a windfall of immaculate protein.
When I knelt by the foal, an exquisite sorrel filly, her head nodded up and down and she made several attempts to stand. Her tiny black hooves were just beginning to harden. LuLu buried her nostrils in my hair to reconfirm my identity and let me examine the little horse, who presently heaved herself onto sprawled legs wobbling and erect. Arms around her torso, her coat warm and dry, eyes big as a deer's, the beat of her heart coming through her rib cage as she yearned toward LuLu's udder, I steadied her until the connection was made and I saw the pumping movement in her throat.
A new horse.
This essay was published in Some Horses published by The Lyons Press. 
VIDEO: – "Does Fish Mean Anything?" – Tom McGuane: MSU Library Trout & Salmonid Lecture 2016
Award-winning author and angling enthusiast Thomas McGuane presented "Does Fishing Mean Anything?" on Thursday, May 5, 2016 at the Museum of the Rockies Hager Auditorium.
Tom McGuane has authored 10 novels, numerous short stories, film scripts, and three works of nonfiction devoted to his life outdoors. One of Montana's (and the country's) most popular authors, he is a member of the American Academy of Arts and Letters, The National Cutting Horse Association Hall of Fame, and The Flyfishing Hall of Fame. Recently he won the 2017 Los Angeles Times Book Prize and Robert Kirsch Award for lifetime achievement. He lives on a ranch in Sweetwater County with his family.