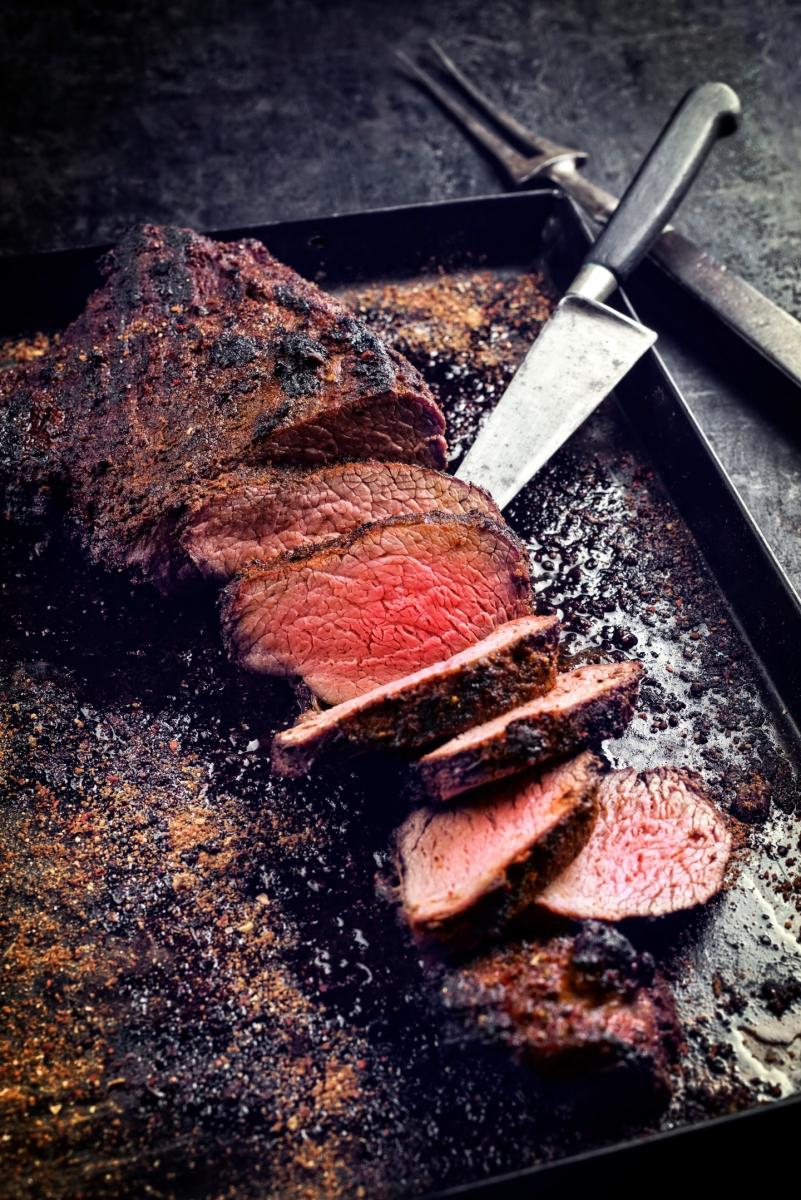 Some matches were just made in heaven - proof that someone up there likes us. The birds and the bees. Chocolate and Peanut Butter. Bert and Ernie. Coffee and meat.
Ghost Town Coffee Roasters and Daniels Meats. 
Owners Chad Kimm and Austin Daniels, respectively, are buddies and neighbors in Bozeman for the last six years. Chad has been roasting and serving delicious coffee at their retail locations for 17 years. Austin, a third-generation butcher and sausage maker, knows his meats. Together, they're working on a coffee rub that ought to make most of Montana's collective mouths water. 
If you've never used a coffee rub in your cooking before, you should. The natural acidity in the coffee acts as a tenderizer, and it helps to create a fantastic sear, sealing in all the juices and flavor. The coffee flavor recedes while the spice blend subtly enhances the meat flavor rather than dominating. And it's not just for steaks, either. It's perfect on burgers, chicken, fish, even veggies - anywhere an adventurous home cook might use it. Mmm, we're getting hungry just thinking about it. 
Plus, it smells great. 
The best part is that you know that Ghost Town Coffee Roasters, a Certified Organic Handler through the Montana Department of Agriculture, has ensured that the coffee used in the rub is only the highest quality beans and roast. The blend used, in this case, is Ghost Town's Homestead Blend. Chad tells us that "Homestead is a blend of coffee from a community in Colombia that we have worked with since the beginning of Ghost Town in 2006 and a direct trade coffee from a producer in El Salvador. We've had a relationship with this producer for many years." As for the flavor, it's got a" nice balance of sweetness without overpowering the other spices." 
Then Austin worked his magic, designing a spice blend that would work as well as a rub as it would for smoking. In addition to the premium coffee, the rub has "a salty and savory profile with a hint of floral notes, finishing with a subtle heat."  Yum. 
Any meat fortunate enough to have this rubbed on it was born under a lucky star. In fact, if you happen to sneak a little and just rub it on yourself, we'd understand. You should be so lucky, frankly.
Ghost Town Coffee Rub will be available from Ghost Town locations or at Daniels Meats this Fall!