Helena has always been a smart town, a worldly town. Its citizens have always been capable and resourceful and experienced; doers and thinkers. Art – international quality art – has traditionally been a part of life in Helena. But in the last few years the gathered minds and talents have reached a new level of potential, where the whole has exceeded the sum of its parts.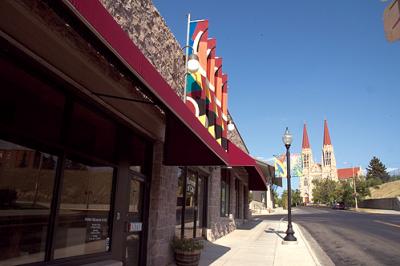 The art scene in Helena is alive in every medium. Doug Turman, a local painter and owner of the Turman Gallery, is pleased with the activity in Helena. "Art is spreading out. The young artists used to have to go to New York or Europe if they wanted to make it, but now they can practice right here and their work can be circulated elsewhere. They can afford a home here, and to have a family comfortably. Helena used to have one contemporary gallery at a time, and when it would leave, there would be a gap of a couple years until the next gallery opened. Now, there are a number open at any one time. Guerrilla galleries – those opening for only one show in an otherwise empty space – add to the chances for the public to see good art."
"It's obvious that Helena has a lot of artists and writers and performers. What's less obvious are the unsung heroes, the regular folks who support the arts. You can go into peoples' kitchens, reach for a mug, and it's a really fine mug. People here buy real art, when they could be buying posters and inexpensive dishes. These folks don't have huge incomes, but they want to bring art into their lives. There's some hardship in their collecting art."
The Archie Bray Foundation for the Ceramic Arts has always had a significant role to play in getting art into peoples' homes. They have long offered an annual sale of their works, where locals can take home affordable and usable pottery created by world-class artists living and working in the Bray's residency programs. The Myrna Loy Center for the Performing and Media Arts offers popular and diverse programs in dance, music, theater, and literary readings.
The Holter Museum of Art likewise plays a role at the core of Montana's art scene. Opened in 1987 in a former tool supply store building, its purpose is to be Montana's premiere place to experience art. From the beginning, a focus was placed on contemporary artists and their work according to the founders' views that traditional landscape and western art were already well represented and there was a need for public exposure to more current and cosmopolitan artists.
A $2,000,000 capital campaign completed in 2002 added 6,500 square feet to the museum and a significant chance to build a more cohesive collection. The new facility's design takes advantage of lines of sight from room to room, giving Brandon Reintjes, Curator of Exhibitions and Collections, many new options for designing exhibits. "We look at how the galleries work together -- how they reflect on one another -- at the communication from gallery to gallery instead of using them as unrelated rooms. And not only do the galleries relate to each other, but there is now better visual collaboration between the exhibition and education programs, so that students can see from their classrooms to the galleries and vice-versa. Now we can provide more appropriate, complete, and related programming. It's no coincidence that the expansion coincided with the development of our cultural crossroads programming."
The Holter comprises five individual galleries. The Millikan Gallery is the nucleus of the museum, both spatially and symbolically. The visitor walks through it when going between any of the other galleries and will see pieces from the permanent collection displayed here. The High Gallery is part of the new addition, an expansive room in which large pieces can be displayed with appropriate surrounding space. The Bair Gallery is the first room the visitor sees when entering the museum and serves as the first impression of the exhibits. The Sherman Gallery is another large room and houses not only high volume shows, but also public events such as the annual art auction. The Artworks Gallery and the museum's gift shop offer local artists' work for sale (sorry, no commercial, factory-made pieces here). Exhibits are usually up for three months, and all the galleries change out at the same time.
Education and outreach are just as important as exhibitions to the Holter's mission. The Holter hosts many lectures and classes given year-round by professional local and visiting artists. During the summer the emphasis is on school-aged children, while adult classes are offered more in the fall and spring. A new short video series, developed in conjunction with other local arts organizations and Downtown Helena, promotes Helena as "The Best Small Art Town in America" and is currently premiering at the Helena Airport to introduce visitors to the city's culture.
When it opened, the Holter completed the circle formed in part by the Bray and the Myrna. Each organization realizes that by working together, they can greatly increase the effect and immediacy of art in Helena. Exhibitions and events are regularly coordinated to give the public a deeper understanding of the subject than what any of the entities could provide on its own. They each want to make art accessible to everyone, to reach as many people as they can. Providing work to collectors might be important for the financial support of the arts, but it must share the spotlight with public education. Grandstreet Theater, Helena Symphony, and the Montana Arts Council and many other local arts organizations consistently interact with the Holter, pooling resources to enhance the local experience.
The Holter's central purpose is to nurture the creative spirit. They strive to serve local, regional, national and international artists in all media. Their job is not only to bring international art to local residents, but also to bring local art to the attention of the international art world. Brandon Reintjes sees it as his duty to constantly reinvent the Holter. "It's a museum's responsibility to break traditions, spice things up, to be a vibrant cultural center where anything can happen. We try to get more play into our routine. We have parties, we create inventive ways for people to meet and interact. We like noise in the gallery; it means people are there, sharing, talking, learning. It's our duty to be current, to stay at the forefront of what's happening in the international museum scene. We're always asking ourselves if what we're doing is pertinent, if it fits into the history and future of art."
Liz Gans, co-director of the museum, adds her feelings regarding the museum's purpose. "The Holter is 'you-centered.' It's free, and you can look at the exhibits at your own rate and respond on your own terms. The encounter can be quieting or stimulating depending on your mood. It's like Montana's wilderness that way. It doesn't force anything on you, leaving it up to you to discover what you want from it."
The Holter enjoys a reputation of being a beacon for the arts in Helena and Montana. See for yourself at upcoming exhibitions at the Holter. These will include a major retrospective of work of legendary Montana artist Robert DeWeese and an accompanying show of work by three of his students – now famous artists in their own right – together with three of their students (through December 30, 2006). "Ho Ho Holter," the museum's annual sale of fine art and craft for holiday gift-giving, runs November 10 through December 30. An exhibition of work by world-renowned Idaho outsider artist James Castle launches the 2007 schedule at the Holter.
The Holter is located in the heart of downtown Helena at 12 East Lawrence. It is open Tuesday through Sunday from September to May, and every day from June to August. You can reach the musuem by phone at (406) 442-6400, email at [email protected], or you can get more information on their website at www.holtermuseum.org.
~ Rennan Rieke writes, photographs, and plays jazz upright bass in Helena, Montana.