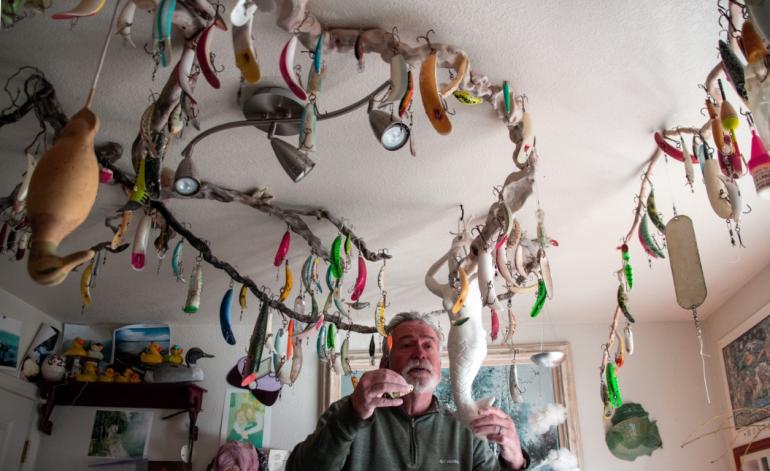 Kevin Owens' house on Missoula's southside is a tidy split-level on a quiet cul-de-sac, giving no outward indication of the dazzling collection within. As the retired cabinet maker leads me past the kitchen up the steps to a short hallway, we hang a right and walk into his office. Looking up, I suddenly feel like a fish swimming into a fever dream aquarium. Several dried tree roots snake across the ceiling, and hanging from them like a Dr. Seuss forest of colorful stalactites are fishing lures. Lures everywhere, wall to wall. Old and new, big and small. Some are bright and shiny as if just out of the package, with photorealistic patterns mimicking trout or perch. Others are ancient and weathered, bleached dull by the elements. A few are hand painted in garish colors that make you wonder what self-respecting fish would have anything to do with them. Wait, is that a mermaid? More on that later…
It's a striking collection, but not as uncommon as you might think. People collect everything, not just the obvious stuff like stamps and coins, but more esoteric items from vintage candy wrappers to refrigerator magnets. There's not a ton of money in collecting vintage lures, although some rare specimens can go for $20,000 or more. In 2003 an 1859 Copper Haskell Min - now sold for $101,200. Buying and selling, though, is not Ow - ens' thing. He's uninterested in researching the provenance or market value of the lures in his collection, he just likes how they look and loves that each lure has a story attached to it. And he didn't pay a nickel for any lure in the entire bunch. With his wife, Wendy, he literally collected them, mostly from the beaches of Flathead Lake.
One of their early finds—Wendy's first—is a true antique. It looks like it could be a Wilson Wobbler, from the early 1900s. It's a simple design, kind of a streamlined bowling pin about six inches long with fluted grooves in the body. The rusty remains of two large treble hooks are attached to screw eyes along the belly. There isn't a speck of finish left on the bare wood, which still has Kevin wondering how his wife even spotted it. "This one is Wendy's best find," he says of the lure that was hiding in plain sight. "She found it in a driftwood pile! That's what kind of eye she's got."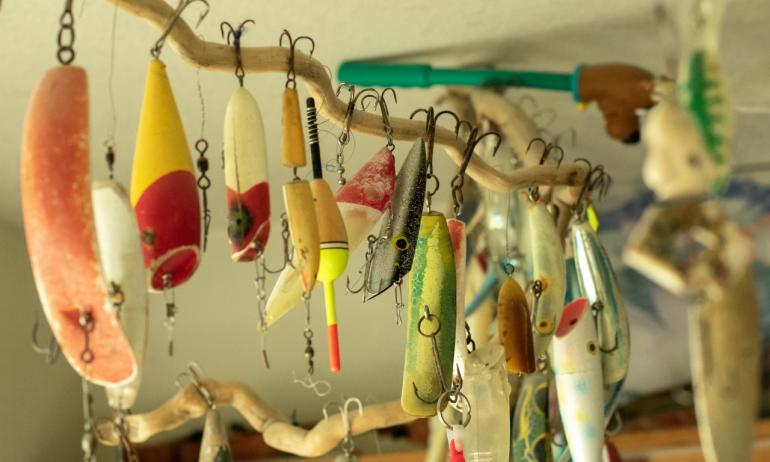 It started on Flathead Lake's Wild Horse Island. "We bought a ten-year-old ski boat in 1996, and Wendy's parents have a place up in Big Arm," recalls Owens, who'd met his bride-to-be at a fiddler's jam in Polson. The water-loving couple spent every moment they could on the lake, fishing, waterskiing, and exploring the islands and shoreline. Wild Horse Island, a 2,163-acre primitive state park, was a favorite destination—particularly late in the season when the number of boats and the lake's water level both dropped. They found the island's beaches irresistible. "We went early in the fall, when there wasn't anybody else on the island," says Kevin. "The water was pretty shallow. You had to bring a ladder with you to get out of your boat because you couldn't get close to the shore."
Other than a few private landowners on the handful of shore-line parcels, the only inhabitants on Wild Horse are bighorn sheep, mule deer, bald eagles, falcons and, yes, a small herd of wild horses. The Owenses loved having the beaches pretty much to themselves, walking the endless miles of lakefront. Kevin still remembers the first fishing lure they discovered in the sand.
"We're beachcombers. We like finding driftwood and odd little things. We walked about a mile of beach, and we found a lure. Then we walked to a different beach and found another one. That first time, I think we found five of them." They started looking for lures the way coastal beachcombers search for interesting seashells, returning with six or seven pieces after every outing. They were, um, hooked. "It was hilarious," says Kevin. "We got really addicted to it. We just said, 'why don't we start saving these things?' and that's how the whole thing got started."
Nearly thirty years later, Kevin and Wendy, a retired legal secretary, have amassed a collection of about 220 lures. They range in size from a tiny, teardrop-shaped, frog-patterned wobbler the size of a pinkie toe to an eight-inch long, vaguely reptilian trolling plug shaped like a bratwurst with one end sliced off at an angle. Glittering yellow eyes and three sharp treble hooks complete the fierce image of this huge lure that seems more predator than prey. Hanging from the twisting, intertwined lengths of roots are poppers and plugs, spinners and spoons, divers and wobblers, and a few oblong plates of chromed metal used for trolling. Along with the lures, they have found dozens of bobbers, a flock of yellow rubber duckies, a carved and painted wooden lighthouse, a few duck decoys, and a mermaid.
"Finally, I got a bonus," Kevin laughs as he remembers the day he found the two-foot tall, white plastic mermaid. He shows me Wendy's snapshot of him leaning up against their boat, cradling his aquatic prize with an obvious look of delight. "I'm just cuddling it like it's the best thing I ever found in my life," he laughs. "It's a cute one, too. I like it." The bone-white siren of the lake dangles among the dazzling thicket of lures, seemingly gazing off at some distant shoreline.
While Wild Horse Island is their main haunt, Kevin and Wendy have found lures and other curious flotsam and jetsam at different areas of Flathead Lake on the beaches of Yellow Bay, Somers, and other accessible spots. A few years ago they took their kayaks on a foray to Georgetown Lake, but they found only three lures at the popular fishery, small trout-patterned Rapalas. They lost interest entirely when Wendy refused to go back in the water after finding a leech attached to her. "Oh," says Kevin. "She'll never go there again."
I let my eyes wander over the colorful forest of fish tempters, which have been hung in the order they were found, resulting in a random array of shapes, sizes, colors and styles. A sleek, white, torpedo-shaped plug with black dots for eyes hangs next to a segmented silver minnow jerkbait. A stubby plug with a blaze orange underbelly and thin black lines across its scaly green back hangs next to a large red and white Flatfish, which I recognize, having fished with them since I was a kid. Next to that is a frog-patterned lure, also a Flatfish. And then another Flatfish. And another. Then it dawns on me that the vast majority of lures in this collection are Flatfish, which shouldn't be a surprise. The lure's ingenious design has made it one of the best sellers in the world. The banana-shaped body ends in a flattened lip that makes it wiggle and dive, able to reach a depth of 12 feet or more without a sinker. Automaker Charles Helin reportedly went through 1,500 hand-carved prototypes before he arrived at the classic design in 1933. He patented his lure the following year, and by 1970, over 40 million Flatfish had been sold. Judging by Kevin's collection, it must be the most popular lure used (and lost) on Flathead Lake.
"Oh, I don't doubt that," confirms Paula Zimmer of Zimmer Bait and Tackle in Ronan, just a few miles south of the lake. Her husband Dick Zimmer's shop is the first stop for many fishermen who gear up for the annual assault on the lake known as Mack Days, a fishing competition designed to keep the lake trout population in check. The huge, invasive predators tend to hug the bottom of the lake gulping mysis shrimp, so many fishermen troll with downrigger outfits that take the lure hundreds of feet deep. More often than not, that lure is a Flatfish. "We sell more [Flatfish] than even our own," says Paula. The business designs and markets their own lures with names like the Mack Attack, Leadagator, Doodlebug, Rattle D Zastor and the Trilobite. Their most expensive offering is the Instigator, a handmade, hand-painted, segmented swimbait big enough to straddle the line between throw-back or keeper. If you're feeling saucy enough to drop $125.00 on one of these beauties, you might want to use an extra-stout line, lest you get hung up and snap it off, and the next thing you know, your Zimmer masterpiece might be the latest prize hanging from Kevin Owens' ceiling.