What to do in Montana...
The late winter rain drizzled down on the dark highway and the windshield wipers did their best to keep the view clear, but after seven hours of driving, my mind and my eyes were tired.
We were on highway 283 between Dillon and Wisdom on our way back from skiing three days at Snowbird, Utah.  We had skied hard and were road tired and ready for a break. The spot we had in mind was just ahead.
As we pulled into the small town of Jackson, our headlights illuminated an otherwise dim main street and cut into the darkness on the other side of this small town nestled in the corner of the Big Hole valley.  The only sign of activity was at the hot springs.
We pushed open the heavy wooden front door into the cavernous lodge, empty on this cold weekday night expect for a couple shooting pool and a few of locals sipping beers at the bar.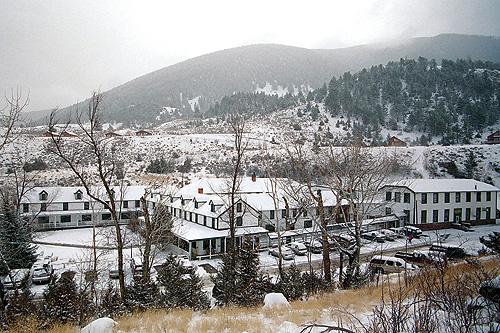 We filled our water bottles, paid for a swim and headed to the changing rooms.  
Jackson Hot Springs has one large concrete pool fed by four pipes of hot water located at the shallow end. The water coming out of the pipes is hot, but on a cold winter night it's the perfect spot to just sit and let the running water drain the road weariness out of your skin.
On this night we had the pool all to ourselves and we stayed neck-deep in the water's warmth for nearly an hour, drinking from our cold water bottles when our mouths got dry and reminiscing about steep powder shots and deep snow.
Soaking in hot springs is a treasured Montana tradition that goes back to before white settlers came.  Native Americans used thermal springs for rest and healing. Later, settlers and miners developed some of the hot springs and then many of these waters were used by the wealthy for resorts and again for the healing power of the water heated deep within the earth's belly.
Jackson Hot Spring was first recorded in the journals of Lewis and Clark, who passed by the springs on their way to the Pacific Coast.
Some of Montana's hot springs, like Jackson, are developed and a patron can find lodging, food and drink.  Others aren't developed at all and require a little knowledge of the backcountry and a good map.
Jackson Hot Springs is a family operation.  The Peterson's took over the facility in 1990 and have turned it into a classy, comfortable and fun destination in the beautiful and remote Big Hole Valley.
"The Jackson Hot Springs lodge was built in the 1950s and used mostly as a retreat center for wealthy travelers from the east coast," said Inge Peterson, the matron of the hot springs.
The hot springs has a full service bar, huge dance floor, gourmet restaurant, cabins, hotel style rooms and camping spots.
The food served is hard to pin down, Peterson said. The chefs have the freedom to follow their culinary inspirations.  Some days the menu is full of French cuisine, other days it's classic American fare.  Lamb, duck, beef, and fresh seafood are common.  Most of the year, the restaurant serves breakfast, lunch and dinner.  If the chef has time to bake, the banana bread French toast is a special treat.
The year of events starts with a huge New Year's Eve bash, complete with a four-course dinner and live music.
In March they hold the annual Fireman's Ball to raise money for the local volunteer fire department and school.
Memorial Day is the famous Jackson Jam, which is a weekend full of live music.  This event draws people from all over western Montana.  Come early because rooms and campground spots fill up fast.
Over the Fourth of July, they hold the Big Hole Biker Rally, which attracts bikers from around the country for more fun and live music.  
"Reservations are always a good idea any time during the year," Peterson said.
For more information call (406) 834-3151 or look on the Web at www.jacksonhotsprings.com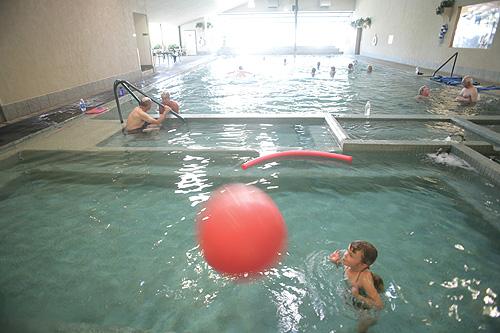 Bozeman Hot Springs Spa and Fitness
Near Four Corners, south of Bozeman, is a full service hot springs, spa and health club.  Cristi Berry and Dana Boucek manage a beautiful and diverse operation that caters to the daily gym rat or someone just looking for a little pampering and relaxation.
Bozeman Hot Springs has 10 different pools varying in temperature from more than 104 degrees, to as cool as tap water.  Nine of the pools are inside and range in size from hot tub sized to a full size pool. 
Near the indoor pools are the Amazon Rain Forest and the Saharan Desert. These are the dry and wet saunas, which can evaporate your worries, stress and unhealthy toxins. 
The spa facility offers a full range of services, from deep tissue messages, pedicures and waxing.  As you walk through the doors of the spa you're enveloped in a warm feeling that instantly makes you want to find the nearest message table and the staff is more than happy to accommodate.
For more information on Bozeman Hot Springs contact them at (406) 586-6492, for the spa call (406) 522-9563, for the fitness center call (406) 522-9809. Or look on the Web at www.bozemanhotspring.com.
Chico Hot Springs
Tucked away in Montana's Paradise Valley, Chico Hot spring is arguably Montana's most famous Hot Springs resort. Chico is located about 23 miles south of Livingston, Montana near the small town of Pray.
The first written record of the thermal waters at Chico was found in a miner's journal from 1865.  Nearly 35 years later Chico Warm Springs Hotel was built. Today, Chico consists of two open-air pools, two restaurants, convention center and spa.
"I would define Chico as quintessential Montana," said Colin Davis, manager of Chico. "There's something here for everybody."  And often a local celebrity will be seen relaxing in the dining room or even playing in bands in the bar.
Guests can stay overnight in the lodges or rent cottages, cabins or a remodeled caboose.  For food, guests have a choice of gourmet dining or more casual options, which enable the resort to cater any budget or needs. 
Chico is open year-around and has live music on every Friday and Saturday night.  Many weddings and conferences take place on its charming grounds.
Chico also offers dog sled treks in the winter and horseback riding. Fly fisherman also benefit from Chico close proximity to the world-famous Yellowstone River.  A full-service spa is available.
Summer is the peak season at Chico, but reservations are always encouraged.  
For more information about Chico, look at their expansive Web site: www.chicohotsprings.com, or call them at (406) 333-4933 or toll free at 1-800-468-9232.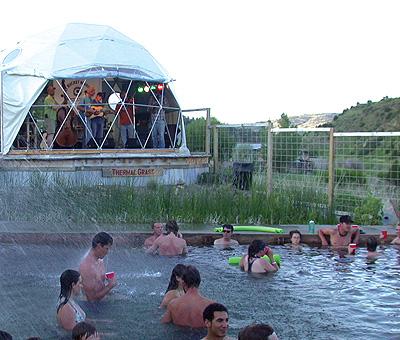 Boulder Hot Springs and Spa
If you're looking for a healthy and rejuvenating weekend, the historic Boulder Hot Springs and Spa might be the ticket.
Boulder Hot Springs and Spa is located just off of Interstate 15 between Butte and Helena in the pristine Elkhorn Mountains. The philosophy of the resort is centered around rest, relaxation, purity and health.
"It's really meant to be a healing place," said Kerri Kumasaka, the general manager of the resort.
Boulder doesn't allow smoking, drugs or alcohol at the resort, which enables guests to focus on health.  The rooms don't have televisions or phones, which allows people to truly get away from it all, Kumasaka said.
"I think essentially a lot of times people feel like it really relaxes them," she said.
Boulder Hot Springs has a long history with a variety of Native America tribes, which used the springs for rejuvenation and health.
"The Native Americans had a vow that they wouldn't fight here so they could use the water for healing," Kumasaka said.  
The named the place Peace Valley and that spirit is still an important part of operations at Boulder Hot Springs, she said.
Unlike most hot springs, Boulder's come out of the ground too hot to soak in and must be cooled somewhat before they're put into the pools. The water is also used to heat the resort's buildings. It also lacks sulfur, which is the mineral that can give thermal waters a strange smell.
The historic lodge at Boulder Hot Springs brings guest back into Montana's past. The large Victorian style lodge was built in 1890.  Since then, the resort has had several owners.  In the 1980s the resort was placed on the National Register for Historic Places.
In total, the lodge has 33 rooms. Reservations are encouraged throughout the year, Kumasaka said.
There is one outdoor pool at Boulder and it's kept at a comfortable 96 degrees.  Men and Women have separate facilities for taking advantage of the thermal waters.  The Women's side has a hot and cool pool and steam room. The men's side has the hot pool and steam room. Both hot pools are a continuous flow, keeping the water fresh and healthy.
Boulder offers a conference center and groups can reserve space for weddings, reunions and other special events.  Twice a year Boulder also hosts a Yoga Retreat, which generally fill up fast.
For more information on Boulder Hot Springs and Spa, look on their thorough Web site at www.boulderhotsprings.com or call them at (406) 225-4339.
Potosi Hot Springs in Pony
Potosi hot springs is located in the rugged and beautiful Tobacco Root Mountains southwest of Three Forks.  For information on Potosi Hot Spring, look on the Web at www.potosiresort.com, or call them at 1-888-685-1695.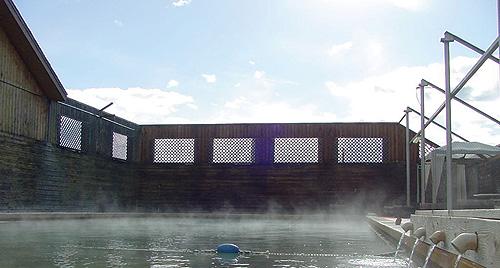 Quinn's Hot Springs in Paradise
Quinn's Hot Spring offer family fun, fine dining and a true Montana tavern all in the beautiful mountains of western Montana near the mighty Clark Fork River. For more information contact them at 1-888-646-9287 or look on the Web at www.quinnshotsprings.com.
Fairmont Hot Springs and Resort, Fairmont 
Fairmont Hot Springs is located just off the Interstate between Anaconda and Butte. This popular western Montana vacation accommodates family, groups and conventions for a fun and relaxing time by beautiful pools.  For more information call them at 1-800-332-3272, or look on the Web at www.fairmontmontana.com.
Norris Hot Springs, Norris
Norris Hot Springs is located at the crossroads of scenic drives: W. Yellowstone to Helena, Butte to Bozeman, also near the Lewis and Clark Caverns and Madison River.  Popular for its poolside music and camping facilities, for more information look on the Web at www.norrishotsprings.com or call (406) 685-3303.
- Greg Lemon is a freelance journalist in Hamilton.  His work has appeared in several Montana publications.  When Greg isn't busy on an article, he's generally doing research with a fly rod in hand and a pack over his shoulders.