You began your career as a commercial artist, so please tell us how that experience informed your work as a "self-taught" wildlife artist.
My illustration background has been extremely beneficial to my career. It helped me develop my drawing and painting skills, but even more importantly, it taught me discipline in meeting deadlines. My annual commitments to museum shows and galleries are fraught with sequential deadlines. A common misconception about artists is that they are free-spirited and work only when the mood strikes them…not in my world.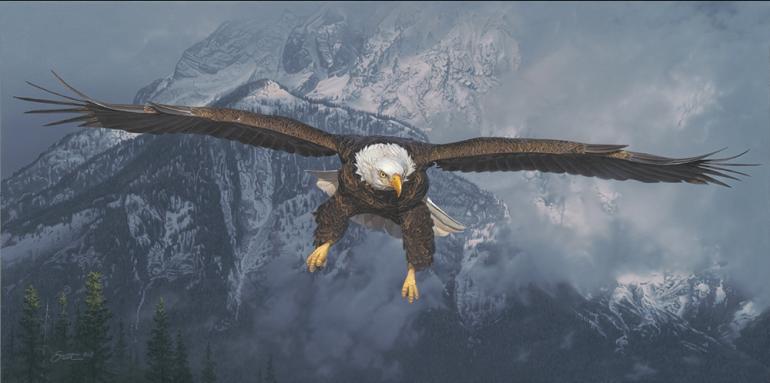 Why wildlife? What had drawn you to make wildlife the focus of your art?
Since my childhood I have always been fascinated with the natural world. My father was an outdoorsman and took me hunting and fishing at an early age. I quickly realized that the best work comes from knowledge and experience, so research trips became a foundation for my career. I have traveled from Africa to Alaska and numerous places in-between. Through the years my depth of knowledge and passion has grown into somewhat of an obsession. Living in Montana has been an incredible resource and a blessing as well. My fieldwork is fuel for my passion and the most rewarding part of my profession.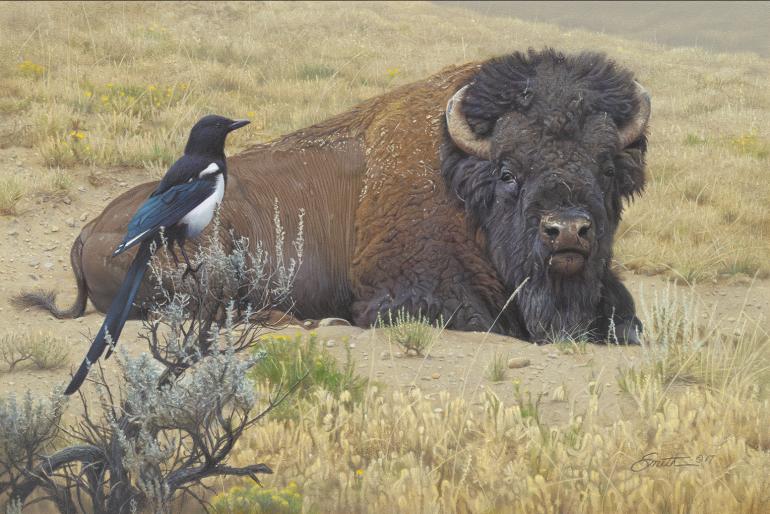 Our understanding is that the vast bulk of your work begins with "fieldwork," with photography. Can you explain the importance of the process from camera to canvas?
The realism in my work takes time, discipline, and patience to execute. It mandates the use of a camera for reference, as it would be nearly impossible to work on location. I consider my camera a very useful tool but I don't rely solely on my photography. I create from my imagination and memory to enhance my compositions. My photos help me with the anatomy and detail of my subjects but it's the habitat where I usually take liberties. My typical approach is simplification of the background using light and atmosphere resulting in my subject being a strong focal point. The genesis of all my art begins with time spent in the field, experiencing firsthand the behavior and habitat of my subjects.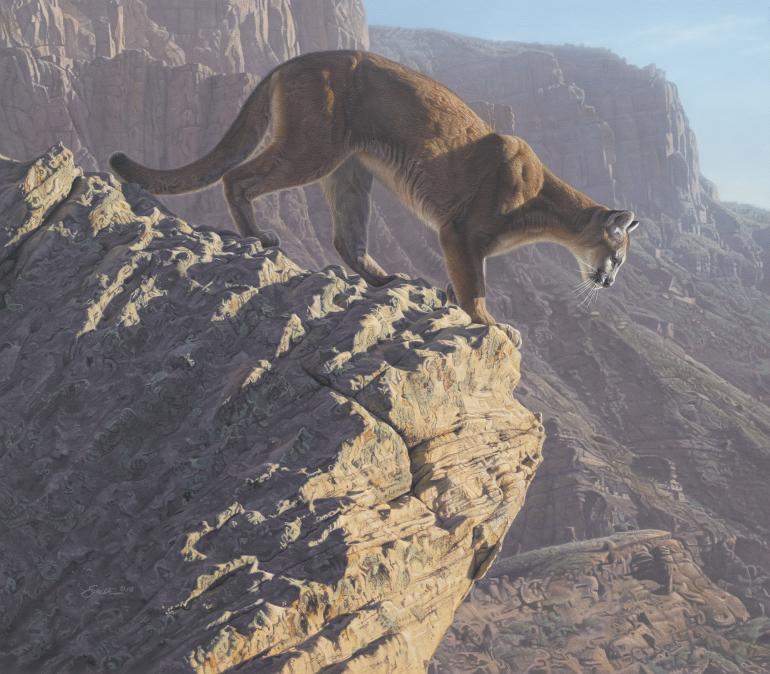 Several years ago you won the national "Duck Stamp" contest. What was the impact of that award for your career?
Winning the Federal Duck Stamp in 1987 was an incredible honor and a lifetime achievement, particularly at that time. In retrospect it gave me the confidence and resources to really launch my career. Spanning a decade, my work appeared on more than 30 stamps.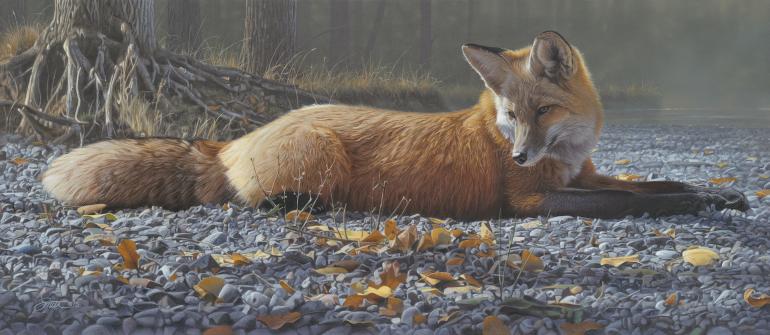 Realism in art is a challenging task. Are you satisfied that your art achieves realism at the highest level?
Achieving realism at the highest level is a somewhat intangible term. There are plenty of artists who paint with an extreme level of detail and realism that surpasses my work. My objective is to create the illusion of realism through a delicate balance between wildlife and habitat. Too much detail can be a detriment as it can detract from the subject and weaken the composition. I strive for my paintings to be realistic but also want them to stand as a work of art. I want my art to resonate with the viewer on a much deeper level... to strike an emotional chord. I have a deep reverence for all of my subjects, as they are a gift from God.
We once heard you say that painting "water" in its infinite variations is the most difficult accomplishment for "photoreal" art. How do you approach the painting of water in your art?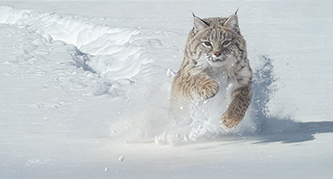 Painting water is a challenge that I fully embrace. It's a compositional element that provides variety and interest when combined with wildlife. I rely on photography for the basics but the key to capturing water is the understanding of its nuances. I like to break it down into three properties…transparent, reflective, and translucent. When you fully comprehend these characteristics and their transitions, it simplifies the task.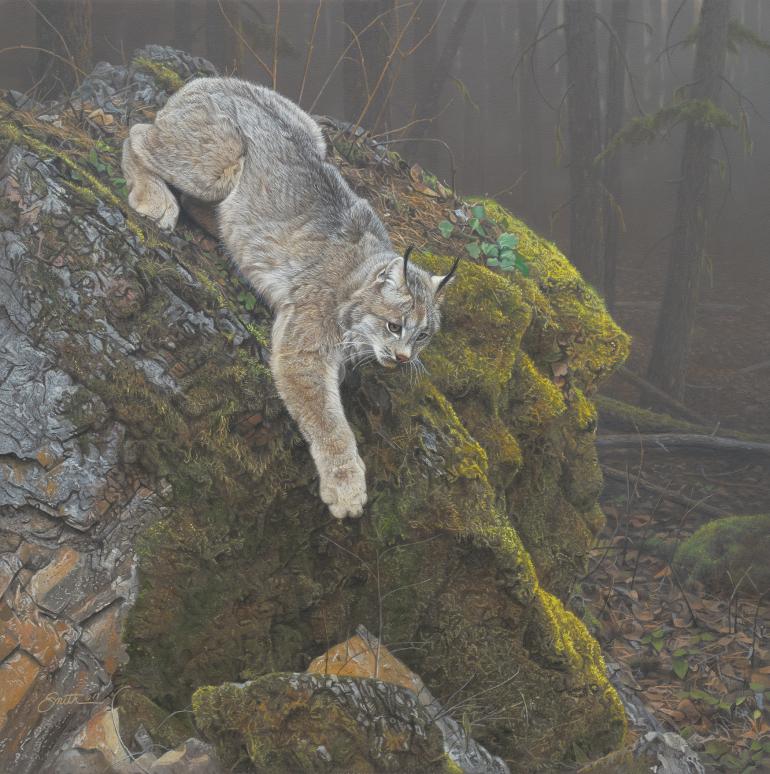 Which paintings do you consider your masterpieces, and what is the one elusive masterpiece you would love to create?
It's very difficult to be objective about one's own work. I'm not sure that any of my paintings qualify as masterpieces; however, I do have a few favorites. I find that public perception can often influence my judgment as my mind immediately goes to award winners. I strive to improve with every painting and deeply appreciate the blessing of being able to do this for a living. One elusive subject that captivates me would be a Bull Moose swimming in still water. That's a right time/right place situation that may never come to fruition.
What is your typical workday like, including relaxing at the end of a long day?
My typical day in the studio begins at 8:00 a.m. and ends at 6:00 p.m. Three days a week I break at 3:00 p.m. and head to the gym for a 2-hour workout. It's one of my few good habits that has spanned four decades. It helps to facilitate some strenuous bushwhacking and climbing for alpine subjects. The conclusion of my day usually involves an adult beverage and some TV.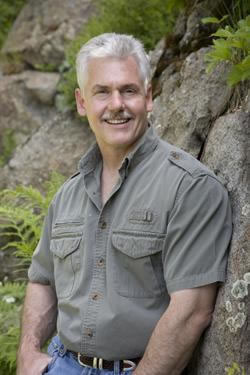 Daniel Smith was born in Minnesota and now resides outside of Bigfork, Montana, where the rugged peaks of the Swan Range are the only thing separating him from Glacier National Park. One of the most rewarding and inspiring elements of his work is the fieldwork; it's the genesis of all of his paintings. Smith is passionate about his subjects and travels frequently seeking artistic inspiration. Smith's meticulous field research and insistence on directly observing the animals he paints is driven by a personal penchant to achieve greater authenticity.
In 2013, Smith won the Victor Higgins Award for the Best Overall Body of Work at the Eiteljorg Museum of American Indians and Western Art's Quest for the West Show. In 2013, 2012, and 2011 he received the Buyer's Choice Award at the Small Works, Great Wonders show at the National Cowboy & Western Heritage Museum. In 2011, he won the Bob Kuhn Wildlife Award, at the Autry National Center of the American West's Masters of the American West Fine Art Exhibition and Sale and was the Featured Painter at the National Museum of Wildlife Art's Western Visions Miniatures and More Show & Sale, where he also won the Peoples' Choice Award in 2011 and 2009. He received the 2009 Harrison Eiteljorg Museum Purchase Award and the 2007 Artist of Distinction award from the Eiteljorg's Quest for the West Show.
Smith has won numerous awards from the Society of Animal Artists and has been chosen Artist of the Year for several conservation organizations. Smith has used his art to aid and endorse many conservation efforts. 
Daniel Smith is represented by Settlers West Galleries, Inc., Tucson, Arizona and Trailside Galleries, Jackson, Wyoming, and Scottsdale, Arizona. Gicleé reproductions of his work are available through Greenwich Workshop dealers.
Daniel Smith Exhibitions
Quest for the West
September 7-8, 2018
Eiteljorg Museum
Western Visions
September 14, 2018
National Museum of Wildlife Art
Society of Animal Artists Exhibition
October 5-6, 2018
The Jame s Museum of Western and Wildlife Art
The Great American West
November 17, 2018
Settlers West Galleries