Salmon was an important staple of the diets of Native American, First People (Canada), and Native Alaskan tribes long before Europeans settled the northwest United States and Canada. Plentiful supplies of this amazing fish, rich in nutrients and (good) fat have made it a staple in our diets to this day.
Here's an unusual way to cook your salmon filets that, at first glance, seems fat-laden but in reality is a gentle method for treating the fish. It's best if you buy your filets cut-to-order with the skin on. The skin will help to protect the fish from the heat on the bottom of the pan, but it also helps keep the filet intact.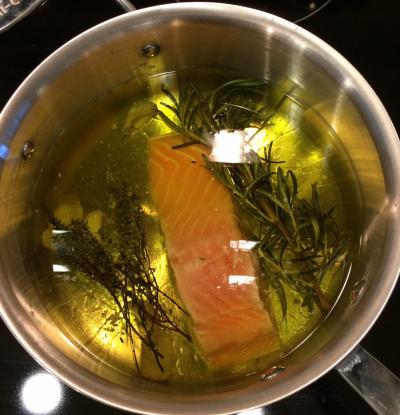 Use regular, not extra virgin, olive oil in you pan and use just enough to cover the fish plus about half an inch. You'll need to have an accurate thermometer on hand because you want to get the oil to 180 degrees. Once you add the fish, you'll need to increase the heat to get the oil back to 180. Use the thermometer to ensure that the temperature stays around that number. You will want to see a steady stream of tiny bubbles emerging from around the fish. The herbs, garlic, and lemon peel will add subtle but important flavors to the finished product.
You also will be able to see the fish go from its natural orange color to opaque pink as it cooks. You can also test for doneness by gently tapping on the thickest part of the filet to feel for firmness.
Use a spatula, sliding it underneath the skin of each filet, and remove the fish to a paper towel-lined plate and gently blot the filets to remove excess oil.
Because the oil was used at such a low temperature, it is reusable, so be sure to strain it and keep it in a container to use again.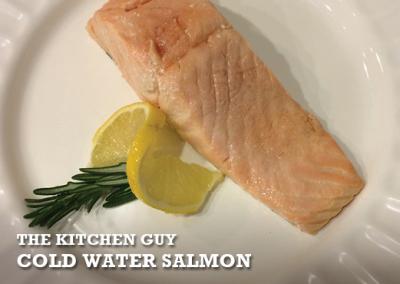 OLIVE OIL POACHED SALMON
RECIPE
10 whole sprigs of fresh thyme
1 large sprig of fresh rosemary
2 garlic cloves, peeled and crushed
3 cups olive oil (not extra virgin), plus more to cover fish
2 pounds salmon filet, cut into 4 portions
2 lemons, one cut into wedges for garnish
salt and pepper
fresh parsley, chives, etc. for additional garnish
METHOD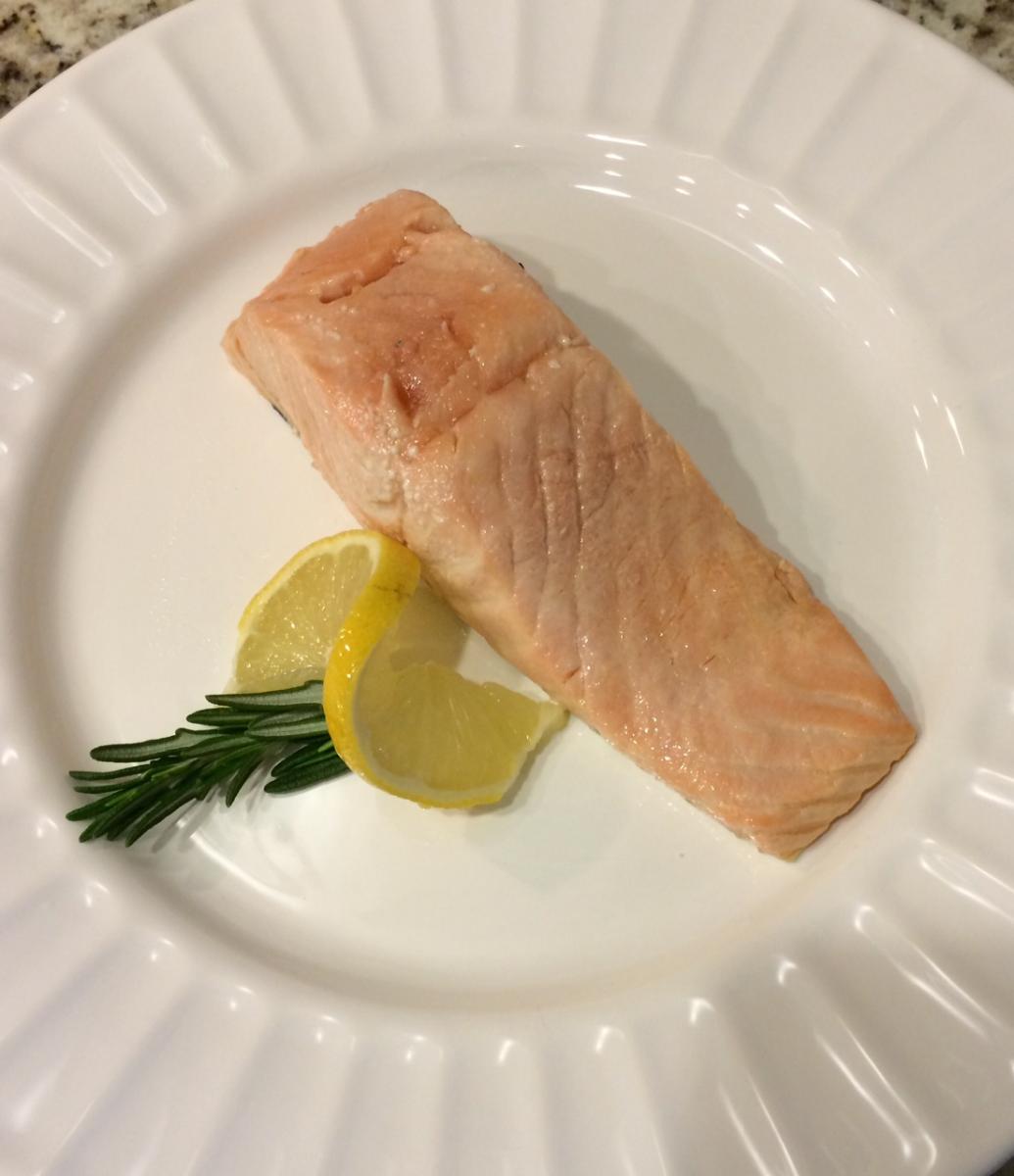 Combine thyme, rosemary, garlic and oil in a pot just wide enough to hold the fish in a single layer without touching. When fish is added, oil should cover it, so add more if necessary. 
Peel 1 lemon and add strips of peel to the oil. 
Season fish with salt and pepper on both sides. 
Using a candy or deep-fry thermometer, heat oil to 180 degrees F over medium low heat. Reduce heat and monitor the temperature, adjusting until it is stable at 180 F. Small bubbles will occasionally rise to the surface. 
When the temperature is stable, add the fish carefully. The oil temperature will drop, so raise the heat slightly, but never above medium low until it reaches 180 F again. Then reduce the heat. 
Cook the fish for 13 to 15 minutes, until top is completely opaque. Remove to a plate lined with paper towels to drain. 
 Place on plates or on a serving platter, sprinkle with fresh herbs and garnish with lemon wedges.
*Find other recipes from Chef Jim Gray at http://www.distinctlymontana.com/search/node/Kitchen%20Guy