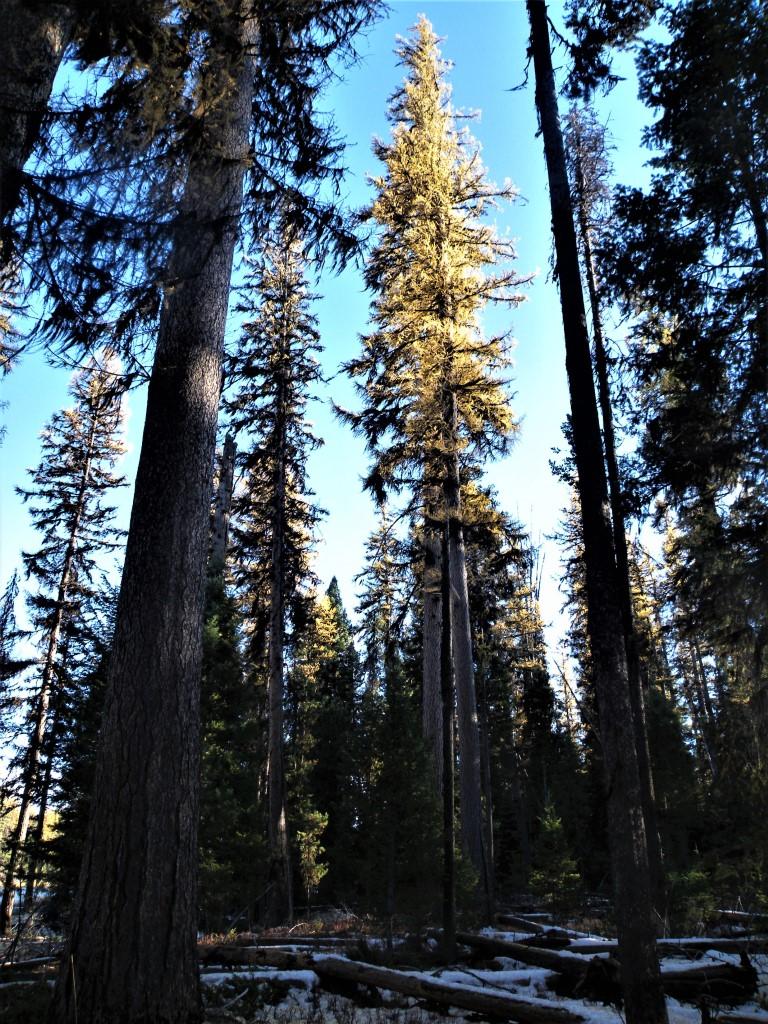 Two species of larch—or tamaracks, as many locals call them—inhabit the forests of northwestern Montana: western larch (Larix occidentalis) and alpine larch (Larix lyallii). These deciduous conifers share one unique attribute: their needles turn bright gold before dropping in fall. At peak color, the contrast between their foliage and dark green coniferous forests, set against the backdrop of Montana's majestic mountains and brilliant blue skies, is absolutely breathtaking, surpassing anything that New England can offer. Tom Hinckley, professor emeritus at the University of Washington's School of Environmental and Forest Sciences, makes the following distinction in comparing the brilliance of their fall foliage: "Western larch is spectacular; however, subalpine is out of this world."
In Montana, alpine larches are most frequently encountered near timberline in the Bitterroot, Cabinet, Anaconda, and Whitefish Mountains. Preferred habitats vary, depending on latitude, elevation, slope exposure, and microclimate patterns. In the Bitterroots, for example, alpine larches typically are found above 7,500 feet on north-facing slopes. Carlton Ridge, elevation 8,252 feet, forms the eastern shoulder of Lolo Peak; it is populated by the largest stand of alpine larch in the United States, one encompassing roughly 250 acres. By late September, the ribbon of burnished gold formed by this ridgeline grove becomes visible from downtown Missoula, almost 20 miles away. By contrast, scattered, stunted trees on Trapper Peak, located near its summit at approximately 9,900 feet, mark the uppermost limit of alpine larch habitat for its entire geographical range. In the Anaconda-Pintler Wilderness, alpine larches cluster between 8,400-9,200 feet in the form of "larch parks," where well-spaced trees are interspersed with heather or other forms of ground cover.
Alpine larches are long-lived and, under ideal circumstances, achieve remarkable size. Lifespans of 400-500 years are commonplace. Two trees, located in the Bitterroot and Pintler Mountains, have been determined to be 1,011 and 980 years old, respectively. Despite their slow growth rates, alpine larches can, in moist, wind-sheltered cirque basins, attain heights of 75-95 feet. The tallest alpine larch on record is a 152-foot giant in the Cabinet Range.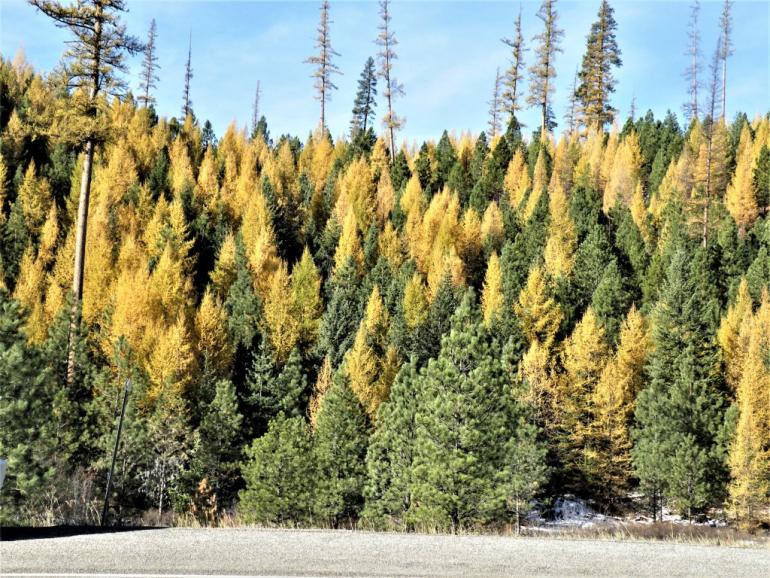 These sentinels of the high country exhibit peak color up to one month before their lowland cousins. Therefore, the optimal time to observe alpine larches usually coincides with much of the period during which aspens display peak color in Glacier National Park and the Rocky Mountain Front. Consequently, few people, except for hikers and backpackers, have the opportunity to see alpine larches in their autumnal glory.
Western larches, on the other hand, populate valleys and the lower slopes of mountains throughout much of northwestern Montana. If weather and road conditions permit, the North Fork area, with its extensive larch stands and gorgeous, glacially carved lakes, is the one can't-miss destination for larch hunters in Glacier National Park.
This wilderness enclave is accessible from Columbia Falls and West Glacier via two parallel roads that follow opposing sides of the North Fork of the Flathead River. For the quickest route, take the Camas Road from Apgar Junction to its intersection with the Outside North Fork Road (Montana Highway 486). Follow the latter road north to the Polebridge Junction, recross the North Fork of the Flathead and, from Polebridge, take the Inside North Fork Road to Bowman Lake, via a spur road, or Kintla Lake Campground, where it ends. Either destination provides a spectacular exclamation point to a tour of this remote area.
Peak color at Kintla and Bowman lakes typically occurs around October 22-25. Views of larch stands from more southerly portions of the Outside North Fork Road are less stunning but illustrate fundamental characteristics of this species' biology. Young larch trees there are repopulating areas where the skeletal trunks of fire-scorched conifers still stand. Larch seedlings commonly grow at a rate of one foot per year for their first four years. Such rapid growth enables larches, which are highly intolerant of shade, to maintain height dominance over competitors for up to a century.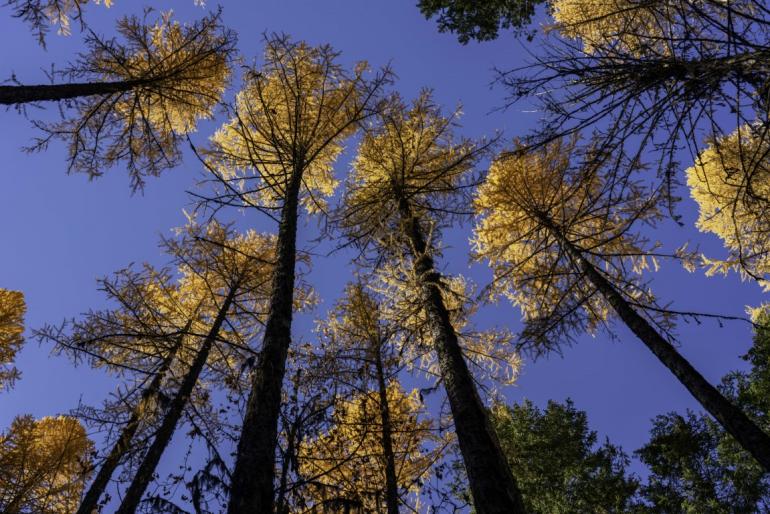 Western larches also are heavily concentrated along sections of the Camas Road, particularly its eastern terminus and the bridge over McDonald Creek, as well as the riparian corridor of the Middle Fork of the Flathead, and the Hungry Horse Reservoir. Indeed, the phrase "thick as fleas" aptly describes the population density of larch in mountains surrounding Hungry Horse. If, however, you want to thoroughly explore this area, allocate a full day. The reservoir is circumnavigated by 112 miles of Forest Service roads, of which only eleven are paved. U.S. Highway 2 from West Glacier to Essex and Goat Lick Overlook provides sweeping views of larch stands near Glacier's southern border, plus dramatic, albeit distant, glimpses of one of the park's most distinctive peaks, Mount Saint Nicholas, which closely resembles the Matterhorn.
For a representative sample of fall color in areas west of Glacier, take Highway 2 from Kalispell to Libby, then the Lake Koocanusa Scenic Byway (MT 37) north to Eureka and, from there, follow U.S. Highway 93 south to Kalispell. The most photogenic larch stands visible from this 225-mile loop populate areas traversed by Highway 2, most notably between mile markers 85 and 55. Larches are so numerous and precisely spaced in some regions that the contrast between larch at peak color and neighboring conifers is reminiscent of a checkerboard pattern.
Portions of Highway 93 that most closely flank the Whitefish Range exude a Glacier-like ambience, one that warrants further scrutiny. Hikers will be delighted to learn that pure stands of alpine larch exist near the summit of Nasukoin Mountain, the highest peak in the Whitefish Range, as well as the Ten Lakes Scenic Area, roughly one mile north of Bluebird Lake, via the Ten Lakes Loop trail.
If, heaven forbid, you could devote only two days to larch hunting, I recommend that you divide your time equally between the North Fork area in Glacier and the stunning Seeley-Swan valley. Nestled between the Swan Range on the east and the Mission Mountains to the west, Montana Highway 83 follows the Swan and Clearwater rivers from Bigfork to Clearwater Junction, which is 33 miles east of Missoula on MT 200. Roadside views of the high country are rare along this route, so savor the drive through tall timber. This region is revered by fall-foliage enthusiasts for good reason.
As it traverses this picturesque valley from Bigfork south to Seeley Lake, Highway 83 gradually gains approximately 1,200 feet in elevation. From north to south, western larches also become increasingly numerous along this corridor and, at the time of our visit (October 30, 2020), exhibited a corresponding progression in their proximity to peak color. Landscape photographers should take advantage of pullouts at mile markers 57 and 44, which afford excellent views of the highest peaks in the Swan Range. From the latter pullout to mile markers 40-41, timber opens up more frequently, thus providing impressive glimpses of the Swans to the east and Mission Mountains to the west, which compete alternately and with good effect for your attention.
Fall-foliage aficionados will regard the southernmost third of Highway 83 and, particularly, the James Girard Memorial Grove as the capstone of an excursion to the Seeley-Swan valley. One of the finest old-growth larch forests in the United States, the Girard Grove is located at the outlet of Seeley Lake. From mile marker 14, turn right on to Boy Scout Road. After 2.4 miles, you will cross a bridge, where Seeley Lake empties into the Clearwater River. Shortly thereafter, a small pullout is available on the left, near a couple of interpretive signs, which identify the Girard Memorial Grove.
This arboreal cathedral inspires contemplation, reflection, even introspection. Here you stand among giants that have silently witnessed centuries of human activity. The largest of these trees, known locally as "Gus," is recognized officially in the National Register of Champion Trees as the largest western larch in America. The 153-foot-tall, snaggle-toothed patriarch of the Girard Grove has a diameter of 7 feet, 3 inches and circumference of 22 feet, 9 inches. It is believed to be approximately 1,000 years old.
The Holy Grail for leaf peepers is, of course, foliage at peak color. The time at which it occurs, unfortunately, is impossible to predict with absolute precision. Western larches usually peak at some point during the second half of October. To tilt the odds of witnessing this great crescendo of color in your favor, carefully monitor foliage reports and weather conditions for areas that you plan to visit during the weeks immediately before your intended departure. If circumstances allow you to exercise flexibility in scheduling or, if need be, rescheduling your itinerary, do so accordingly. If you follow this strategy and are blessed by the proverbial weather gods, you may ultimately conclude that nothing is so close to Heaven on Earth as the Northern Rockies in fall.