Live Life Colorfully: The Art of Teshia
Interview with Teshia of TeshiaArt
"Live Life Colorfully" seems to be both your personal mantra and focus in your art.  What are you really saying when you use this term?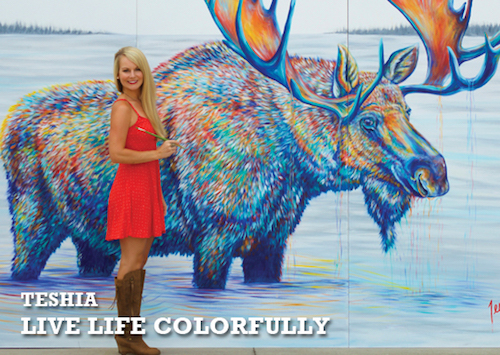 I feel that we all have the opportunity to see either the light or the dark in every situation in life. The world of TeshiaArt is a colorful one, because that is the way I choose to view the world. My desire is to portray wildlife and life on that level.  
A few years ago I had a vision of a bull moose in prismatic hues, illuminated by light and color in a surreal and majestic way. One day I brought this foresight to fruition and painted a large, bold, and colorful moose. The painting changed my life,  I have been intoxicated by color ever since. This experience taught me to "Live Life Colorfully," and I haven't looked back since.
The subject of most of your art seems to be Montana wildlife.  Why are you drawn to this subject matter?
My family moved from the Seattle area to western Montana when I was 12. I went from a life of rollerblading on sidewalks to riding dirt bikes on logging roads. I learned to hunt, spearfish, ice fish, snowmobile, snowshoe, snowboard, wakeboard, camp, and had every adventure in between. In the autumn, I hiked up snowy mountains at 5 a.m. with friends and bugled to the bull elk as the sun began to rise and burn off the crisp morning mist. In the spring, I watched from my window as a huge, lanky cow moose led her feeble calf into our field. In the summer, a grizzly bear would occasionally appear through the bushes by the riverbanks on which we lived. In the winter, we once saw a wolverine just as it vanished like a phantom into the snowy woods that bordered our house. Wildlife was abundant. When it came time for me to focus on a subject matter to paint, my heart had already chosen it.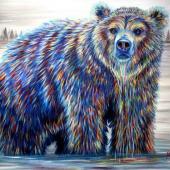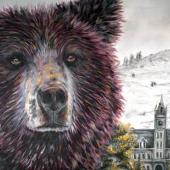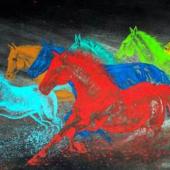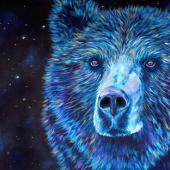 You started painting at a very young age.  How did your childhood influence your work?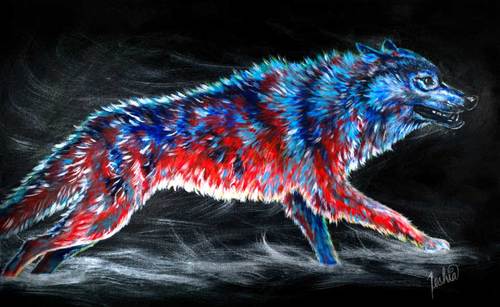 My dad is a very talented artist. His detailed pen and ink wildlife drawings lined the walls of our home, and they fascinated me. My parents recognized my adoration for the arts when I was a little girl. They enrolled me in art classes, made me my own official art desk, and proudly displayed everything I ever created. When I was 10, I received my first "big" sale when a woman paid me $200 for a colorful wizard piece that I created for an art show in the mall. I think that was the point where I began to see myself as an "artist."  
Acrylic is your medium of choice.  What are the benefits of working with acrylic in communicating your artistic vision?
When I paint, I work very quickly. If I leave for a while and try to come back, it often takes me an hour until I can get back into my "zone" again. Therefore, I usually isolate myself in my studio for as long as I possibly can before coming up for air. That is when I produce my very best work. Since I create this way, I need my paints to dry quickly so that I can keep moving. I also paint in many layers of colors, so I love the fast performance and bold pigment of acrylic paints.
We feel a great deal of energy when viewing your work.  Is that your intention?
It is my intention, yes. I aspire to leave my viewers with a renewed concept of life when viewing my paintings. I believe there is much more truth to the world than we can physically see. I try to manifest in my paintings animals' thunderous and powerful — also noble, peaceful, and timeless — energy.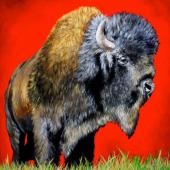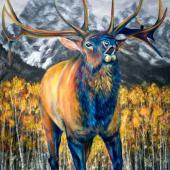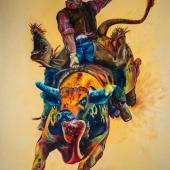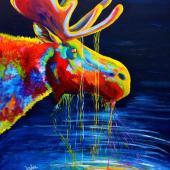 How are your own personality and your personal interests reflected in your art?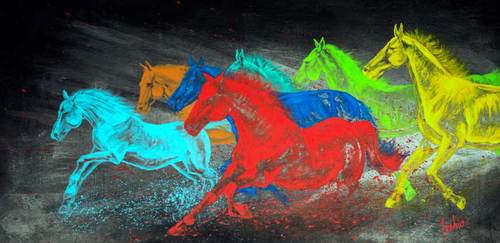 I am a visionary type who likes to think outside of the box and push the limits when tested. I also feel that I am a right and left-brain combination type, which is why my paintings reflect a blend of logical realism and whimsical surrealism. I am not satisfied when painting traditionally because it is not vibrant or energetic enough for me. Yet at the same time, to paint a purely abstract piece would feel a bit too crazy. I am at peace when I have achieved the balance between the two, which explains the combination of both refined detail and lighthearted looseness in my work.
Where do you think you might be headed in your artwork over the next five years?
I have a goal or "vision" board that I follow. I started it years ago and continue to add to it because it has so far proven to be (creepily) accurate. Although I can't disclose too much yet, I have a lot in store. To start, I recently installed a huge 8'x12' mural of a moose on the outside of Grand Teton Gallery in Jackson Hole, WY. In October, I will be this year's Featured Artist at the 24th Montana Cowboy Ball. Moreover, I will be expanding the TeshiaArt brand in some very exciting ways in the near future. Stay tuned!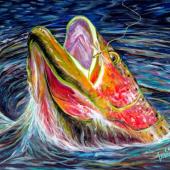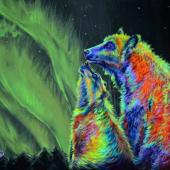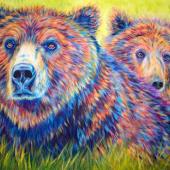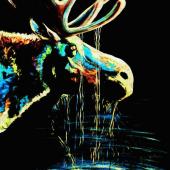 So, when you are not working on your art what are your favorite ways to spend your time?
My husband, Dan, and I love to travel. Yet, Glacier and Banff National Parks are still two of our favorite places in the world. When we are home in the summer, we are often wakeboarding on one of our unspoiled Montana mountain lakes. In the winter, when I'm not painting in my studio, we're often away on a ski trip, usually in Whitefish, MT, where I am represented by nearby Wild Eye Artistry in Kalispell; in Jackson Hole, WY, where I am represented by Grand Teton Gallery; or in Park City, UT, where I am represented by Park City Fine Art. It is not accidental that my galleries are all in prominent ski towns. I have chosen them wisely.