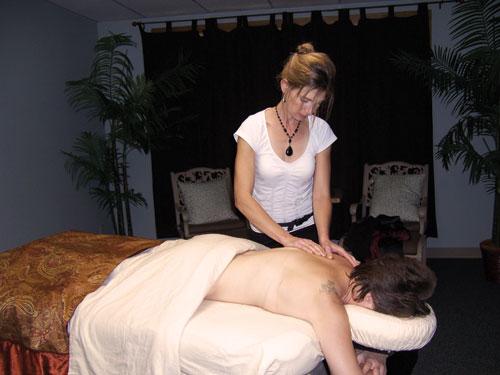 What to do in Montana...
Montana relaxation takes many forms.  For some it's skiing the deep powder of the mountains, for others it's throwing a perfect cast or hiking the silent woods. No matter what your passion, life can get painful. Whether it's everyday stress or aches and pains brought on by activities, Montana's spas are here to soothe.  
In this article we tour the northwest part of the state, home to many great options when it comes to pampering. Here are some of those...
Cedar Creek Salon & Day Spa—Missoula 
During the 22 years Carla Jones has lived and worked in Missoula, she came to recognize an unfilled need: Missoula did not have a spa.  As owner of her own hair salon, Jones started to quiz her customers about their spa experiences and preferences in other states.  She soon discovered that the ability to pamper themselves was paramount to the "getting away" aspect of their spa trips.  After researching day spas in Arizona, and Hawaii, she got a feel for what she liked and wanted to offer to clients. Now after a decade in the business, Missoula's original day spa has just gotten a facelift of its own.  
 The Cedar Creek Salon & Day Spa is located in the heart of downtown Missoula in the historical Studebaker building.  The building is home to the more contemporary look and feel of Cedar Creek Salon & Day Spa. 
"When we opened, everyone was so surprised to have a spa here. I think people were overwhelmed at how beautiful it was. I spared no cost in making it what I wanted," Jones said.  
The spa offers a range of services: haircuts and color, skincare, facials, massages and body and nail treatments. The new pedicure bar was the inspiration for the recent remodel. The dark wooden bench-style seating accommodates four people. The whirlpool foot baths have hospital-grade sanitation so bacteria is not a problem. This time of year, the Hot Spice manicure and pedicure are popular.  Hot stones are incorporated into the sea enzyme manicure or pedicure which uses a peppermint scrub. A foot and leg massage, using hydrating marine extracts of eucalyptus, mint and lavender, soothe and relax. A conditioning paraffin treatment is applied to improve circulation.
Indulge in a calorie-free treat with the spa's ice cream pedicure. Clients soak in a scoop of chocolate fizz rich in minerals and aromatic oils. Next, the skin is exfoliated with a strawberry-kiwi scrub to remove dead skin and soften rough dry areas. An ice cream sandwich (pumice) is used and yours to take home. A marshmallow masque is applied for moisture and hydration. The final step is a soothing massage with a vanilla-whipped cream infused with shea butter. 
"Think of an ice cream sundae without the guilt!" Jones laughs. 
The hot rock massage is another popular service. For the holidays, clients can opt for a hot, spiced massage, in which the lava rocks are infused with cinnamon, clove, and orange essential oils. 
Jones stocks her shelves with some of the best known product lines in the business, including the Dermalogica skin care system which is non-comedogenic and contains no irritating artificial ingredients, alcohol, or formaldehyde. The Salt of the Earth body products that the spa incorporates in body polishes are all-natural with nut-based oils and no synthetic preservatives. Hamadi Organic haircare products are made with 100% organic essential oils and plants. Cedar Creek also offers La Bella Donna Mineral Make-up and Jurlique skincare as well as OPI nail products. 
"This business is all about the clients and customer service. I feel the people who work at Cedar Creek make it such an enjoyable business. People come up to the desk to pay after their treatment and just look euphoric," Jones says. 
Jones attributes much of her success to the citizens of Missoula.  "People really embrace the local businesses. That's why Cedar Creek has done so well," she said. 
For more information, visit www.cedarcreekspa.com or call (406) 543-0200.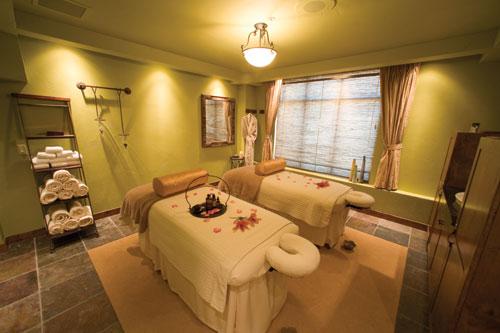 The Spa at the Lodge at Whitefish Lake—Whitefish
The Spa at the Lodge at Whitefish Lake is where serenity and nature merge.  The traditional chalet-style lodge sits on the edge of pristine Whitefish Lake at the base of Whitefish (aka Big) Mountain. The native wood, rock, and stone incorporated into the structure evoke memories of the grand lodges of the past. There is nothing "traditional" about the spa, which offers lodge guests and Whitefish visitors and residents an array of services. 
The only full-service spa in the area, the Spa at Whitefish Lake offers clients the use of the entire fitness facility, including workout equipment, the rock steam room, rain dump shower and lakeside pool and hot tub. Start the day with a lakeside morning yoga class. Enjoy a spa service or package and top it off with a relaxing meal or cocktails at the bar.  
"It's so amazing for the mind, body, soul and spirit," says spa director, Stacey Averill. 
"Stone Silence" is one of the spa's signature services. The 90-minute treatment uses specially crafted stones from the nearby Flathead River. "The stones have a higher than normal iron content and hold the heat longer," Averill says.  Half the stones are heated and the other half cooled to create different responses in the body. Hot stones are used to melt cocoa and shea butter back over your body. 
The soothing massage rooms each have lake views which add to the relaxing experience. The spa menu is full of enticing choices.  Spa packages provide hours of tailored enjoyment. The more than two-hour "Cowgirl" treatment begins with private Pilates instruction, followed by a "Hit the Spot" massage and finished off with a "Feet Retreat." 
For couples, the spa offers the "Sweet Retreat for Two." The 3.5 hour service starts with a couples massage followed by a sweet ginger body exfoliation, an aromatherapy facial and champagne lunch for two. 
Other packages such as the "Hiker's Delight," "Glacier Melt," and "Montana Air" combine a variety of enticing treatments, such as essential balancing body wraps, sea and citrus body scrubs, short Benefit facial and reflexology sessions. Substitutions are not a problem.  
Therapeutic and deep tissue Reiki massages are available from a certified Reiki master on staff. Averill is particularly proud of the spa's commitment to staff training. All spa staff members are highly skilled and certified—something that is not required by Montana law, unlike most states according to Averill. "We put a minimum of three percent back into training for the staff," Averill says.
For more information, visit www.lodgeatwhitefishlake.com  or call (406) 863-4050.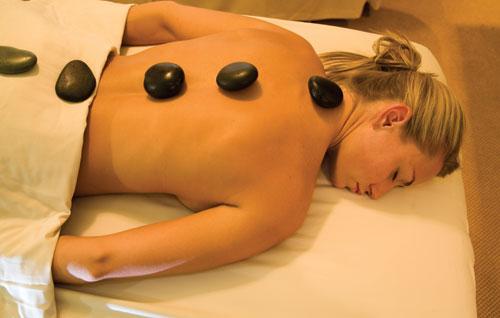 Essentials Day Spa, Inc.—Kalispell 
Nearly three years ago, Sue Holmgren opened Essentials Day Spa in Kalispell out of an "absolute desire to help people." Holmgren, a graduate of Montana State University, mother of five, and former nurse with the U.S. Army Nurse Corps, saw a need to help people heal from the stress of everyday life. 
The contemporary, urban look of Essentials Day Spa is straight from the hard labor of Holmgren and her husband, who even laid tile in order to renovate the place. "We can't believe it. We did all this and it is really nice," Holmgren says. 
Cleanliness is paramount for Holmgren, who spent years working in the labor and delivery and plastic surgery wings of hospitals. "I take cleanliness very seriously. We pass our inspections with 100% every time," Holmgren says. The spa also works with the Board of Nursing and the Board of Cosmetology. 
Essentials has two massage rooms, one facial room, and private manicure/pedicure room. "I hate to be groomed publicly," Holmgren jokes.  On a more serious note, she believes that the privacy allows people to truly relax and rejuvenate. 
Somewhat of a medi-spa, Essentials offers many specialized services such as medical microdermobrasions, endermologie (an FDA certified treatment for cellulite), a multi-wave LED treatment that uses light to reduce wrinkles and age spots, MegaPeel treatments, and even a product line that promotes eyelash growth. 
Holmgren has created a skin care line, Essentials Skin Therapy. Other products include cosmecuticals and M'lise, a neutraceuticals line with detox kits, vitamins, and even diet shakes.   
The spa pays for ongoing training of the 14 staff members. "We pride ourselves on having well-trained therapists," Holmgren says.  "When clients come here, they are going to get a high personal standard of care. When someone has taken the time out of their schedule to come here, we always approach them with nurturing and kindness. Every time you touch someone you communicate...good and bad. That's what makes a difference—when people really feel like you are doing something for them and are not just their 7 o'clock appointment."  
Holmgren's favorite treatment for herself is the aromatherapy massage.  "I find the scents evoke different feelings," she says. "I find it very nurturing. You have to carve a little time out for yourself in order to fill that pitcher back up so you can continue on.  That is really why I started the spa. I wanted so badly to provide a place where people can go and get renewed, so they can go out and continue on with their busy lives." 
For more information, visit www.montanadayspa.com or call (406) 755-6010 or 1- 866- 524-4990.
Rosewood Wellness Center—Hamilton 
Clients entering the Rosewood Wellness Center are greeted by lush green plants and the soothing sounds of a small waterfall and pond that's home to fish and turtles. Owner, Betty Schroder, wants people to start relaxing the moment they walk through the door.  This intimate place is where Schroder and two other therapists help people heal.  Most of her practice emphasizes massage, in particular those techniques that focus on injury rehabilitation.  
Massages are given on a heated bed with warm packs added to the neck and feet. "We try to make each massage unique to that person. We work with the client on what they need," says Schroder, a graduate of the Montana School of Massage in Missoula.   
Beyond the standard deep tissue and Swedish massages, Rosewood offers specialized treatments, such as soft tissue release, myofascial release, neuromuscular and craniosacral massages. Lymphatic drainage massage is particularly good for cancer patients, Schroder says. It involves light, rhythmical massage that helps the body move lymphatic fluid, which plays a key role in delivering nutrients and antibodies to the tissue cells of the body. It also works on the nervous system, lowering blood pressure, reducing stress and improving sleep patterns, she explains. 
Rosewood has been in operation for 15 years. Schroder, who has a background in healthcare, bought the center five years ago and plans to expand it in order to offer more spa-related services.  "I love what I do," says Schroder, who has lived in Hamilton for 17 years.  
The spa-related treatments include mud wraps and salt or sugar glow body scrubs. The aloe vera body wrap rids the body of toxins and helps with cellulite. "It's very good to have if you are starting a new diet.  It is one of my better treatments," Schroder says.  
For more information, visit www.rosewoodcenter.net  or call (406) 375-0220.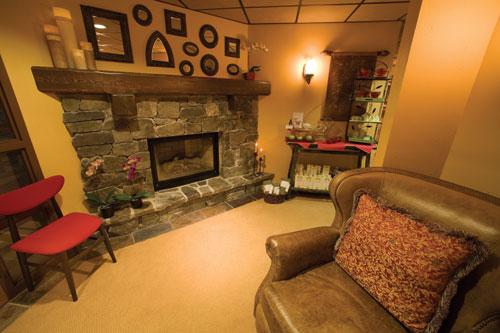 Whitefish—Sage Spa and Salon
 This full-service salon has stewardship in mind. Spa owners, Justin and Stephanie Bigart, hold an annual earth day through the "Montana in the Mirror" fundraiser. Try any of the other three locations in Bozeman, Billings and Helena (Sage Living).
Visit www.sagespasalon.com or call (406) 862-0873.
West Glacier—Remedies Day Spa
This historic 100-year old house is home to Jennifer Krack's vision of a Montanaesque spa. Every product is homemade in the kitchen and clients are taught how to make their own products from everyday ingredients.  Visit www.remediesdayspa.com or call (406) 375-9992. The spa has three other locations in Whitefish, Whitefish Mountain, and West Glacier. 
Missoula—The Spa at the Peak Health & Wellness Center
This full-service spa and salon is conveniently located in the Peak Health & Wellness Center so you can get a workout in as well.  Visit www.peakmissoula.com or call (406) 251-8200.
Hamilton—Lighten-Up Wellness Spa and Retreat Center
Focuses on an alternative nutrient plan that incorporates the alkaline lifestyle, a way of eating that reduces the acid buildup in your body which causes stress and aging. Other services include emotional release classes, iridology, reflexology, ion foot baths, aromatherapy, body wraps, massages, far-infared saunas, and three-day retreats. Call (406) 375-9993, 1-888-961-2000 or visit www.lightenupwellness.com.
~ Kimberley Yablonski is a freelance writer who contributes to regional and national publications. She could use any of these wonderfully indulgent spa treatments at any time.